If you thought night diving was cool, wait until you try UV night diving. UV diving is a type of night diving and it is more correctly called fluorescent or fluoro diving. What happens is that some corals and fish, when exposed to a blue "excitation light", begin to glow in hues of yellow, green, and orange. This is the core of night diving – shining a UV light on sea creatures and watching them glow pretty colors. It sounds almost childish in its simplicity, but it is one of the most beautiful (and trippy) things you'll witness as a scuba diver.
In recent years, UV night diving has started to gain popularity. Nowadays, dive shops all over the world are beginning to stock UV torches because people don't want to just night dive anymore, they want to do fluorescent diving. In this article, we will discuss fluoro diving in more detail – how it works, why you should do it, the best places to fluoro dive, and the best UV dive lights so you can see the prettiest colors. An exciting new world awaits you… read on to learn more.
How to UV night dive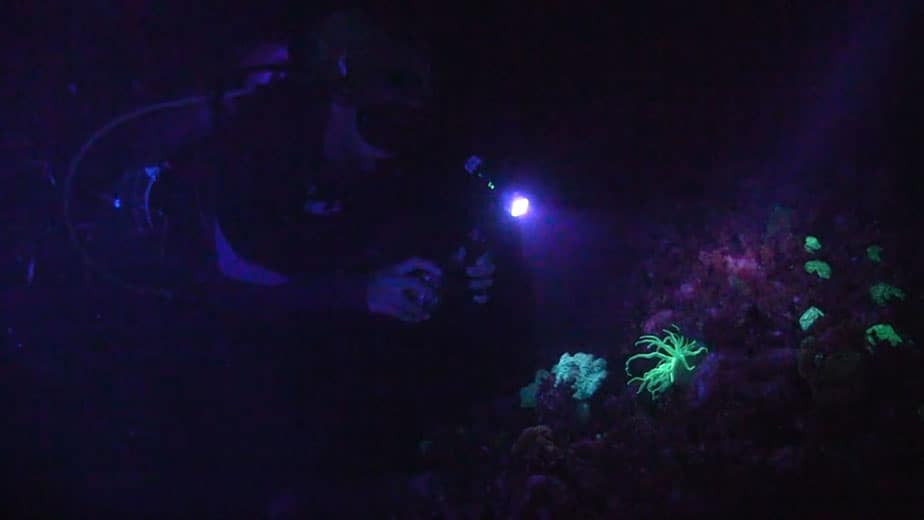 Maybe you aren't interested in the scientific or evolutionary reasons why some animals fluoresce and you just want to know how you can have a good time UV night diving. Fair enough. However, we do cover this topic in other sections below.
A fluorescent dive starts off much the same as a regular night dive. There are some slight changes in gear, however. Each diver will now be equipped with a blue excitation light (a UV light) as well as a yellow filter (called a dichroic filter) to enhance the fluorescent light of animals as well as to alleviate the harshness of the UV light on your eyes.
Since you'll be diving with a UV light, which is dim compared to a dive torch, much of the ambient light will be gone and the reef will look much darker than normal. If you aren't already comfortable with night diving and have excellent buoyancy control skills, then you should get more experience with night diving before attempting a fluoro dive.
Fluorescent dives start off much the same as regular night diving. You gear up at dusk so that you can hit the waters once it's completely dark. Divers who are not comfortable diving with only a UV dive light – don't worry. You can also bring your regular dive light if it helps calm your nerves. Once you've gotten used to the atmosphere, it's time to extinguish that light so that it doesn't overpower the blue light. Now, the show begins.
What to expect during a UV night dive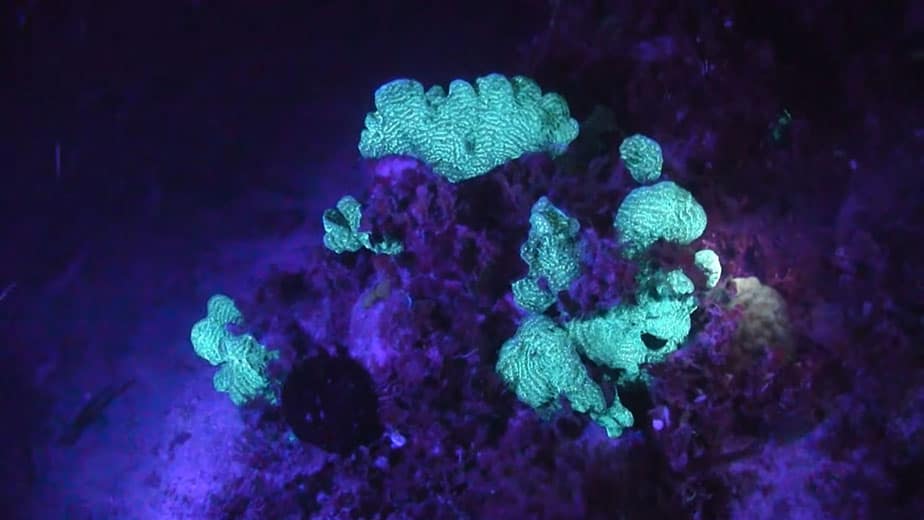 In some locations, as soon as you turn on the blue light, the entire reef will light up like a psychedelic trip. In others, the fluoro experience may seem more like a treasure hunt. Small sections of coral can light up in shades of yellow or green. Since corals are more active at night, you may even see the structure of each polyp visibly enhanced by the glow. Under a UV light, the corals will take on an appearance you've never seen before, and it truly is a feast for the eyes.
Let's not let the corals steal the show. Next to them, tiny anemones dot the ground like stars in the sky. You will notice orange eyes peering up from the sand, betraying the location of its owner. Glowing crabs carry the glowing anemones on their carapaces. You will also see bream, scorpionfish, eels, and lizardfish light up in an unexpected way.
Tiny gobies glow blue and pink against the faint red backdrop of a sponge. Even the turtles will have a faint, yet distinct glow around the edge of their shells. The marine life that may seem gray and dull during the day may radiate a spectrum of the most beautiful fluorescent colors at night under a UV light.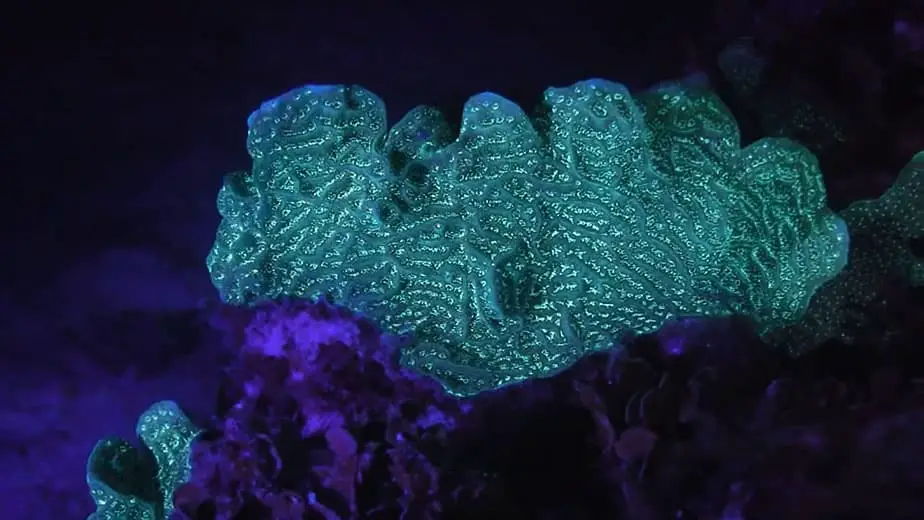 UV diving is particularly exciting for veteran divers who may have gotten too used to what their usual stomping grounds have to offer. At night, what was once familiar becomes extraordinary when viewed under a new light, and they can experience scuba diving with wide eyes like they just started diving for the first time all over again.
There are so many discoveries to be made. Since this is such a new discipline, every dive is an exciting voyage of new discoveries. Once you dive down, you won't feel like coming back up again. What you're looking at might seem like Disney magic, but trust us, it's real.
Fluorescent diving tips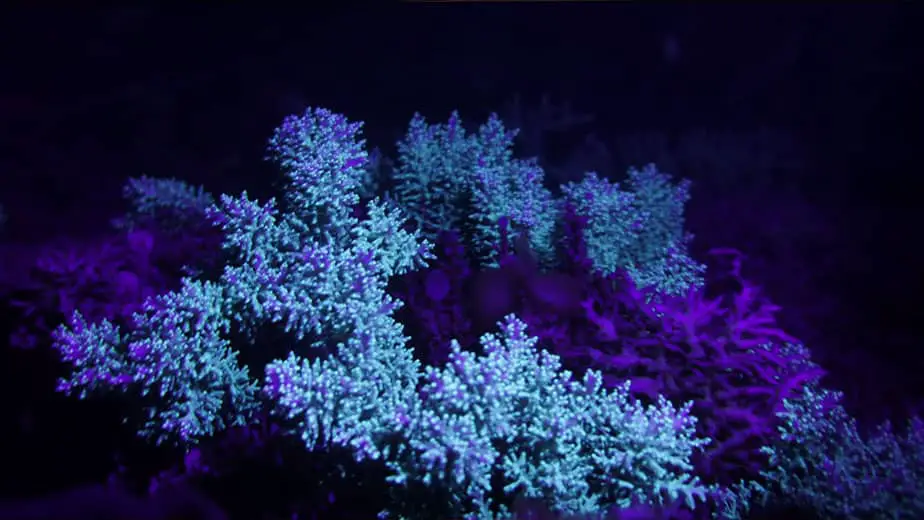 If this is your first time UV night diving, here are some tips to keep in mind.
A UV dive light is much dimmer than a regular dive light, but that doesn't mean it's safe to look directly at it. You should also be careful not to accidentally shine it into somebody else's eyes as well. The yellow (dichroic) filter should make the effects less harmful.
Make sure that the wrist band is securely fastened around your wrist and that the UV light is turned on prior to entering the water. If you somehow lose the light while descending, or at some point during the dive, it's much easier to find it if it's already turned on.
UV rays can be harmful without proper protection, and exposing anything to high intensities of it can cause sunburn or lead to coral bleaching. To stop your eyes from getting strained, remember to look through the yellow filter provided for the entirety of the dive. Try not to shine the UV light at any one organism for too long to avoid any negative effects.
Your orientation is affected during a night dive. Remember to look around and look up every 15 seconds or so to ensure you are close to your group.
We recommend going on at least 3 night dives prior to doing a UV night dive. UV night dives are even darker than regular night dives, and there are many potential hazards that can occur with the reduced visibility. You'll also need to have perfect buoyancy control in the dark, so it's best to get a feel for this by doing some night dives as practice before introducing UV lights.
What are the best UV lights for fluoro diving?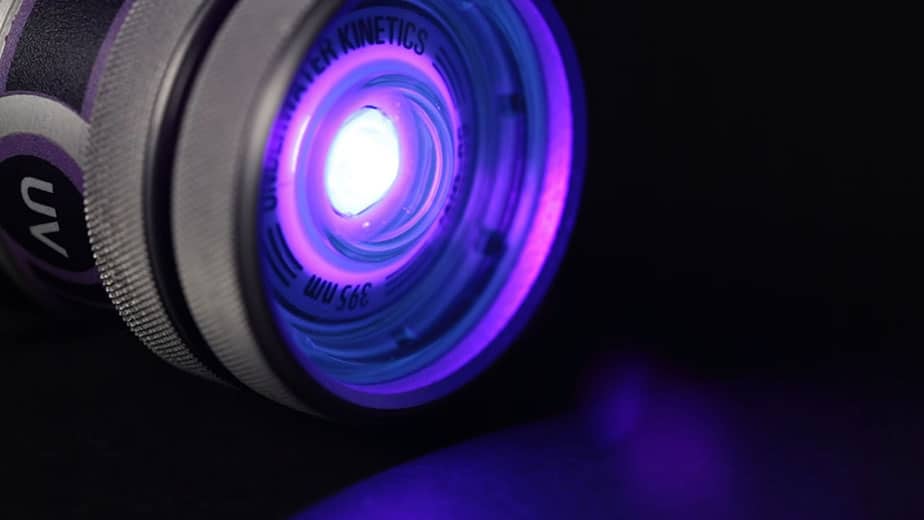 The dive center will supply a UV light for you, so you don't feel obligated to purchase one if you don't want to. However, if you're not a fan of renting because you have reservations about the quality of the equipment, or perhaps you simply just want to own your own scuba equipment, then this section is for you. We feel the fluorescent dive lights we are recommending are the best combination of quality and price, and any one of these will be sufficient for a recreational fluoro dive.
Tovatec UV LED Light
Tovatec Compact Waterproof Scuba Diving Underwater 395NM LED UV Light with Adjustable Beam Angle
GREAT DIVE LIGHT - Tovatec UV light (UV01) will bring the reef to life! The 395nm LED creates an amazing fluorescent effect. The UV light is almost...
COMPACT AND DURABLE - This scuba diving light is made with aircraft grade aluminum housing which reduces weight and provides years of service. Its...
KEY FEATURES - This dive light features an adjustable 12 degree (narrow beam) to 100 degree beam angle. The light can be used with both lithium-ion...
Tovatec has a reputation for manufacturing high-quality, durable dive lights and adventure lights. What makes their dive lights so great is that they tend to avoid many issues that other dive lights have. For instance, Tovatec lights actually hold up at depth. Some flashlights claim they are waterproof at 100 m or some other distance, yet they flood almost immediately after a few meters. You will never find this to be the case for a Tovatec light.
Since you will only be recreational night diving, the maximum depth rating of 100 m (328 ft) of the Tovatec UV light is way more than you'll ever need. You can have confidence knowing that no matter how deep you dive, this light won't be your limiting factor.
Even if something should happen to the dive light, the Tovatec UV light comes with a 1-year limited warranty. This is pretty standard, but if you are afraid of your light breaking after the warranty period, then search for a light with a lifetime warranty instead. In our experience, Tovatec lights are very durable and long-lasting.
Next, this is a 395 nanometer (nm) UV light. Many earlier models of UV lights were 400 nm or more, which is within the spectrum of visible light. This means that divers needed to use a dichroic filter in order to help fish and coral fluoresce. The Tovatec UV light is one of the newer 395 nm models which don't require a yellow filter. Thus, you can dive without worrying about yet another piece of equipment that might get lost or damaged.
Additionally, the Tovatec UV light is surprisingly lightweight and easy to carry. We divers love to streamline our profile as much as possible, and during a night dive, we still have to carry our regular dive torch as well. Whenever a piece of equipment is lightweight and streamlined, it earns major points because you can fit it in your BCD pocket and save you from using a D-ring.
With that said, some users complained that the magnetic switch on this light is easy to activate. A few divers have found that it's possible for the Tovatec light to switch on in their BCD pockets, causing the batteries to drain when it's not in use. Make sure to replace the batteries before each dive and check that the light hasn't turned on while in your BCD pocket, or put it somewhere else.
Lastly, another complaint is that the Tovatec UV light is not able to penetrate through murky waters. This typically is not an issue when diving in saltwater, however in freshwater, it is more likely to be a problem. If you are planning on going cold water diving where there is a higher potential for murk, then consider getting a more powerful UV light.
Underwater Kinetics Aqualite-S UV-395
Since the 1970s, Underwater Kinetics has been a staple in the diving industry, and their dive lights are top-of-the-line. They were one of the first dive light manufacturers that produced compact, lightweight dive lights that were easy to carry and fit into a BCD pocket. To this day, they continue their tradition of making compact yet durable lights.
Like the Tovatec, the Aqualite-S from Underwater Kinetics also emits a 395 nm light. This means you don't need to attach an extra yellow filter to experience the fluorescence in fish and coral. As always, less equipment that you need to carry is a huge selling point, especially since the color filters are notorious for falling off cameras and lights. Not needing one is a nice benefit.
However, unlike the Tovatec, the Aqualite-S has a rechargeable battery. The strength of rechargeable batteries is that they generally last longer and don't need to be replaced often. With disposable batteries, you run the risk of them dying on you and not being able to find a replacement on a liveaboard or an area with no stores. Without bringing spare batteries, you're SOL. Rechargeable batteries can be easily charged, in this case with a USB charger, so as long as you have access to an electrical outlet, you can conveniently recharge it before a dive.
Furthermore, Underwater Kinetics is known for making lights that are exceptionally bright. This applies to the Aqualite-S as well. Many UV lights are quite dull and they force you to get really close just so you can see the colors. The problem is that it's hard to navigate and keep your buoyancy in check at night, so being forced to get close can easily lead to breaking corals. The advantage of the bright Aqualite-S is that you can observe the aquatic life from further away. A stronger light also means it can be used in murky waters.
Additionally, the Aqualite-S can be used as a standalone light, or mounted to a camera rig for underwater photography. It works well as a standalone light, however some users have complained that the camera mounting instructions were unclear. Be wary if you plan on buying this light for underwater photography.
Next, some users complained that the O-rings in this model are not up to the usual Underwater Kinetic standards. Most people have not had any issues with water leaks, so it may have been a few isolated incidences. With that said, you may want to replace the O-rings on this light just to be safe.
Lastly, the Aqualite-S is a high-end light, and it has a price to match its quality. It doesn't help that Underwater Kinetics is an established brand that can charge a premium for their high-quality products. There are definitely cheaper lights that can get the job done for those on a tight budget. Despite being a good UV dive light, the Aqualite-S may not be an option for more casual or frugal divers.
Light & Motion GoBe Combo Light
Light & Motion GoBe Combo Kit Underwater Light System
Combo kit includes GoBe 700 Wide Light plus 700 Spot and NightSea interchangeable lightheads
700 lumen output and 750mW radiant flux output certified to the FL-1 Standard; regulated output so light does not dim
Rechargeable through external Charge interface with included USB cable
Light & Motion is yet another high-end light manufacturer (hey, we only recommend the best) that produces professional lighting for industries like photography/filming, drones, and of course, diving. Their dive lights are often used by marine biologists and researchers all over the world. If that is not a testament to their quality, then I don't know what is. Specifically, their GoBe Combo dive light is a fantastic option if you want a versatile light that can be used outside of UV night diving.
To start, this isn't just a UV dive light. The advantage of owning a GoBe light is that the light head can be replaced to suit the type of diving you're doing. This also means that the light head can be easily replaced if they break. Obviously, since this article is about UV night diving, the Nightsea light head for fluorescent diving is one that you'll need. You can also get a wide beam light head, a spot light head, and a focus light head to penetrate through murky waters.
We are specifically recommending a combo pack which comes with the UV dive light head as well as a wide beam light head and spot beam light head in one convenient package. This can save you some money instead of buying them separately, and lets you use the night in various circumstances outside of UV night diving, whether as a primary dive light or a backup light.
Next, the GoBe light has a maximum depth rating of 120 m (400 ft) which is probably farther than you will be going on a night dive. Also, it comes with a rechargeable battery and USB charger just like the Aqualite-S. This gives you the convenience of being able to charge your light no matter where you are in the world, and you don't have to deal with the hassle of disposable batteries.
Since the GoBe dive light is not strictly a UV light, the blue light it emits is between 440-460 nm. In other words, you need to secure the included yellow filter in order to see the fish and coral fluoresce better. Having a filter means extra protection for your eyes and the organism you are shining the light at. However, the filter is one extra piece of equipment you need to worry about, and it may sometimes detach at inopportune times.
Some users have reported difficulties attaching this light to their BCD. Make sure that your BCD pocket is big enough to support this dive light's dimensions. Dive lights, like dive knives, are likely to get lost. The difference is that dive lights are easier to retrieve if they are switched on, which is why you should switch on your light as soon as possible.
Unfortunately, if you include all of the light heads, this is easily the most expensive dive light on this list. The interchangeable light heads makes it the most versatile, but that clearly comes with a hefty price tag. If you will be doing a lot of diving in the future and have the funds to spare, the GoBe dive light is more than worth it. On the other hand, if you are on a lean budget, there are certainly cheaper alternatives for both a UV night light and a regular dive light.
What are the best locations for UV night diving?
So now that you know some basic UV diving tips and have some options for UV dive lights, let's talk about the best places you can do some fluoro diving. You'll be happy to know that the destinations we recommend are quite popular, meaning it's easy to access and you can easily find a guide/instructor to help you experience this diving wonder.
Koh Tao, Thailand
Koh Tao is known as one of the most popular tropical diving destinations in the world, and more Open Water certifications come from this island than any other location. So, if you're a scuba diver, chances are you've either already been here, or were planning on coming here at some point already.
Why not do some UV night diving while you're there? Dozens of shops on this island offer fluorescent diving, and you can quickly find a reputable one that's perfect for you. A couple of dive operators we recommend are Master Divers and Buddha View Dive Resort.
Bonaire, Caribbean Sea
Another popular tropical diving destination is Bonaire, one of the most visited islands of the Dutch Antilles. Bonaire can be found north of Venezuela, surrounded by the warm waters of the Caribbean Sea.
Due to the geography, Bonaire is naturally protected from storms that affect other islands during hurricane season. The waters at Bonaire are calm year round, making it a great location for year-round diving.
Like Koh Tao, you can have your pick of dive shops because there's no shortage of them. One benefit of diving at Bonaire is that there are many great spots that can be accessed from the shore. So, if you would rather rent a car and visit more than one spot in a night, that is a fantastic alternative to boat diving.
With that said, if you feel more comfortable being guided by a divemaster, then we recommend going with VIP Diving. They were one of the first dive schools to offer UV night diving in Bonaire, and they have a stellar track record.
Huravalhi Island, Maldives
Huravalhi Island in the Maldives is home to one of the most beautiful beaches in the world. Even if you didn't want to do any UV night diving, you could still see the bioluminescent plankton at certain times of the year. Of course, you can dive underwater to see the natural glow of the coral and fish under a UV light. The waters are crystal clear at Huravalhi Island, and there are also some fantastic resorts. We recommend you dive with Prodivers – they have dive centers all over the Maldives, and their divemasters are knowledgeable about UV diving.
How does aquatic life glow in the dark?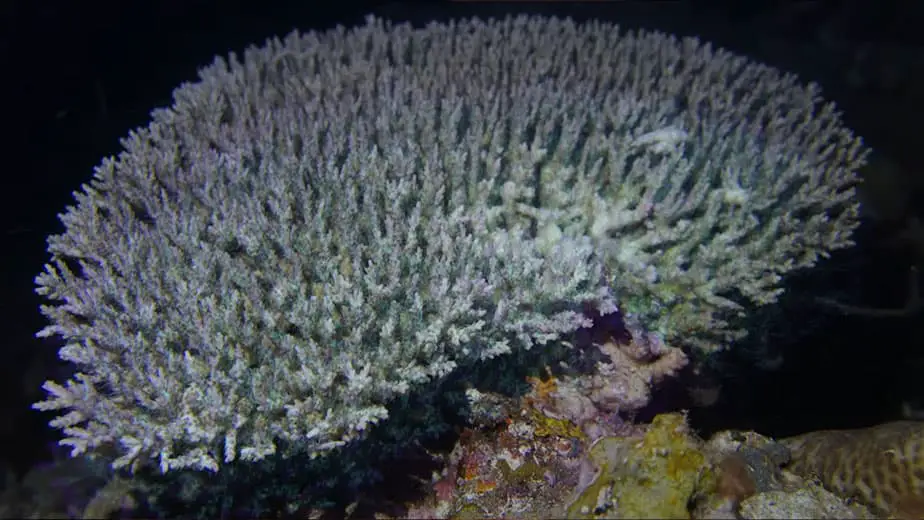 First, you might be a little skeptical. Fish glowing in the dark? Seriously? That sounds like something you'd see in a magical Disney movie, not real life. But it's true. Here's a quick history lesson for you. Fluorescence has been observed in animals since as early as the mid-1800s. Normally, fluorescence is found in minerals, but luckily for us divers, it seems to affect some marine organisms as well.
Even though scientists have known this for such a long time, it is only within the last 10 years that fluorescent diving became available to the public. The technology has also advanced tremendously as well, with powerful waterproof UV lights now being commercially available.
With that said, the exact reasons why some animals glow in the dark is unclear. However, scientists have figured out how. Animals that fluoresce contain proteins that absorb the energy from blue light. The energy from the UV light boosts the electrons within these proteins into a more volatile state, jumping from a lower electron shell to a higher shell.
The electrons then return to a more stable state and drops back down, with the excess energy producing light of a longer wavelength and lower energy typically observed as yellows, greens, oranges, and reds. The color that we see depends on how many jumps the electron makes.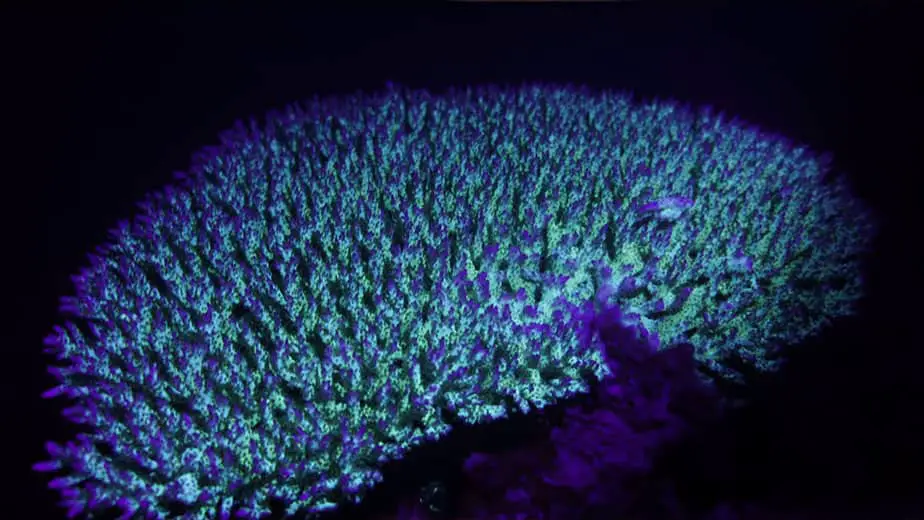 What's the difference between bioluminescence and fluorescence?
Don't get these two terms mixed up. On prior night dives, you may have heard the term "bioluminescent" thrown around when discussing planktons. It's a beautiful sight to behold, like you're swimming through an ocean of stars. These plankton are bioluminescent because of a chemical reaction that occurs in them which creates that light.
Fluorescence describes the absorption of one color and its re-emission as another color. The marine organisms in a fluorescent dive will absorb the blue UV light and emit a different color, such as red, green, yellow, and purple.
Why do some marine organisms fluoresce?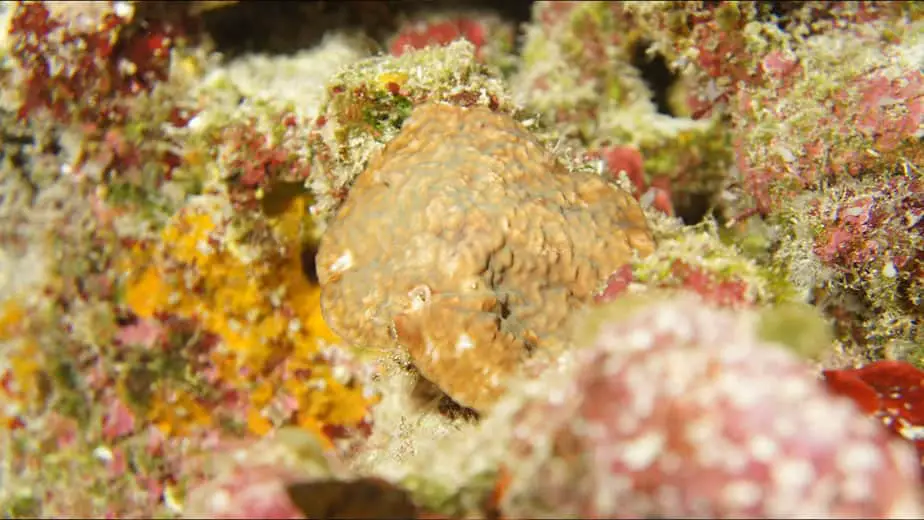 As we mentioned, scientists are unclear as to why, however they have many hypotheses. For one, fluorescence may have developed in corals as a means of sun protection so that they can absorb and release excess energy. Since some corals' body mass is made up of up to 17% of these special proteins, it's clear they serve some important function.
As for why some fish fluoresce, the hypothesis is that it helps with intraspecies recognition. So if a green fish sees another green fish, then they know they are the same, but if they see a red fish, they know they are different.
Many of these glowing fish species have yellow filters in their eyes which allow them to easily see biofluorescence in other fish. In other words, glowing fish can see each other more easily, possibly allowing them to communicate their sameness while remaining hidden from predators. This could be beneficial for fish to quickly meet, mate, and return to the safety of their hidey-hole. Sort of like an underwater Tinder, if you will.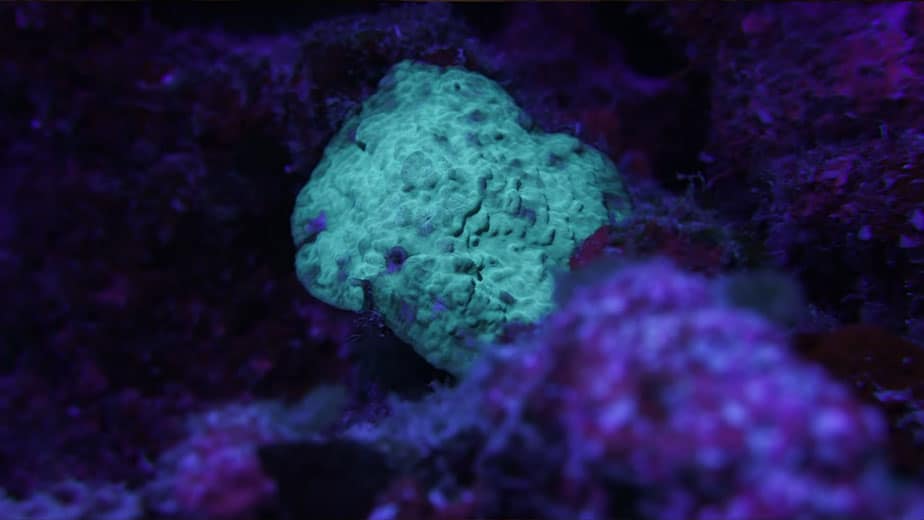 For other creatures, fluorescence works more like a camouflage than a signal. For example, monocled bream have glowing stripes on their head which helps them blend-in with glowing staghorn corals. Scorpionfish glow pink and are frequently found sitting on reddish-glowing sponges and algae.
Other organisms use their light to catch prey, very similar to how some deep sea organisms use their bioluminescence. For example, banded coral shrimps seem to not glow at first, but if you look closely, their chest and the tips of their pincers glow. Furthermore, several predatory fish have also evolved to have natural yellow filters to seek out glowing prey.
Scientists have also learned to take advantage of biofluorescence in coral reef conservation efforts. They use UV lights kind of like an X-ray of sorts to judge the health of reef systems. During the day, it's hard to visually see any kind of problem. However, the blue light reveals all – under the UV light, it becomes clear that some coral are sick or dying, indicating a problem.
Parting words
Fluorescent diving is like the hidden gem of the diving world. It's becoming more popular in recent years, however few have actually done it. Think you've already done everything there is to do in scuba diving? Even veteran divers surface after a fluoro dive with a smile on their faces and a sparkle in their eyes. UV night diving is a way to remind yourself of that feeling you had when you first started diving. If you haven't done it, then what are you waiting for?
P.S. If you found fluoro diving to be absolutely trippy, then blackwater diving will be right up your alley. Blackwater diving takes place in the open ocean at night, during a great migration of marine life. During that time, you will see more unique underwater creatures than ever before with a completely pitch black backdrop so they stand out even more. Some of these creatures fluoresce beautiful colors. Read more about blackwater diving here.
Photo Credits: Underwater Kinetics
Last update on 2023-11-07 / Affiliate links / Images from Amazon Product Advertising API