The Loreo Submariner is an homage watch based on the Rolex Submariner. At first glance, this watch looks like it is worth several times its actual price which is around $100 or less depending on where you purchase it. With a watch this cheap, you are correct to be wary about its quality. It doesn't help that the watch is manufactured in China, which is notorious for quality as low as its prices.
So why are we even spending time on a watch when all signs seem to point to a questionable product? We don't want to spoil our verdict yet, but let's just say there's more to the Loreo Submariner than meets the eye. In this review, we will be going over what features this watch has, how well it performs, and whether it is worth your money or not.
Loreo Submariner Watch Specifications
Case Diameter: 40mm
Band Width: 20mm
Band Length: 24cm
Case Thickness:13mm
Weight: 150g
Features: Auto Date, Complete Calendar, Water Resistance
Water Resistance Depth: 20 Bar (200m/660ft)
Case Shape: Round
Case Window Material: Sapphire Crystal
Clasp Type: Bracelet Clasp
Movement: Seagull Automatic Self-Winding
Band Material: Stainless Steel
Case Material: Stainless Steel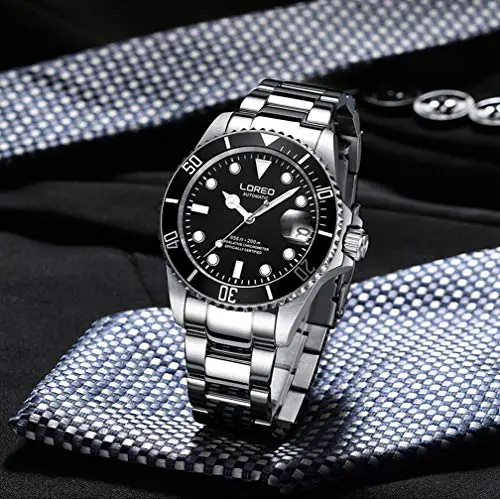 Case
Being a Rolex Submariner homage, it's not surprising that the Loreo Submariner not only looks like a submariner, but also has the same classic dimensions: a case diameter of 40mm, 13mm thickness, 48mm lug-to-lug distance, and 20mm lug width. It weighs in at just under 150g, which is pretty much the sweet spot for a stainless steel sports watch.
Loreo has played it safe and followed the basic Rolex design closely. The case is a simple combination of polished and brushed surfaces. When you factor in the dial, the Loreo Submariner becomes a shiny watch in the sunlight. When we say that the design is basic, it means that they haven't screwed anything up and therefore basic is good.
The screw-down display case back has a Rolex style fitment. You can see that it advertises its water resistance at 20 ATM (200m) which, if we take them at their word, is very impressive. However, we recommend you take this with a large grain of salt; we would only use this watch for shallow diving or recreational water sports at most.
Crown
The Loreo Submariner has a solid screw-down crown. It is smooth and much easier to operate than expected. It does have the Loreo "L" inscribed on it which may be a downside for some, but we didn't really care for it. Loreo is not exactly a household name like Rolex is, but we can't really blame a company for trying.
Crystal
Amazingly, the Loreo Submariner has a sapphire crystal. Unlike most other budget watches which usually have mineral crystal, such as its rival the Invicta Pro Diver, the Loreo Submariner legitimately has a sapphire crystal. Color us impressed. Unfortunately, the crystal doesn't have an anti-reflective coating on it, but at this price point we are amazed that a watch even comes with a sapphire crystal.
Dial
The Loreo has three color options available: black, blue, and green. The color can be found on the dial and bezel. The very safe black is very plain, but the blue and green options are vibrant and make the watch stand out. In addition, the Submariner looks very much like the Rolex that it is imitating and is nicely done.
The hours and hand markers have been applied with lume so that they can glow in the dark to some degree. Depending on the color you chose, particularly if you selected the green one, the dial and the bezel really gleam in the sunlight. The hands turn smoothly and we have no complaints about them.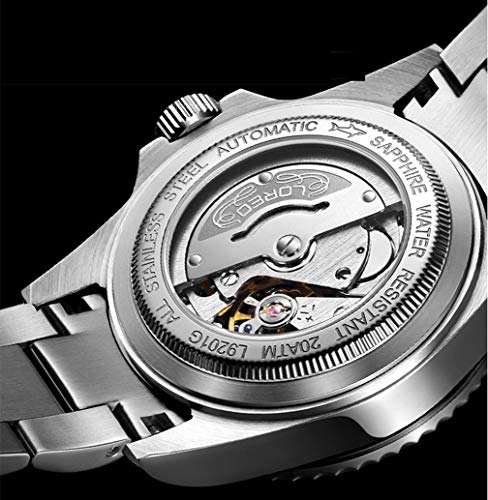 Bezel
The bezel is made from aluminum which, unlike its sapphire crystal, is not very durable. It scratches easily if you're not careful.
When we initially received the watch, we had some issues with its unidirectional bezel. It was difficult to turn at first and we eventually forcibly turned it hard enough that it miraculously fixed itself. Suddenly it was easy to rotate and it gave us no issues afterwards.
With it working as intended, we decided to play around with it further. With the way that it aligns perfectly, it honestly felt better than some more expensive Swiss watches. There is a miniscule amount of play if you try to test it, perhaps up to ¼ of a click, but it snaps back after you push it.
Strap/Bracelet
The bracelet is made of stainless steel with solid links, push pins, and end links. The mid-links are highly polished which is a slight departure from the classic Rolex look it is imitating. It fits snug on a 7 inch wrist, but those with a wrist size of about 6 ¼ to 6 ½ inches might be able to pull it off as well. The Submariner comes with a bunch of spare links so you can find one that fits right for you.
The clasp is not a milled clasp unfortunately, just a press one. However, at this price point, you have to expect some compromises and the Loreo Submariner does excel in other areas, so we are willing to look past this. Also the bracelet carries its weight very well because it's made of stainless steel, as is the rest of the watch.
Lume
You can find some lume applied to the hour markers and hands. No lume pip on the bezel insert,or any lume on the bezel at all in fact. It's serviceable, nothing outstanding. It will last only a few minutes and is not something you should actively rely on. You can tell this is one area where Loreo skimped out to try to save some money.
If you plan on using this watch for night diving or to read the time in a dark environment, then this watch will not be up to the task.
Movement
Does this watch have a Seiko movement or a Miyota movement? Nice guesses, but it has a Seagull ST16 automatic movement. Seagull is a Chinese company that makes popular movements for discounted watches such as this one. Even though the words "Chinese" and "cheap" are often used in the same sentence, in this case we literally mean that it's affordable and the quality of the movement is very high.
The Seagull ST16 is a 21 jewel, hacking and hand-winding automatic movement with a 36-hour power reserve. After a few days, we found that the Loreo Submariner was gaining about 10-12 seconds a day which is perfectly within the same set of tolerance ranges as you would find from a Seiko or Miyota movement in a watch at this price point.
Pros
Sapphire crystal. There are few watches that you can get for around or under $100 that comes with a sapphire crystal, and this is one of them.
Stainless steel case. The case feels good despite having a few sharp edges. However, once again, for the price it's decent. It also has a screw-down crown and screw-down back.
Seagull Movement. We were impressed to find that the Seagull movement performed equally as well as Seiko and Miyota movements. It has hacking, hand-winding, 36 hours of power reserve. Everyday it will gain 13 seconds, so every few days you will need to adjust the time. This is about on par with Seiko and Miyota movements.
Cons
Bezel insert. The bezel insert is made of aluminum and is not very durable. If you're not careful, you can easily leave scratch marks on it.
Lume. This is another area where Loreo cheaped out. The lume is barely functional, not very bright, lasts only a few minutes, and is not very visible on the hands.
Loreo Submariner Automatic Watch Review: The Verdict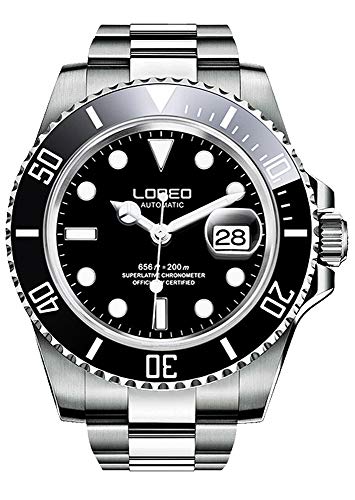 If you can't stand having an Invicta on your wrist, then the Loreo Submariner is a fantastic option in the same price range. Admittedly, there may be some discomfort not having the surety of a reliable movement such as Miyota or Seiko with the Loreo Submariner using a Seagull movement. However, in our testing it appears to perform on at least on par with other movements found in more expensive watches.
With that said, there's lots to like about this watch. It comes with a sapphire crystal which is highly durable and not something you'd expect to find in a sub-$100 watch. If you are a rough and tumble kind of guy who tends to whack your watch on every surface you find, then the Loreo can actually handle that kind of abuse.
Overall, we feel that the Loreo Submariner is a very comfortable watch with lots to like and a few downsides, particularly regarding its lume and bezel insert. If you don't care about the lume then we highly recommend it. For its price, the Loreo Submariner is probably one of the best deals you can get.
If you're interested in another Rolex homage watch manufacturer, take a look at our article discussing Pagani Design.