Do you have kids who are interested in scuba diving? Do you want to introduce them to this wonderful sport that might become a lifelong hobby or passion? Then you will be happy to learn that the minimum age for scuba diving is quite low. Kids can begin diving as early as 8 years old, and in case you're wondering, there is no maximum age for scuba diving.
If your children are currently younger than 8 years old, then in the meantime they can still swim and snorkel because there isn't a minimum age for that. It's a great way for kids to get used to being in and around the water so that the transition into scuba diving is much easier. On top of that, knowing how to swim is beneficial for scuba diving, as is getting used to using a snorkel while diving.
In this article, we will cover the various scuba diving courses for kids that either allow them to try out scuba diving or provide scuba certifications so that they can be legitimate scuba divers. We'll also discuss why you should take your kids scuba diving, dangers to avoid, and when you shouldn't take your kids scuba diving.
Should kids be allowed to scuba dive?
There is an ongoing debate about whether it's a good idea to let children as young as 8 years old try out scuba diving. The sport of scuba diving has its fair share of risks and dangers. Even adults sometimes panic and surface too rapidly, resulting in decompression sickness which can be deadly. There's also the risk of children not monitoring their gauges or losing track of time, running out of air, and surfacing too quickly.
To alleviate some of your concerns, children between the ages of 8-10 years old are only allowed to dive in a confined pool. Therefore, concerns about running out of air or diving too deep are not as big of an issue in this safe environment.
There is certainly a possibility that children around 8 years of age are not mature or disciplined enough to strictly follow standard dive procedures to safely dive. At the end of the day, it's up to the scuba instructor's discretion whether a child possesses the qualities to be a scuba diver at such a young age or not.
If the dive instructor feels that a child is mature enough and understands what's being taught, then they may allow the child to become a Junior Diver (more on this below). Also, parents have a responsibility to educate and discipline their children so that they are not so unruly. It's possible that a child is simply not at the stage where they can safely scuba dive even if they meet the minimum age requirement.
Furthermore, no conclusive studies have been conducted on the physiological effects that scuba diving has on a child's developing body. As far as we know, it is safe, hence why PADI and other scuba training agencies teach scuba diving courses aimed at kids.
Why take your kids scuba diving?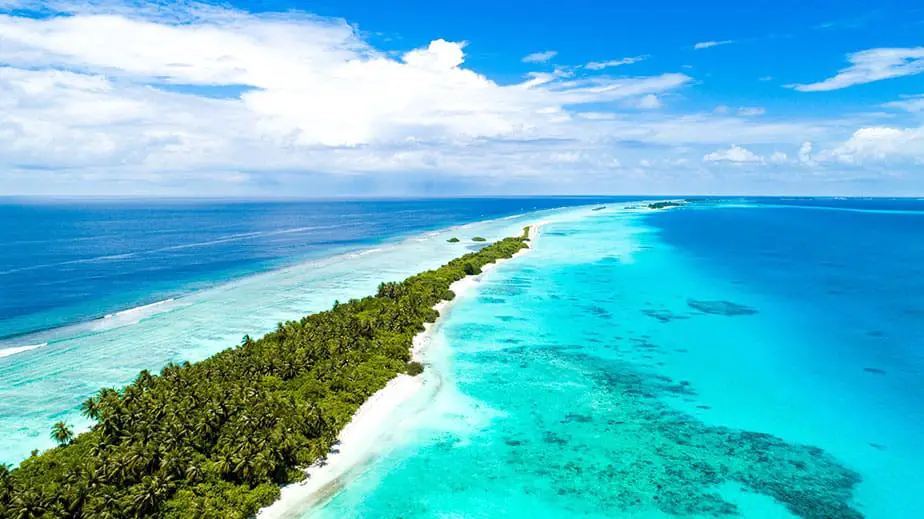 Scuba diving is a fantastic sport for children for various reasons. The first is that it's extremely fun. Kids love to play and explore, so what's a better playground than the ocean reefs? From a young age, they get to see unbelievable places and creatures that seem like they came right out of a fairy tale. It makes kids more well-rounded and perhaps gives them an idea of what they might want to do in their future.
Second, scuba diving is a great opportunity to educate your child on how to cherish and protect the world they live in. There is a serious threat to our environment in the form of plastic waste pollution. These materials never decompose and are often found lodged in the bellies of sea creatures or sometimes wrapped around their neck.
Another concern is the use of sunscreen with harmful chemicals that cause coral bleaching. Coral bleaching is when the coral turns white (instead of the usual vibrant colors they come in) which is a sign that they are distressed or dead. Your kids can learn about using reef-safe products and get an understanding of how they can help conserve the ocean reefs.
By seeing the damage done to the environment and sea life, your children can learn compassion as well as understand why it's bad to litter or use harmful products. They learn that their actions can have negative consequences in nature, and if they want to have a clean and sustainable future, they need to be part of the solution.
Last but not least, scuba diving is an activity that can be done with the entire family. We already mentioned it's fun, but diving together will make the experience memorable. You can even take an underwater camera with you to capture these moments spent with your kids forever.
Scuba diving courses for kids
The standard that all scuba training agencies follow is:
8 years old to get started with diving in a pool.
10 years old – earliest age to be eligible for a certified open water diver license.
The progression of courses is as follows:
| | | |
| --- | --- | --- |
| Course Name | Minimum Age | Depth Limit |
| Junior Diver | 8 | 3 m / 10 ft, in the pool |
| Junior Scuba Diver | 9 | 5 m / 15 ft, in confined water |
| Junior Open Water Diver | 10 – 14 | 12 – 18 m / 40 – 60 ft, in open water |
Divers with the Junior Open Water certification have a depth and buddy restriction that makes it slightly different from a regular Open Water Diver. Once a diver with the Junior certification reaches 15 years of age or older, they can order a replacement card from PADI's website to become a full-fledged Open Water Diver. Divers are not required to take another course to make this "upgrade", though if it has been some time since they last dove, then consider taking a ReActivate course where they can refresh their diving knowledge and get a new certification at the end.
There are some advanced courses that are not available for kids, such as Nitrox or deep diving, because it could expose them to risks that they are not old enough for. Until then, these are the courses kids can take.
Scuba courses for 8-10 year olds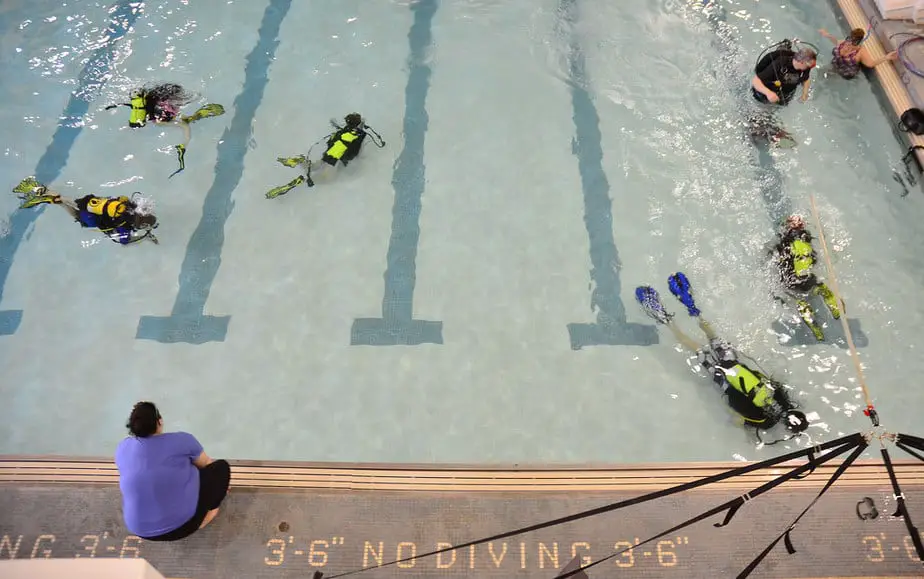 Various scuba courses designed for kids are available. The shortest and most accessible one is the one-session "try dive" course which introduces children to the basics of scuba diving so that they can try out scuba diving as quickly as possible. Obviously, you can't really teach anyone the basics of scuba diving in half a day, let alone a young child, but the point of the try dive is to give them their first experience with diving to see if it's something they may be interested in.
There is also the Bubblemaker program and Seal Team course for children between the ages of 8-10. The Bubblemaker program is a more in-depth introduction to scuba diving where kids will have more time to learn the basics of scuba diving, such as learning about ear equalization and mask squeeze, hand signals, and so on. Rest assured, the course will take place in a pool with a max depth of 2 m (6 ft) so the environment is very safe.
The Seal Team is a more extensive confined water course. Your kids will learn about basic scuba diving skills, plus some more advanced ones like how to take underwater photos, how to control their buoyancy, and how to be more situationally aware.
These lessons differ from the adult versions in the way they are taught. The same material will be covered, however they will be introduced in smaller, digestible increments spread over multiple classes. For instance, a one-hour class may be spent on mask clearing, and another may be dedicated to learning the buoyancy compensator.
If you're wondering whether your children will be able to dive into the open water at any point during the course, the answer is: No. They may not necessarily dive in a pool, but if they dive outside, then it has to be an ocean spot that is shallow, with no currents and excellent visibility, with pool-like conditions essentially.
Any further scuba diving courses will have to wait until your child(ren) are at least 10 years of age which makes them eligible to earn their Junior Open Water Diver certification.
Scuba courses for 10-11 year olds
While 10-11 year olds are allowed to enroll in the courses discussed above, they can also take the Open Water Diver course where, upon completion, they earn a Junior Open Water Diver certification. Despite earning a junior certification, the course they will be taking is the same as what adults take. That means the same material and the same examination within the same timeframe.
Naturally, this is a massive undertaking for a 10-year old. Whether or not a child will be able to keep up depends on their reading level, ability to stay calm, swimming ability, and general maturity level, among other factors.
After receiving the junior certification, that does not mean your child gets the same benefits as a regular Open Water Diver certification. There are some limitations placed on it because, at the end of the day, the holder of the certification is still a child. For kids aged 10-11, the restriction is that they have a depth restriction of 12 m / 40 ft (regular is 18 m / 60 ft), and they must always dive with a scuba certified parent, guardian, or dive professional (divemaster/instructor).
As we mentioned, once your child is 15 years old, they can "upgrade" their license to a full-fledged Open Water Diver certification by ordering a replacement card.
Courses that children aged 10 or older can take, taken from the PADI website:
Scuba courses for 12-14 year olds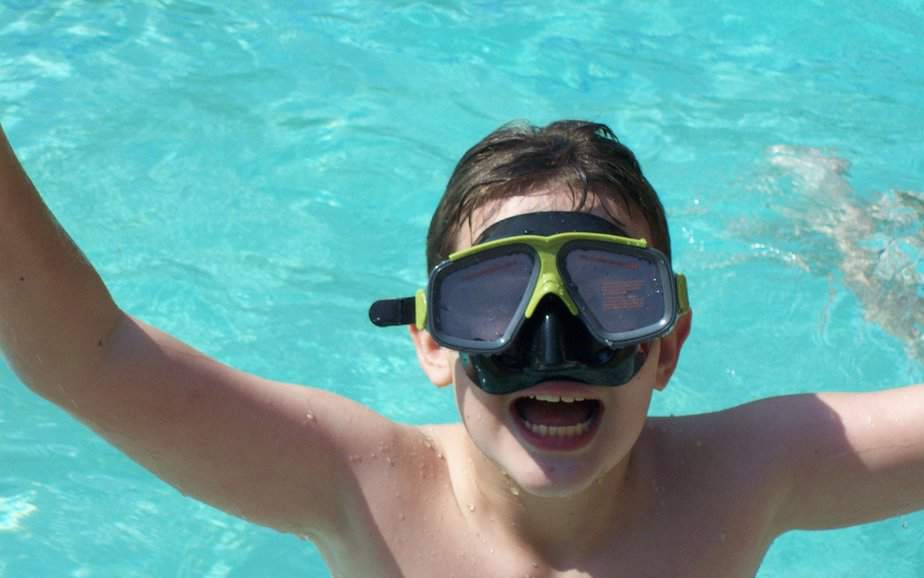 Kids between 12-14 years of age can enroll in additional junior versions of the adult scuba diving courses, where they will earn a junior equivalent of the regular certification. Of particular note is that now children 12 years of age or older can now take the Advanced Open Water Diver course to earn their Junior Advanced Open Water Diver certification.
Heck, if your child is really driven, he or she can even take the Jr. Master Scuba Diver course, the highest level for a recreational scuba diver that someone under the age of 15 can take. They can also take the Rescue Diver course plus some other specialty dives which we list below.
At this age, some of the restrictions on the Junior Open Water Diver certification have been lifted. For instance, now the maximum depth has reached parity with the regular certification (18 m / 60 ft), however they must still be supervised by a certified parent, guardian, or diving professional. Furthermore, children between 12-14 years of age are not qualified to lead dives or work as an assistant to a scuba instructor.
Once again, don't be discouraged by the fact that these certifications are "junior" versions. Once your child is 15 years old, they can upgrade their certifications to the standard ones often without requiring additional training. After all, they are taking the same course as adults but as children, so they deserve a full certification for putting in the hard work.
Courses that children 12 years of age or older can take:
Medical clearance for children
For adults, barring any serious health conditions they are aware of that they should probably be medically cleared for, all they need to do is answer the medical questionnaire provided to them by the dive center and they can start diving.
For children, it is mandatory for a child to see a physician first. This information is very important for both the parents and the dive instructor to know. Any reputable dive instructor will require a medical statement by a doctor clearing the child for diving before they are allowed to dive.
Furthermore, while the medical clearance lasts two years for adults aged 18 to 40, children must get a new medical statement once a year to ensure they are in tip-top condition. If you want to go diving with your kids, you'll need to see a doctor first and this is mandatory!
Parting words
As someone who is passionate about diving, you know how wonderful it is to scuba dive and want to give your kids an opportunity to learn it as well. The ocean can offer you stunning views, majestic marine animals, and colorful coral reefs. However, the ocean can only be safely enjoyed if novice divers are taught the basics well enough so that they can scuba dive with peace of mind. As parents, you will always want to supervise your children, but they should have a level of autonomy as well.
By putting your children through the appropriate scuba courses for their age and development level, they will be able to learn scuba diving at a time when their brain is ripe to absorb all kinds of knowledge. As we mentioned, not only are they learning about scuba diving, but they are also broadening their perspective on the world by learning about ocean conservation. Scuba diving can be a valuable experience for kids, and as long as they are at least 8 years old, they can get started.