If you thought that your favorite water activity couldn't get more fun, then clearly you've never used an underwater scooter. Why waste precious oxygen and energy swimming around when you can just hold onto a fast scooter and let it do all of the heavy lifting? If that sounds like something you can get behind (excuse the pun), then you're in the right place.
Our Top Picks:
What do underwater scooters do?
Underwater scooters go by many names: sea scooters, diver propulsion vehicles (DPV), aqua scooters, and so on. They are aquatic pieces of tech that help you move forward in the water. They essentially consist of handles, motors, and propellers. Just hold onto the handles, squeeze the speed trigger, and off to the races you go.
Should you get an underwater scooter?
Why swim on your own when something can swim for you? But in all seriousness, underwater scooters do have some very practical benefits. With it, you can:
Conserve energy while snorkeling or scuba diving for a more relaxing experience.
Conserve oxygen which means longer bottom times when diving.
Cover larger distances in a short period of time.
Mount a camera on the scooter and shoot some beautiful footage.
We saved the best reason for last, and it is that they are just. So. Freaking. Fun to use. What's the point of life if you can't have a little bit of fun and excitement every once in a while? And you know what's more fun than a regulator underwater scooter? How about a fast one.
What's more, sea scooters are available in so many shapes, sizes, and designs, so that there is sure to be one that is just perfectly suited for you.
In the next section, we review the fastest sea scooters on the market, from affordable entry-level devices to the most high-end commercially available underwater scooters. Additionally, you can find a detailed buying guide at the bottom of this article which provides a comprehensive overview of underwater scooters to help you find the fastest sea scooter that you deserve.
Fastest Underwater Sea Scooters Review
Yamaha Seal
Max Speed: 2 mph (3.2 km/h)
Max Depth: 15 ft (5 m)
Weight: 11.5 lbs (5.4 kg)
Battery Life: 90 minutes
The Yamaha Seal is a great family-friendly scooter that is sure to bring a smile on everyone's faces. It's not the fastest scooter on the block, however it does offer a respectable max speed of 2 miles per hour (3.2 km/h) which is safe for children ages 8 and up. Of course, adults can use it too but it will really push this scooter to the limits.
Since the Seal is designed with kids in mind, its protective grille is designed to keep even small, curious fingers out of the propeller's path. However, it's not enough to keep long hair out so make absolutely sure any hair is tied up prior to using it!
A standard safety feature that most scooters have is an automatic shutoff function that shuts off the motor when the speed triggers are not held down. It's useful in situations like the hairy situation described above, but also means if you were to lose your grip on the device it's not going to run off on its own forever.
This entry level device has a solid battery life of 90 minutes. It is also incredibly compact and lightweight, making it an ideal scooter to bring on your travels. The Seal's small size also means children can easily carry it around and handle it in the water.
Yet another safety feature the Seal has is its buoyant materials which help it to float on its own in saltwater. This means if you were to lose your grip on the Seal, it's not going to plummet to the bottom of the ocean never to be seen again. It's not buoyant enough to be used as a life raft, however. You can also use the Seal in freshwater or pool water, however it may sink a bit.
Yamaha Explorer
Max Speed: 2.5 mph (4km/h)
Max Depth: 30 ft (10 m)
Weight: 11.5 lbs (5.2 kg)
Battery Life: 60 minutes
The next step up from the Seal is the Yamaha Explorer which is designed with young recreational snorkelers and divers in mind. Its metrics are slightly better than the Seal; it's faster, can go deeper, and weighs about the same. As the name suggests, the Explorer is a great choice for exploring the barrier reef and chasing fish.
Compared to the Seal, the battery life isn't as good but that's because the Explorer needs that extra bit of juice to go faster. It is also compact enough to fit in a carry-on bag and available at an affordable price. Think of it like this. If the Yamaha Seal is for kids, then the Yamaha Explorer is for teens and light adults.
Yamaha RDS300
Max Speed: 3 mph (4.9 km/h)
Max Depth: 98 ft (30 m)
Weight: 18 lbs (8.1 kg)
Battery Life: 90 minutes
The Yamaha RDS300 has a top speed of 3 miles per hour and two speed settings. While it may be one of the slower sea scooters on this list, the reason why we are recommending it is because it strikes a good balance between everything. It has a max depth rating of 30m, and an operating time of 90 minutes. Despite being relatively lightweight, it is a surprisingly powerful scooter.
Durability is a top concern and the Yamaha RDS300 is as sturdy as they come. Its waterproof construction keeps water from getting into the circuitry, and especially from the lead acid battery. It is quite literally headstrong thanks to its robust hull that can withstand the occasional impact.
The RDS300 has no shortage of features with its underwater camera mount, water leakage sensor, thermal switch, and a removable buoyant component. With dimensions of 24 x 15.2 x 12.3 inches and an overall weight of 18 pounds, the RDS300 is a medium-sized device that can still be brought along while traveling with some effort.
CellBee Drone Sea Scooter
Max Speed: 2.7 mph (4.4 km/h)
Max Depth: 98 ft (30 m)
Weight: 5.9 lbs (2.7 kg)
Battery Life: 45 minutes
The CellBee Underwater Drone Sea Scooter is usable by both kids and adults and comes with lots of great features at an affordable price.
It features an ergonomic, streamlined, and symmetrical design that is proven to minimize water resistance while being comfortable to hold onto. Despite its compact size, it has a powerful 360W motor and is capable of operating at two speed settings (2mph and 2.7mph, respectively). With a maximum operating depth of 30m (98ft), you can really dive under to get the sights you want.
One downside of the CellBee is its small, built-in battery. It only lasts 45 min at the lowest speed setting, and 20 mins at the highest. Furthermore, since the battery is built-in, you cannot swap to a spare battery when the battery runs out.
However, the compact design makes this sea scooter optimal for kids. Since the CellBee is also a drone, it comes with parental controls that allows parents or guardians to control the scooter's lighting, speed, and depth range. You can do all of this remotely using a cellphone with Bluetooth and the free mobile app.
Using the built-in universal camera mount, you can attach nearly every single underwater camera including GoPros to capture the beautiful underwater sights. Plus, the CellBee comes with a 1-year warranty so you can buy it relatively risk-free. The small size of this scooter makes it the ideal option for vacationing with your family.
Sublue WhiteShark
Max Speed: 3.3 mph (5.4 km/h)
Max Depth: 40m (131 ft)
Weight: 7.7 lbs (3.5 kg)
Battery Life: 30 minutes
The WhiteShark from Sublue features a unique design that makes it look like a spaceship, and those two thrusters aren't just for show. The propellers will send you cruising through the water at over 5km/h (3.3 mph); just squeeze the dual speed triggers and listen to the motors roar to life.
Releasing even just one trigger will cause the device to stop which means this device must be operated with both hands. That way, you won't ever have any accidental start-ups because of an itchy trigger finger.
Other than its cool design, what makes the WhiteShark stand out is how lightweight it is. It is perhaps the lightest underwater scooter on the market and the perfect travel companion. At only 3.5 kg (7.7 lbs), you can even fit this device in a carry-on bag.
Snorkelers and shallow water divers can make great use of its 40m depth rating, and it also comes with a universal camera mount so you can snap some nice pictures or footage. The "cap" of the WhiteShark is made of buoyant material that allows it to float along the surface.
Unfortunately, the WhiteShark has a short run time of only 30 minutes and recharging it will take a few hours at a minimum. It is really handy to purchase a spare battery to swap to in case the battery dies on you.
The WhiteShark is perfectly usable by both kids, teens, and adults lighter than 200 pounds. It packs quite a punch for such a compact device, and is quite fast with its 3.3 mph top speed.
Geneinno S1 Trident
Max Speed: 4 mph (6.5 km/h)
Max Depth: 50 m (165 ft)
Weight: 8.1 lbs (3.7 kg)
Battery Life: 45 minutes
The Geneinno Trident is powered by dual propellers and has two speed settings: 2.2 mph (3.6 km/h) and a top speed of 4 mph (6.5 km/h). Thanks to its strong motor, you will be cruising through the waters at top speed.
The Trident has a powerful 26 lbs of thrust yet somehow manages to be one of the most lightweight sea scooters on the market. At only 3.7 kg (8.1 lbs), you can easily bring the Trident with you while traveling relatively hassle-free.
What's more impressive than the Trident's speed and size is its depth rating of 50m (164ft). Chances are that is a depth that most divers will never reach, so it would be easier to say the Trident can dive as far as you need it to.
If you still happen to be deep underwater when the battery dies, just let go of it, and its positive buoyancy will allow it to float back to the surface. That way, you can just focus on surfacing without having to carry an extra object. It's also fantastic for snorkelers who spend most of their time by the surface and want something buoyant to hold onto.
Are you interested in underwater photography? The Trident includes a universal camera mount and a GoPro can be mounted on it to capture stunning underwater footage. This scooter can even be mounted with a flashlight for those deep dives where visibility is low.
The only downside to the Trident is its low battery life. It can only be used for approximately 45 minutes before it needs to be recharged. Fully recharging it takes about 2 hours. You can extend the run time by using the lower speed setting, however we understand it is quite tempting to zoom around at 4 mph all the time.
Whether you are a diver or snorkeler, the Geneinno Trident can be used to explore the reefs or the underwater world. It is incredibly fast and yet lightweight enough to be packed into a carry-on bag for traveling. The Trident is suitable for both kids and adults thanks to its compact size, and will provide you with hours of fun on your next vacation.
AQUAROBOTMAN MagicJet
Max Speed: 4 mph (6.5 km/h)
Max Depth: 50 m (164 ft)
Weight: 7.9 lbs (3.6 kg)
Battery Life: 100 minutes
If you want the fastest underwater scooter, well, here it is. That's right, the title of fastest sea scooter belongs to the MagicJet from AQUAROBOTMAN. But wait, its max speed is listed above as only 4 mph, you might be wondering. There are other sea scooters on this list that go as fast, if not faster! How is it the fastest scooter? That's because the MagicJet has a unique feature: you can attach two of them together.
You heard right. By attaching two MagicJets together, you can literally go twice as fast, making it technically the undisputed fastest underwater scooter on the market. What's more, this scooter is also the best underwater scooter in terms of price-to-performance ratio. You can toggle between two speed settings: 2.5 mph (4 km/h) and 4 mph (6.5 km/h).
With its 7,000 mAh Li-on battery, you can use the MagicJet for a decent length of time. On the lowest setting, you can get about 100 minutes of run time, and 60 minutes at the fastest speed setting. With a 3-hour charge time, it takes quite some time to fully recharge. You can buy a spare battery so you can go for a second spin as the first battery is changing. This is less feasible if you decide to dual-wield MagicJets.
While the MagicJet by itself is technically not the fastest underwater scooter, two of them combined together sure is. The downside of this is, well, you need to buy two scooters. But hey, if you want the best, be prepared to pay the price – literally.
Even if you only have one MagicJet, it is a very solid scooter on its own. It is designed to be operable with only one hand and looks reminiscent of a power drill. It has an impressive depth rating of 50m and a max speed of 4mph. With a weight of only 3.6kg, the MagicJet is a great scooter for traveling. Whether you only have one or two MagicJets, it is well worth the money.
Yamaha 500Li
Max Speed: 4.35 mph (7 km/h)
Max Depth: 130 ft (40 m)
Weight: 21 lbs (9.5 kg)
Battery Life: 90 minutes
Make no mistake, this recreational and professional-grade sea scooter is designed with adults in mind. Its powerful motor and propeller can easily carry around an 85 kg adult at speeds of 4.3 miles per hour. It also has an impressive maximum depth of 130 feet and a huge battery that can run for 90 minutes. There's a lot to like about the Yamaha 500Li.
With a scooter this powerful, Yamaha have included numerous safety features to ensure anyone who uses the 500Li stays safe and sound. First, it has a speed adjustment knob with three settings to let users precisely control their speed. When the user lets go of the speed trigger, the motor will automatically shut off and the scooter will gracefully come to a halt.
With such a powerful propeller on this device, it is painful to imagine the poor thing that finds its way into its path. Well, banish that image from your mind because it won't ever happen. Thanks to its protective grilles, no fingers, debris, or fishing lines will ever meet the 500Li's moving parts.
Typically, a sea scooter that moves as fast as the 500Li does has a short run time. The reason is obvious; it takes a lot of power to generate all of that thrust and speed. That's why it's very impressive that the 500Li has a battery that runs for approximately 90 minutes before it runs dry.
With a maximum depth rating of 130 feet, you can use it to explore new areas of the ocean that many other sea scooters can never reach. The Yamaha 500Li is a heavy-duty propulsion vehicle that also happens to be one of the fastest on the market.
Windek Sublue Seabow
Max Speed: 4.47 mph (7.2 km/h)
Max Depth: 130 ft (40 m)
Weight: 10 lbs (4.5 kg)
Battery Life: 60 minutes
The Windek Sublue Seabow is one of the fastest underwater scooters on this list. It's also the most expensive, but hey, that's the price you pay for speed. It comes with three different speed settings: "Free" (2.24 mph), "Sport" (3.36 mph), and "Turbo" (4.47 mph).
How is it able to achieve these speeds? The Seabow has a streamlined shape that is reminiscent of a futuristic airplane that helps it glide smoothly underwater. It comes with two powerful motors that can pull more than one person at a time. If your kids also want to come along for the ride, then they certainly can.
Under normal conditions, the battery should last for 60 minutes before it needs to be recharged. It also has two universal underwater camera mounts with a built-in light, among other features. The Seabow also has a built-in OLED display that displays the remaining battery life and current speed.
You never have to worry about the Seabow suddenly dying on you. It has a clear low battery warning whereby the screen will flash and the device will vibrate to let you know it's about time to resurface.
What's most surprising about the Seabow is that it is able to provide all of these features and it only weighs 10 pounds. With very manageable dimensions of 12.87 x 19.13 x 6.96 inches, it is an ideal choice for travel and going zoom-zoom in the water.
Hoverstar AquaJet Dive H2
Max Speed: 5.6 mph (9 km/h)
Max Depth: 66 ft (20 m)
Weight: 31 lbs (14 kg)
Battery Life: 100 minutes
The Hoverstar Aquajet Dive H2 is the single fastest underwater scooter on our list. It comes with many fantastic features, among one of which is its incredible speed, so its high price tag shouldn't be a surprise. Its top speed is 5.6 miles per hour, but it has a total of three speed settings you can adjust to. It also has a depth rating of about 65 ft.
The AquaJet Dive is designed to look like a manta ray; not just for fun, but because that shape is streamlined and cuts through water easily. It can also be dismantled so that it fits in the travel case that this premium device comes with.
This device has its share of safety features as well. For instance, it can detect if anything gets caught in the propeller and automatically shuts down to prevent damage to the device or the individual. There are numerous sensors and LED lights which will alert you to any mechanical failures, floods, or to remind you when it is a good time to resurface.
Even though the AquaJet has a modular design for easier packing, it is overall still very heavy compared to some of the other options in this list. Furthermore, it is a very expensive option. However, it does rightfully deserve the title of fastest underwater scooter, so you get what you pay for.
Underwater Scooter Buying Guide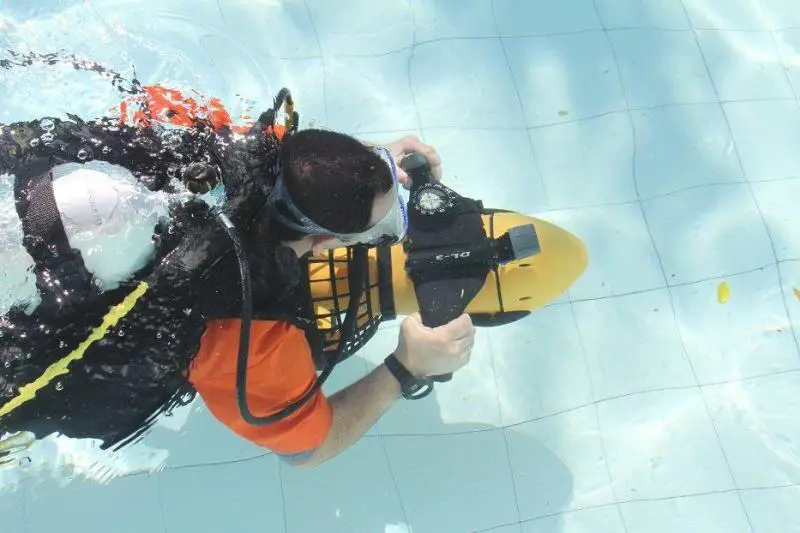 In this section, we will provide a comprehensive overview of the factors you must consider as you are shopping for the fastest underwater scooter. While your primary focus may be on speed, you should also consider the other factors that make an underwater scooter safer and more convenient to use.
Speed
Do you have a need for speed? If you want to glide through the water as fast as the fish you are observing then you want a top-of-the-line scooter. Entry-level underwater scooters are not particularly fast. They typically have a top speed of around 2-3 miles per hour on the fastest setting. The fastest underwater scooters have a maximum speed in the 4-5 miles per hour range, more than double the basic models offer.
The speed is controlled by the rotational speed adjustment knobs, and the propellers are activated by pressing the triggers located by the scooter's handles. Underwater scooters generally have at least two to three speed levels. You can easily change the speed on the fly if you need to speed up to fight against an underwater current.
If you are constantly running your scooter on the fastest setting, then it will drain the battery much faster. If you are a snorkeler, freediver, or scuba diving novice that only wants to dive at shallow depths, then a simple model with max speed of 2 miles per hour is more than adequate for the job.
Depth
The most basic underwater scooters have a depth rating of up to 15 feet. This is deep enough for recreational divers and swimmers to observe breathtaking views of the reef and aquatic life. If you go up in price, you will find models that can withstand the pressures at 100 feet and beyond.
The most expensive models will be able to keep up with you no matter how deep you dive. Since the average person will not be diving to depths of 200 feet and beyond, they do not have to worry about models of that caliber. They are very expensive and cost several thousands of dollars, so they are exclusively used by professionals in the field.
If you dive deeper than what your sea scooter is rated for, then there is an increased likelihood that water will enter and damage the circuitry. The increased water pressure at deeper depths may break through its waterproof seal or compromise the hull and cause the device to fail.
Weight
How heavy a sea scooter is affects how easy it is to carry when traveling.
First, let's talk about where you will be traveling. If you are diving locally, then weight is not as much of an important factor. Whether you have a lightweight or heavy scooter, it won't make any difference as long as you can fit it in the trunk of your car.
Weight becomes an issue if you need to fly to your diving destination. Suddenly, you need to consider how lightweight and compact your underwater scooter is so it can fit into your carry-on bag or luggage. It doesn't matter how fast or powerful your scooter is if it is too big to bring with you on your trip.
Thankfully, most entry level devices are not particularly heavy or bulky. On the other hand, the most heavy-duty, long-lasting and powerful scooters are immensely heavy. You can expect entry level devices to weigh around 10-25 pounds. Anything heavier than that is probably not something you want to bring on an airplane.
Buoyancy
How heavy the scooter is affects its buoyancy underwater. You will have to read what the manufacturer states about its buoyancy; whether it is positively buoyant, neutrally buoyant, or negatively buoyant.
Some underwater scooters are designed with enough buoyant materials so that they will float in along the surface in saltwater. That way, if you ever lose your grip on your scooter, it won't sink to the bottom of the sea. However, it may still sink in lake water or other sources of freshwater.
Snorkelers, freedivers, and swimmers will want their scooters to remain positively buoyant since they will spend a lot of time by the surface. However, if one plans on diving with their scooter, then they will need to bring ballasts (dive weights) to counteract this positive buoyancy.
Much like how scuba divers need to weigh themselves down so that they are not constantly floating upwards, underwater scooters must also be adjusted so that it has neutral buoyancy for scuba diving.
Some aqua scooters are designed so that they have zero buoyancy in saltwater. However, since it is easier to float in saltwater (more positive buoyancy), that means the same scooter will sink in freshwater. In that case, you will have to keep a close eye on the battery, otherwise you will be carrying a lot of dead weight trying to resurface.
The safest option is to find a scooter that is so buoyant that it floats even in freshwater and attach ballasts to weigh it down when you want to dive. This method allows it to be safely used no matter what type of water you are diving in.
Battery
Run Time
Your scooter's battery run time determines how long it can operate on a single charge. All underwater scooters will have a battery life indicator so you can keep track of approximately how much time it has left before it needs to be recharged. As we mentioned above, the faster the speed settings, the faster the battery drains.
Due to how power hungry underwater scooters are, particularly fast ones, you will have to be conservative with how you spend its energy. During normal use, you can expect a battery to last around 1 hour before it needs to be recharged. If you are constantly using it at maximum speed, it may only last 30 minutes. Divers who use their device sparingly may be able to use their scooter for as long as two hours on a single charge.
Once the battery runs out, you will need to head back to the boat to recharge it. The charge time is quite lengthy, lasting anywhere from 1.5 hours to 3 or more hours. In other words, once it runs out there is a high likelihood you won't be able to use your scooter for the rest of the dive excursion… unless you buy a spare battery.
This is an expensive option, however if you have multiple batteries to spare, then you can use the underwater scooter for as long as you have backup batteries.
Battery Maintenance
Whenever you need to remove the battery, there are a few things to keep in mind. First, make sure any latches securing the battery in place are lifted up. These keep the battery from shifting around during rigorous use and you don't want to damage them.
Next, when you put the battery back in, make sure you re-grease the seal before closing the unit. If you don't do a good job, then water can leak in and damage your scooter.
Furthermore, before putting your scooter into storage for the offseason, make sure to partially drain the battery. It is generally good practice not to leave a full battery inside of unused electronics because they may leak over time.
Pricing
Though a higher price tag does not necessarily mean you will get a faster scooter, in general it means that you will get a scooter with superior performance overall. Higher end models will have higher depth ratings, a more durable hull, longer run time, and yes, more speed. However, before spending a chunk of your hard-earned cash, you have to ask yourself how you will use your scooter.
High end scooters are designed with highly experienced or professional divers in mind. These are individuals who dive to depths greater than 100 feet and are possibly towing additional divers as well. They need a scooter that packs a lot of power and are willing to spend thousands of dollars to get this kind of performance.
On the other hand, entry-level scooters will only run you a few hundred dollars. At this price range, you can only expect to get a max speed of about 2 miles per hour. If you're willing to spend a bit more, you can find scooters with decent speeds of up to 3-4 miles per hour. The downside is that the maximum depth and durability will be significantly lower than a high-end model. However, they are still fantastic options for a newbie diver or snorkeler.
Safety
When searching for an underwater scooter, safety must be a top priority. Ideally, the scooter you are looking at should have various safety features in case of emergencies. For instance, does it have an automatic shutoff feature when you let go of the speed trigger? Does it have any sensors to detect any water leaks? And is the hull lined with impact-resistant material so that it can withstand a few hits without breaking?
Next, consider the age limit. Most underwater scooters are designed for people who are 16 years of age and older. Underwater scooters are not toys. They are incredibly powerful devices that can pose a safety risk to users younger than that, particularly those who want to take their fast sea scooter for a joyride.
With that said, there are some less powerful scooters that can be used by children who are at least 8 years old. These models are safer because they have more conservative top speeds and moderate thrust so that they are easier to manage.
Furthermore, make sure that the safety grille covering the propeller is fine enough so that debris, fishing lines, and fingers aren't able to get past it. The battery indicator should be easily visible so that you know when the battery is running low and have ample time to resurface.
Lastly, for maximum safety, we recommend looking for a scooter that is positively buoyant even in freshwater. In other words, no matter where you are diving, the scooter should stay afloat on its own. This gives you something to hold onto in an emergency and makes it less likely for you to lose the device since you can find it floating along the surface.
Fastest Underwater Scooter: Parting Words
To recap, underwater scooters are exceptionally fun whether you are a kid or an adult, and whether you are using it in the pool or in the vast ocean. They are powerful devices that can pull you around effortlessly so that you can cover large distances while conserving your energy.
With the fastest underwater scooter, snorkelers can explore large barrier reefs and the aquatic life beneath more than ever before. Scuba divers can rely on the scooter to propel them forward so that they don't have to waste precious oxygen and energy, allowing them to extend their bottom times significantly.
The fastest sea scooters can reach speeds of over 4 miles per hour. Unfortunately, entry-level sea scooters aren't able to provide those speeds. You will have to search for a mid-range scooter and that will run you several hundred dollars.
But no matter how fast a sea scooter can go, it is limited by its run time. Thus, you need to look for not only a fast scooter, but also one with great battery life. You may also want to purchase additional batteries so that when the battery runs out, you can quickly swap it with another and continue diving.
Lastly, while it is not necessary for a scooter to go fast, it certainly is more fun. Haven't you ever wondered what it feels like to swim as fast as a fish? If you use any of the scooters in our review, then you can feel the adrenaline rush of gliding through the water like a torpedo. It is a sensation that is unforgettable, and it is only attainable with a fast underwater scooter.
Photo Credits:
Last update on 2023-03-28 / Affiliate links / Images from Amazon Product Advertising API