Divers should avoid any unnecessary movements to keep their oxygen consumption and heart rate to a minimum. With that in mind, what if there were something that does all of the heavy lifting so that you don't have to lift a finger? Thankfully, a solution already exists and it is a diver propulsion vehicle (DPV), more commonly known as an underwater sea scooter.
The best underwater scooter will use its propellers to carry you large distances and help you conserve precious oxygen. With the help of its powerful motor, you will pierce through the water like a torpedo and find many beautiful locations to explore. By conserving your oxygen, you can spend more time exploring cool caves and wrecks instead of wasting precious resources just trying to get from point A to B.
What's more, underwater scooters are highly versatile. They can be used in both shallow and deep depths. They can be used by snorkelers or swimmers that want to conserve their energy as they explore a huge barrier reef. They can help you maneuver more easily through currents, and they are not just practical but extremely fun to use.
When searching for an underwater scooter, keep in mind there is a big difference in what budget models and high-end models can do. Generally, the higher the price tag, the better the battery life, speed, and depths that you can dive with it.
As such, the vast majority of divers don't need to get the latest, most expensive high-end model to meet their needs. Below, we have compiled a list of the best underwater scooters on the market so that you can find a great one without breaking the bank. We have also compiled a buying guide in case you want to do some research on your own.
Our Top Picks:
Best Underwater Scooter Review
Sublue Whiteshark
Weight: 7.7 lbs (3.5 kg)
Max Speed: 3.35 mph (5.4 km/h)
Max Depth: 130 ft (40 m)
Battery Life: 30 minutes
The Sublue Whiteshark has an interesting symmetrical design that looks like a ship you'd see in Star Trek. It is one of the top scooters on the market with a user-friendly, portable design. It has two powerful motors to power its two propellers which provide up to 17.6 pounds of thrust. At only 3.5kg, the Whiteshark is perhaps the lightest scooter on the market.
Despite its compact design, this device can travel at a respectable speed of 3.35 miles per hours and is usable up to a maximum depth of 40m. At the top you will find a slightly arched, detachable wing that provides additional buoyancy if you need it.
The Sublue has a battery life of 30 minutes of normal use. You can check the remaining battery life by looking at the onboard battery life indicator so you know when to resurface. The battery has a charge time of 3 hours and has an 11,000 mAh power capacity.
Using the Sublue Whiteshark is very straightforward. It has side-by-side on/off triggers for easy activation. You will need to hold down the trigger in order to move forward. Both propellers will run and stop in sync and cannot be individually controlled.
If you want to do some underwater photography/videography, the Whiteshark includes a universal camera mount for you to mount your camera. This lets you take some beautiful shots while you can keep your hands securely on navigating with the scooter.
Overall, the White Shark is a great dive propulsion vehicle for frequent fliers. Its small size allows it to fit inside a carry-on bag and its light weight means carrying it around is not much of an inconvenience. The camera mount lets you capture your unforgettable memories, and it has enough safety features that even children can safely use it.
Pros:
Intuitive, user friendly design with an aesthetic symmetric look.
Dual motors and propellers.
At only 3.5kg, it is perhaps the lightest scooter on the market.
17.6 pound thrust, high speed of 3.35 mph.
Universal camera mount and accessory mount.
Cons:
High price.
Battery life is on the short side.
Yamaha Explorer
Weight: 11.5 lbs (5.2 kg)
Max Speed: 2.5 mph (4 km/h)
Max Depth: 30 ft (10 m )
Battery Life: 90 minutes
The Yamaha Explorer is designed to be an entry-level scooter that is perfect for snorkeling and shallow-water diving. With that said, it does have a decent depth rating of 30 feet, so you can actually dive reasonably deep with this device. And with a travel speed of 2.5mph, it fares comparably well to other scooters in this price bracket.
At only 11.5 pounds, the Explorer is very lightweight. You could easily carry it with one hand as well as fit it inside a carry-on bag. Yamaha have included the standard safety features you'd expect to have such as a safety grille to keep fingers away from the propeller and an auto shutoff function which shuts off the motor when you let go of the speed triggers.
With a run time of 1 hour, despite the name, the Explorer doesn't give you the greatest amount of time to spend exploring. It'd be better if the battery could last another 30 minutes longer. However, there is a reason why this is just an entry-level device. With that said, the Explorer is a great device for children to use when starting out. It even has a GoPro mount included to help you capture those amazing underwater moments.
Pros:
Very easy to use.
Relatively lightweight and compact for travel.
Recommended for children and teens to use.
Cons:
The battery life is on the short side.
Yamaha Seal
Weight: 12 lbs (5.5 kg)
Max Speed: 2 mph (3.2 km/h)
Max Depth: 15 ft (4.6 m)
Battery Life: 90 minutes
For those looking for a reliable, mid-range underwater scooter, then consider the Yamaha Seal. This powerful underwater device can be used by the whole family. It is perfect for shallow dives or snorkeling along the surface with its 15ft depth rating.
It has a conservative max speed of 2mph, but an incredible battery life of 1.5 hours during normal use. This model features a bright red and white color scheme, with a larger propeller in the rear. You can find the integrated speed triggers by the side handles.
The Yamaha Seal includes numerous safety features that make it a great option for safety-minded individuals. Such features include its dual operation trigger, automatic shut-off, and positive buoyancy.
In terms of durability, the Seal also has waterproof circuit protection and a sealed lead acid battery compartment. Not only that, but the Seal uses tight radial safety grilles to keep fingers from reaching into the propeller housing accidentally.
Additionally, the seal maintains a steady pace and drifts well for a smooth ride. It is also designed to be relatively neutrally buoyant within its depth rating so you don't require additional dive weights. Its ergonomic triggers and handles make handling and navigating with the Seal very enjoyable.
You can get all of this functionality at a very affordable price point. Furthermore, the Yamaha Seal is compact, considering all of the features it provides. The Yamaha Seal is an ideal scooter for children and lightweight adults to use.
Pros:
Relatively lightweight at only 12 pounds.
Generous battery life of 1.5 hours.
Automatic shutoff function with trigger release.
Inexpensive.
Cons:
Slow max speed of 2 mph.
Not for larger individuals.
Sea Doo Dolphin
Weight: 12 lbs (5.5 kg)
Max Speed: 2 mph (3.2 km/h)
Max Depth: 15.5 ft (4.7 m)
Battery Life: 90 minutes
The Sea Doo Dolphin is designed with children and teenagers in mind. This model is not designed for oceanic adventures, however it is best suited for pools, rivers, and lakes. The Dolphin sports an impressive battery life of 1.5 hours. Furthermore, it can be used in depths up to 15.5ft. On top of that, it can travel at speeds of 2mph which is pretty good for recreational use.
On top of that, the Dolphin is compact and super lightweight, making it the ideal product for a day trip or waterside vacation. We also like the Dolphin's colorful chassis. It's bright and it stands out which makes it easy to see and hard to lose.
The handles are easy-to-grip and it has other safety features like a buoyant shell which prevents it from sinking too quickly. With a weight of only 12 pounds, the Dolphin is a comfortable companion for children as young as eight years old to use.
Another feature we particularly like about the Dolphin is its integrated GoPro mount. If you or your kids want to get some experience with underwater photography, the Dolphin is a fantastic opportunity to try it out. If there is a hard-to-reach dive spot that you want footage of, bring the Dolphin along to get the job done.
Overall, the Sea Doo Dolphin is an excellent introductory product for children and teenagers that are interested in sea scooters and diving. It is durable enough to withstand a kid's antics and intuitive enough for them to know how to use it immediately. The strong hull keeps the circuitry protected so no leaks will occur, so parents can rest easy.
Pros:
Relatively lightweight at only 12 pounds; for day trips this is very manageable.
Generous 1.5 hours of battery life.
Chassis is positively buoyant; floats.
Bright colors make it hard to lose and easy to spot.
180 day warranty period.
Cons:
Not intended for ocean dives; only has a depth rating of 15.5ft.
Max speed is only 2mph.
Not for larger individuals.
Yamaha RDS300
Weight: 18 lbs (8.2 kg)
Max Speed: 3 mph (5 km/h)
Max Depth: 100 ft (30 m)
Battery Life: 120 minutes
The Yamaha RDS300 is one of the most powerful recreational tow-behind underwater scooters available. Its metrics are quite impressive: it has a 3mph top speed and a depth rating of 100ft, making it more than capable of handling all of your recreational diving needs. It also features a two-level rotational speed control system that gives users a fine degree of control as they go about their underwater sightseeing.
The RDS300 is high-performance, but that also means it is bulky. It measures 24 x 15.2 x 12.3 inches in size and weighs 18 pounds with the battery included. In other words, it is not the most suitable for traveling. However, it has a rugged exterior and a generous runtime thanks to its large battery, so there's no questioning whether the RDS300 can handle rough waters
Next, this scooter has many safety features that will put your mind at ease. First, it has an automatic shutoff feature; if you let go of the speed triggers, then the motors will cut off immediately. Additionally, the hull consists of a resistant rubber-lined and waterproof shell that can take a few impacts and prevent flooding.
Should any water enter this device, the water leakage sensors and integrated thermal switch will warn users about this emergency and provide them with enough time to surface before the device fails.
With such impressive stats and so many safety features for a recreational scooter, it is no wonder that the RDS300 is so well-received. Not to mention, the ease with which you can steer, stop, and accelerate makes it a joy to use. With its speed controls that provide seamless acceleration and deceleration, the RDS gives users complete navigational control on their dives. It also reduces fatigue and keeps air consumption to a minimum for longer bottom times.
Pros:
Great metrics: depth rating of 100 feet, top speed of 3mph, battery life of 1.5 hours.
Automatic shutoff feature.
Integrated early warning system.
Integrated camera mount.
Durable hull with sealed lead acid battery.
Cons:
Not for children or teens under 16 years old.
AQUAROBOTMAN MagicJet
Weight: 7.9 lbs (3.6 kg)
Max Speed: 4 mph (6.5 km/h)
Max Depth: 164 ft (50 m)
Battery Life: 100 minutes
Thanks to its innovative modular design, the MagicJet from AQUAROBOTMAN can be adapted to your diving needs. As you can see at first glance, the shape of this device is somewhat reminiscent of a power drill with a propeller. This shape is what lets you operate it with just one hand (or both) to reach speeds of 4 mph. Since you can operate it with one hand, nothing is stopping from getting two of them to travel at double that speed.
By underwater scooter standards, even just one of these MagicJet scooters goes impressively fast. With two, you will be gliding through the water faster than a fish. Plus, it has a solid run time of 100 minutes before it needs to be recharged. You could even switch batteries underwater to keep the fun lasting longer.
Pros:
One-hand operation; can use two MagicJets at once for double the speed.
Impressive speed of 4 mph, can be doubled.
Solid 100 minute operating time.
Can use two underwater cameras – one for each device.
Cons:
Unusual shape means it might be harder to pack.
There is somewhat of a learning curve until you get used to one-handed maneuvering.
Geneinno Trident
Weight: 8.1 lbs (3.7 kg)
Max Speed: 4 mph (6.4 km/h)
Max Depth: 164 ft (50 m)
Battery Life: 1 hour
Geneinno made a name for themselves as a leading manufacturer of underwater drones. Now, they have finally decided to enter the underwater scooter market with the Trident. The goal was to make a powerful and compact watercraft that can bring users where they want to go and in all water conditions.
Since they are pros at making drones, they already had the basic design down. Their drones were meant to be compact so they fit in a carry-on bag and durable enough to be used in deep waters. It's no surprise then that their underwater scooter can also do the same things.
With a powerful motor and two propellers, the Trident can reach an impressive top speed of 4 mph (6.4 km/h) which ensures you can cover a large distance quickly. This device also comes with a lock function so that you won't accidentally activate its motors when not in use.
Thanks to its positively buoyant materials, it will float by the surface if you accidentally drop it in the water. While diving, you will need to bring dive weights. Speaking of diving, the Trident has a very respectable depth rating of 164 ft (50 m) which means it can even keep up with diving enthusiasts.
Lastly, the Geneinno Trident also includes a universal camera mount which is compatible with GoPro cameras as well as LED lighting mounts to help you capture the best underwater shots.
Pros:
Compact and lightweight design makes it ideal for traveling.
With a top speed of 4mph, it is one of the fastest scooters on the market.
It sports an impressive depth rating of up to 164 ft (50 m).
Can mount a GoPro for capturing those amazing underwater moments.
Cons:
The battery run time is only about 45-60 minutes, however it can be rapidly recharged in only 1.5 hours.
Yamaha 500Li
Weight: 21 lbs (9.5 kg)
Max Speed: 4.35 mph (7 km/h)
Max Depth: 130 ft (40 m)
Battery Life: 90 minutes
Now that we've whetted your appetite with a few recreational underwater scooters, it's time for the main course. The Yamaha 500Li is a professional-grade sea scooter that has an impressive top speed of 4.35 miles per hour and a depth rating of 130 feet. It is one of the fastest underwater scooters you can buy and has a three-level rotational speed control with battery indicator.
The Yamaha 500Li is a stylish device. Customers can choose between three unique colorways like metallic black with red/blue/green trim. This powerful propulsion device also includes an integrated camera mount for divers looking to capture stunning footage at deep depths.
There's no doubt that the 500Li is one of the best options in its class. It only requires 500W of power to help you glide through the water at unmatched speed. Not only that, but it gives users unrivaled control while letting them conserve their energy so that they can stay underwater and take in the sights for longer.
Users can easily maneuver this scooter in the water thanks to its intuitive dual triggers for speed control and stops. Furthermore, it has an on/off switch in the center, next to the battery level indicator lights. This is also where the camera mount is located for attaching your GoPro.
Safety is a priority with the Yamaha 500Li. Its hull is highly durable and all of the circuitry is protected and fully functional up to depths of 130ft (40m). This scooter also comes with removable weights for buoyancy control. The propeller is covered by a plastic cage which will keep fishing lines, debris, or fingers out of the propeller's rotation path. The battery is also easy to remove and replace.
If you have the money for it, then Yamaha 500Li is one of the best underwater scooters you can get. It is bound to help you cover a large distance while conserving your precious energy and oxygen. It is designed with professionals in mind, however recreational divers can use it as well if they are willing to fork over the cash. What's more, with its amazing depth range, users can capture stunning underwater images and videos that many others cannot.
Pros:
One of the fastest underwater scooters money can buy at 4.35 mph.
Impressive depth range of 130 ft (40 m), nearly triple what recreational scooters can handle.
90 minutes of battery life which, when you consider how high-performance it is, is very generous.
Three-level rotational speed adjustment for greater control.
Naturally buoyant and comes with dive weights.
Superior durability and flood prevention.
Cons:
Expensive.
At 21 pounds, it is very heavy and not ideal for traveling.
Apollo AV-2 Evolution 2
Weight: 47.4 lbs (21.5 kg)
Max Speed: 2.6 mph (4.1 km/h)
Max Depth: 230 ft (70 m)
Battery Life: 110 minutes
Heavy-duty doesn't even begin to describe the Apollo Evolution 2. What you get after paying its hefty price tag is a feature-packed underwater scooter that can be pushed to the extreme. It has an impressive depth rating of 230 feet, which is nearly double what most non-recreational scooters can handle. It has saddle wings that allow it to pull multiple divers at once at variable speeds up to 2.6 mph.
For such a powerful device, it has a battery life of nearly 2 hours. The speed triggers are designed to accelerate and decelerate the device smoothly, and the hands-free riding saddle lets you hold the device between your legs to leave your hands free to do other business. The propeller angle can be adjusted to three different positions to control the direction you're heading.
Pros:
Unparalleled depth rating of 230 feet (70m).
The battery run time is nearly 2 hours long which is incredible for a device like this.
Adjustable propeller angles.
Can pull more than one diver at a time.
Cons:
Expensive.
Large, bulky, extremely heavy.
Tusa SAV-7 EVO
Weight: 45 lbs (20 kg)
Max Speed: 2.6mph (4.1kmh)
Max Depth: 230ft (70m)
Battery Life: 110 minutes
If you are a professional diver that needs a scooter that can head deep underwater, then the Tusa SAV-7 EVO is what you need. It has an impressive depth rating of 230ft (70m) and packs some serious power. With the SAV-7 EVO, you can literally pull 3 divers by using saddle wings; carrying extra divers barely even slows this powerhouse down.
What's more, it has a generous run time of 100 minutes which is impressive considering how much weight it can carry. With that said, keep an eye out for its battery life indicator so you know when you should resurface.
Additionally, the SAV-7 EVO provides hands-free operation thanks to its ergonomic design which allows you to hold this vehicle comfortably between your legs. It has rotational speed adjustment functions which allow you to change between three speeds while on the move, with a top speed of 2.6mph (4.2kmh). While it is not the fastest scooter around, it makes up for it with its unrivaled depth rating.
All of these features make the Tusa SAV-7 EVO a fantastic underwater scooter for professional use. If you need a dive propulsion vehicle for serious underwater vehicles, this is the one you should get.
Pros:
Incredible depth rating of up to 230ft (70m).
Extremely durable to resist water pressure at max depth and the occasional impact.
Allows for hands-free operation (can be held with your legs).
Rotational speed adjustment to finetune your speed while in motion.
Cons:
Best Sea Scooter Buying Guide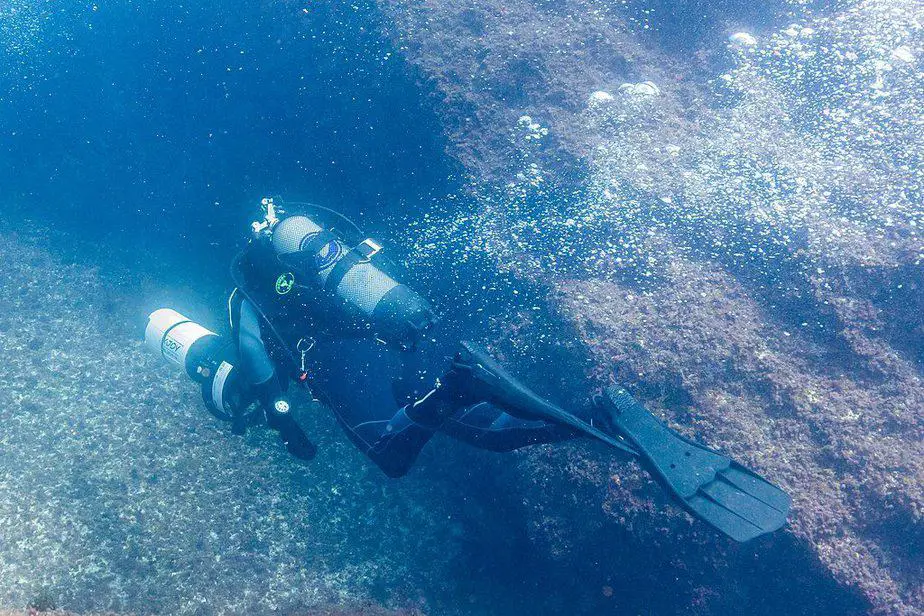 Size
The size and weight of an underwater scooter affects its underwater performance in numerous ways. The average recreational prefers using smaller, compact scooters. A streamlined design makes it easier to bring the scooter along in carry-on cases or backpacks when traveling to remote destinations. However, smaller scooters do not perform as well as larger scooters.
Large scooters are bulkier and heavier but they house more powerful propellers and motors. Therefore, they are able to go faster and deeper than their smaller counterparts. While every model has different specifications, larger scooters tend to perform better and increase a diver's range. The downside is, obviously, that it is larger and therefore more cumbersome to carry around.
However, if you are diving locally, then even the largest tow-behind scooter can fit in the trunk of your car. If you plan on flying to your destination, then a compact scooter is necessary.
Weight
Similar considerations have to be made when it comes to how heavy a scooter is. You are going to be traveling with a lot of heavy gear, and if you have a travel BCD, then it is likely that a sea scooter will be the largest and heaviest item you will bring.
A heavier scooter makes it harder to carry while traveling but also has some repercussions when using it underwater. Keep in mind that a dive propulsion vehicle's weight contributes to the overall weight of your scuba gear, which means you need to adjust your BCD to stay neutrally buoyant. A bulkier scooter can be harder to control underwater. Scooters that have a powerful motor and are lightweight will be expensive.
Type of Scooter
There are various types of underwater propulsion devices such as sub-skimmers and wet subs. With that said, those models are generally used by military personnel and you won't find many such types for consumers. The most popular type of scooter is the tow-behind type.
Tow-behind scooters are essentially a pair of handles, a motor, and some sort of propeller. Its beauty is in its simplicity, and they are able to provide numerous benefits for you while diving.
Battery Life
Underwater scooters are battery-operated and can provide anywhere from 30 minutes to 4 hours of battery life. Furthermore, the time it takes to fully recharge the batteries can take several hours. In other words, once a battery runs out, you won't be able to use the scooter anymore unless you have some spare batteries. Experienced divers will purchase backup batteries and bring them on extended immersions.
The type of batteries that most recreational sea scooters use are sealed lead acid batteries, which are more expensive but safer than traditional lead batteries. In order to charge them, they must be removed from the scooter's housing. Some scooters use lithium-ion batteries, however they are still not as common as traditional lead acid batteries.
If you have your scooter running at full speed all of the time, then you will drain the battery much faster than if you moved at slower speeds.
Depth Rating
In terms of performance underwater, specifically depth ranges, there is an extreme variance in what each model has to offer. A scooter may only be rated for depths of only a few feet to several hundred feet. As you'd expect, a scooter that only has a 15 feet depth rating is going to be a lot cheaper than one with a 130 feet rating.
There are many factors in place that can affect their depth range as well, such as the scooter's own buoyancy, which impacts whether it can efficiently sink or not. In the same way that divers strive to achieve neutral buoyancy by tweaking their buoyancy compensator, scooter manufacturers are aiming for neutral buoyancy as well.
Speed
Do you have a need for speed? Do you want to pierce through the water the way a shark, dolphin, or torpedo would? Are you planning on doing the underwater equivalent of drag racing with some buddies?
If you answered yes to any of these questions, then I have some bad news for you. Even the fastest underwater scooters don't go very fast. The average speed is between 2 and 4.5mph, with the faster ones on the higher end of that range and the fastest may exceed 5mph.
With that said, while those speeds seem slow when compared to a car or plane, underwater it translates to a nominal increase in speed. Plus, the goal of these devices is to help you conserve energy, not to go fast.
Propeller Protection
In order to ensure your safety, all underwater scooters are held to a strict standard. Each device must have some sort of moving parts protection. In other words, there needs to be a cover – typically some sort of mesh panel or radial vent – over the propeller.
Some scooters provide additional protection against fishing lines and other underwater debris. Furthermore, fine covers are necessary for younger divers who might accidentally stick their fingers in the path of the oscillating propeller.
Durability
Anything that is exposed to saltwater needs to be durable. You want to find a sea scooter that is resilient and reliable enough to perform well even in rough conditions. When searching for a scooter, look for one that is constructed from sturdy polymer and corrosion-resistant material.
Furthermore, scooters designed to withstand the pressures of deeper depths will be more durable than ones intended for shallow water diving only. It needs to be able to propel you through underwater currents and robust enough to shrug off the occasional knock or two.
External Controls
Underwater scooters must have watertight and intuitive external controls. Typically, what this means is that the main power switch and speed regulator are easy to control. Both of these parts are integrated into the scooter's steering system.
The scooter should start up immediately if two conditions are met: the power switch is turned on, and the speed trigger is held down. Once the trigger is released, the motor would shut off. So if you were to lose your grip on the handles, the scooter won't get very far before it shuts off automatically.
Since any physical exertion increases air consumption, the triggers and buttons need to be easy to access and operate. Otherwise, the scooter isn't benefiting you very much.
Hull Protection
The front of the scooter, or hull, is a critical but sometimes underappreciated component of the device. It is where the battery and all of the circuitry required to power the scooter's motorized propeller is housed. This vital part of the scooter must be water and gas tight so that it can function properly.
Any leak, even minor, can damage the internals of the scooter. It can also affect the scooter's buoyancy. That is why professional grade scooters include flood warning lights to alert divers that the scooter is on the verge of malfunction. You must keep an eye out for it otherwise your scooter may suddenly die on you.
Furthermore, the hull must be durable enough to endure the wear and tear of numerous underwater runs, perhaps several in one day. To ensure it is up to the task, manufacturers line their scooter hulls with impact-resistant materials such as rubber to protect the hull integrity.
Buoyancy
In the same way that divers need to be neutrally buoyant, underwater scooters must also maintain neutral buoyancy. Most high-quality and professional scooters will have ways to adjust its buoyancy. These generally consist of a weight system that includes buoyant attachments or removable weights.
When the scooter is neutrally buoyant, it means that it is floating in place, neither rising or sinking. This is important not just for conserving your energy, but ensures that the scooter doesn't go sinking to the depths if you ever lose your grip on it.
A positively buoyant scooter makes it difficult for you to descend. However, snorkelers and swimmers may want their scooters to remain positively buoyant since they are spending their time at the surface. It also means that it won't sink to the bottom if left unattended or when not in use. If lost, a floating scooter will be easier to find than one that has sunk to the bottom.
Price
The price of underwater scooters can range from, at the low end, a couple hundred dollars, and at the high end, several thousand dollars. Professional-grade models include advanced functionality such as speeds of 4mph, batteries that last for several hours, and depth ratings of several hundred feet.
How many of these features you want, as well as how high the metrics get, depends entirely on how much you are willing to spend. With that said, there are still numerous mid-range sea scooters that are quite competitive at an affordable price. Recreational scuba divers need not even think about getting an advanced model until they have more training and experience under their belt.
Even if you have the money to get the most advanced model, you may not even be capable of using it to its full potential if you only dive at shallow depths. Therefore, in order to take full advantage of your investment you need to determine your needs before spending more money than necessary.
Frequently Asked Questions
Do I need an extra battery for my underwater scooter?
Dive propulsion vehicles can help divers conserve their energy on a dive. However, how much it can help you is limited by the battery's run time. The efficiency of its battery technology determines how long it can last before it needs to be recharged, as well as how long it takes to recharge it.
Underwater scooter manufacturers utilize energy-dense sealed lead batteries that provide 30 minutes to 2-hours of run time. Depending on how long you plan on diving, you may want to purchase additional batteries so that you can use your scooter for the entirety of your dive excursion.
If you wish to share your scooter with fellow divers, having a few extra batteries on hand doesn't hurt. Spare batteries can keep the fun going for many hours. They are also a necessity in case a battery leaks or malfunctions in any way, you know that you have a backup. With that said, batteries need to be replaced every few years because their capacity to store energy depreciates over time.
How should I store my underwater scooter when I'm not using it?
Few people dive year-round; most dive only when it is seasonally appropriate. Thus, your scuba equipment will be in storage for several months of the year, and you need to do some minor preparations to ensure that your gear is stored properly.
Thankfully, how you store your underwater scooter is not much different than how you store your other scuba gear. After your final dive for the season, rinse it thoroughly and make sure you get all of the salt and debris off. Dry it with a towel and let it sit in a cool, dry area away from direct sunlight until it completely air dries.
Take out the batteries and make sure they are at half capacity before storing them. This will extend its life span and reduce the chances of leaking while in storage. Batteries do not like heat, so as we mentioned above, store it in a cool, dry area.
Batteries lose about 20% of their storage capacity every year no matter how well you maintain them. Thus, we recommend you make full use of your scooter before you need to store it. That is also why you should not purchase any batteries unless you plan on using them right away because time will only degrade them.
Once it is time to take your equipment out of storage, you will need to do a few checks. Look for any cracks, faulty seals, or battery leaks. Remember to charge your battery before your dive.
Are underwater scooters safe to use?
As you are aware, underwater scooters use propellers to carry you forward. This raises some safety concerns: are the propellers covered up? Does the scooter move at dangerous speeds? Diving is already an activity with lots of safety concerns, does using an underwater scooter increase the risks of an accident?
These are all valid questions. It is possible that these devices can propel a diver to intense depths that they are not used to. Without proper training, they may find themselves deep underwater with insufficient air to safely resurface. Conversely, divers may accidentally surface too quickly and pass out.
Here are the ways that underwater propulsion vehicles can avoid the pitfalls mentioned above. First, the propellers are indeed covered up so that fingers or any other appendages don't find their way in.
Next, underwater scooters move at speeds of 2 to 4.5 mph. Even if you crash at full speed, you will survive. The speed is only an issue if you are ascending or descending very quickly.
Furthermore, underwater scooters will only move if these conditions are met: 1) the power switch is turned on, and 2) the speed trigger is held down. If you were to let go of the speed trigger, the propeller will stop and you will eventually stop as well. The speed can also be adjusted so that it does not accelerate very quickly. Thus, divers should be aware of how fast they are ascending or descending so they can adjust to the pressure changes.
Can I use a sea scooter for underwater photography?
You can use an underwater scooter to quickly cover large distances and get you to beautiful underwater vistas and locations like wrecks, reefs, and caves. If you are diving with photography gear, no doubt you are already weighed down heavily and have, at best, one hand free. Therefore, you should look for a scooter with a GoPro or universal camera mount.
Keep in mind that you need at least one hand on the scooter to operate the speed trigger. If you require both hands for a shot, or want to take a still, then you will need to turn the scooter off completely to do so.
What benefits do underwater scooters provide?
Are underwater scooters strictly necessary in order to enjoy scuba diving? Of course not. However, they do provide some useful benefits that could certainly enhance your diving excursion, such as:
Reduced air consumption: Swimming elevates your heart rate and thus causes you to use up your oxygen faster. With an underwater scooter, you can conserve most of your energy by letting the scooter carry you around instead. Having a reliable scuba regulator doesn't hurt, either.
A way to fight against currents: Currents can appear underwater and swimming against it is an arduous task that should not be attempted under most circumstances. However, with the powerful motor of an underwater scooter, you can swim against strong ocean currents without exhausting yourself.
Improved range: Not only can you conserve energy, but you can also cover a larger distance in less time without tiring yourself out. This way, you can spend more time exploring beautiful locations instead of swimming around aimlessly.
Improved safety: Since an underwater can help you do all of the above, the net result is that you have more oxygen, time, and energy while diving. In other words, you are better equipped to handle any emergencies should they arise because you have more resources to deal with them.
A greater experience: Let's stop talking about practical benefits for a second and focus on something that is often overlooked: how fun is it? We have to say, underwater scooters are just pure fun. They make you feel like a kid again. In the same way that driving can be relaxing, traveling with an underwater scooter feels like you are on a ride you don't want to get off.
Who should use a sea scooter?
Sea scooters are highly versatile and nearly everyone stands to benefit from it. We have mainly focused on its practical uses for scuba diving. However, the people who stand to benefit the most from sea scooters are children, elderly, or anyone has trouble swimming.
There's nothing wrong with only using the scooter at the surface with a life jacket on. If you don't have the stamina to cover large distances, then let the scooter do all of the work for you. Furthermore, you can use a sea scooter just because it's, you know, fun to use. It's the perfect gift for kids, and honestly, there's nothing wrong for anybody of any age to use it for a joyride.
With that said, if you plan on diving with one, then we recommend you have a solid grasp on your diving fundamentals before you rely on a sea scooter. It should not be used to cover any weaknesses in technique, but rather to make things more convenient for you.
Best Underwater Sea Scooter: Parting Words
Whether you are scuba diving, snorkeling or freediving, an underwater scooter is able to provide you with hours of thrills by taking you from point A to B very quickly. This helps you cover a large distance in a short span of time and take in more sights that you otherwise couldn't. It also has the very practical benefit of helping you conserve energy, which is vital for scuba divers with a limited oxygen supply.
But what's most important of all is how fun it is to hold onto one of these dive propulsion vehicles and letting it do all of the heavy lifting while you relax and enjoy the view. Everyone nearby is going to be jealous watching you zoom past them in style.
In order to find the best underwater scooter, you need to find one that suits your needs. Entry level models are designed only for casual use, and they have a limited depth rating of around 15 feet, run time of 1-2 hours, and propel you at speeds of 2-3 miles per hour.
The more money you spend, the more features you get, particularly a significantly improved depth rating. However, most people will not need to dive more than 15-30 feet, and so their money is better spent getting a basic model. Considerations should also be made if the sea scooter can fit inside a carry-on bag which makes traveling a lot more convenient.
Don't let lack of stamina be the reason why you can't fully enjoy your snorkeling or scuba diving adventures. Bring an underwater scooter with you and let it do all of the heavy lifting. By following the buying guide or choosing one of the scooters we recommend, you will be sure to find a solid product that will leave a huge smile on your face as you are effortlessly gliding through the water.
Photo Credits:
Last update on 2023-03-27 / Affiliate links / Images from Amazon Product Advertising API