The Seiko 5 SNK809 is one of Seiko's most popular watches. Watch enthusiasts and casual watch-wearers alike love the SNK809 for its affordability, versatility, and style. It's not often you get an automatic mechanical watch this good at this price point, and few alternatives exist.
For less than or around $100, you can get a long-lasting timepiece from one of the most renowned watch manufacturers in the world. In this review, we will be delving into what exactly makes this watch the high-quality, versatile watch that it is. We will do a comprehensive overview of this watch by breaking it down into the following categories to help you decide if this watch is for you.
Seiko 5 SNK809 Review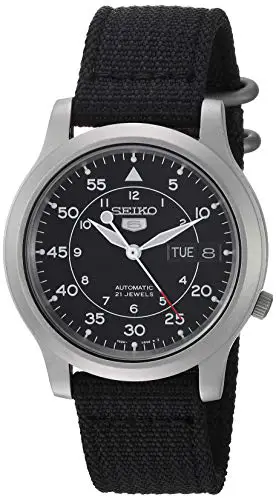 Specifications
Case Diameter: 37mm
Case Thickness: 11mm
Case Material: Stainless steel with exhibition caseback
Movement: Seiko 7S26 caliber automatic (with 40hr power reserve)
Crystal: Hardlex mineral crystal
Water Resistance: 30m / 100ft
Band Width: 18mm
Band Material: Nylon
Features: Day/Date window at 3 o'clock
Weight: 2.12 oz (60.1g)
Overview
Seiko is one of our favorite watch manufacturers and for good reason. Not only do they have a rich history, but their Japanese quality practices and commitment to innovative engineering have helped them produce luxury and quality timepieces at a price point that few competitors can keep up with. We see this being demonstrated yet again in their Seiko SNK809 automatic field watch, which is part of their popular Seiko 5 line of watches.
We mentioned that they have a rich history, and the "Seiko 5" line was started way back in 1963, where each watch in this lineup was designed with the following attributes in mind:
Automatic winding.
Date/date displayed in a single window.
Water resistance.
Recessed crown at the 4 o'clock position.
Durable steel case and bracelet.
With a heritage spanning nearly six decades and counting, you know that these watches have since been iterated to perfection.
The SNK809 currently has the following variations:
Aesthetics
The Case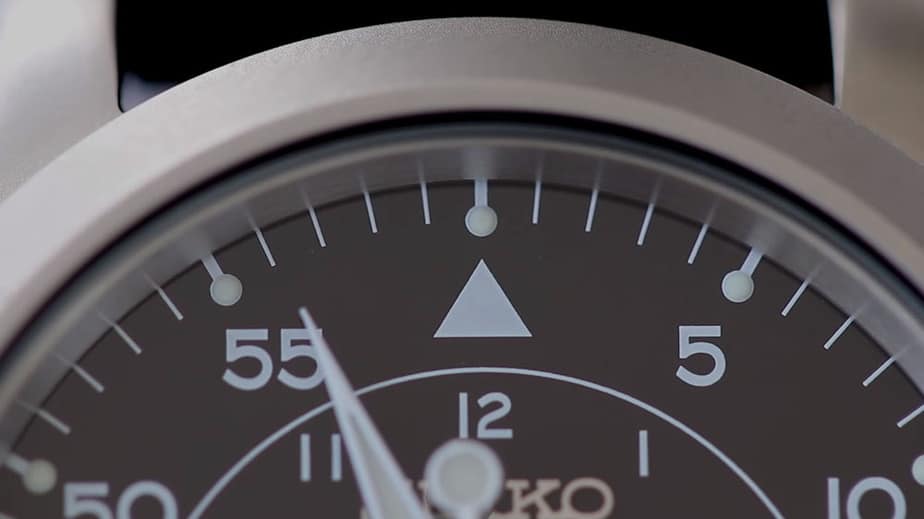 At a glance, you will notice the SNK809 has a stainless steel case with a matte finish. It's quite a small watch, with a diameter of only 37mm and a thickness of 11mm. This is a good size on small to medium-sized wrists (6 to 7 inches) and will look very small on larger wrists.
If you are just getting started with watches, here is some food for thought. Many people start out thinking they need a large watch because they think it's more masculine and easier to show off. As such, smaller watches sometimes get disregarded purely based on their size.
From personal experience, we can say that as you progress in your watch collecting hobby, you will likely come to better appreciate the snug fit of smaller watches and move away from larger, chunkier watches that are big just for the sake of it. Also at this size, the SNK809 is a viable option for women who want to wear a larger watch as a statement piece.
The Dial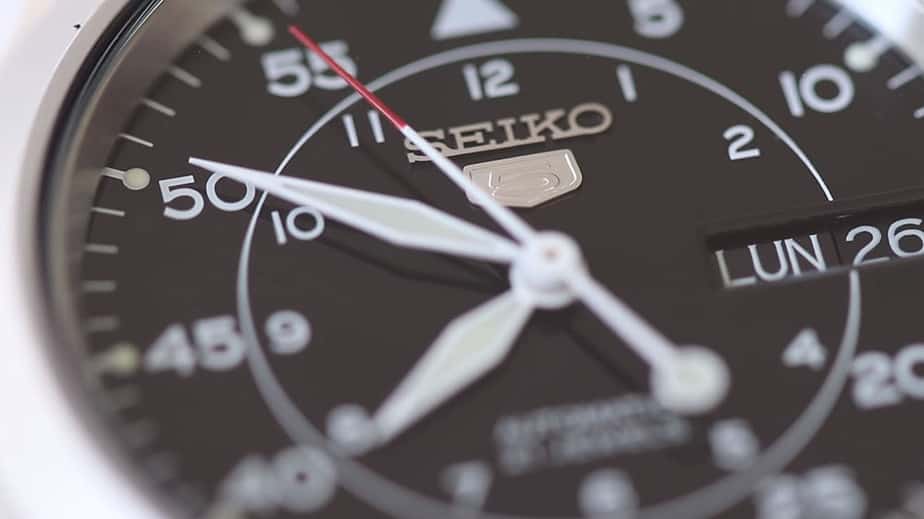 Since the SNK809 is a military or field watch style timepiece, it is understandably designed with functionality taking precedence over other aspects. Its appearance is very utilitarian, with a triangle marker located at the 12 o'clock position, Arabic hours mark each hour on the inner ring, Arabic minutes for every 5-minutes with ticks for each minute. The inner ring is something unique to the SNK809 that we found quite useful.
We must also mention the applied (raised) Seiko emblem found on the dial of the watch. Personally, applied features are such a classy detail that elevates a watch from looking cheap to looking high-end. The way that it stands out and catches your eye whenever light glints off its reflective surface is truly elegant.
The dial is kept clean by minimizing the amount of self-congratulatory text, writing only "automatic, 21-jewels" above the 6 o'clock position.
At the 3 o'clock position, the date/date window can be found with white text on a dark background which matches the rest of the dial. Every Sunday, you will be treated to a nice surprise with Seiko's standard red text which gives this watch some extra color. The day can be adjusted to display text in Spanish or English.
The Hands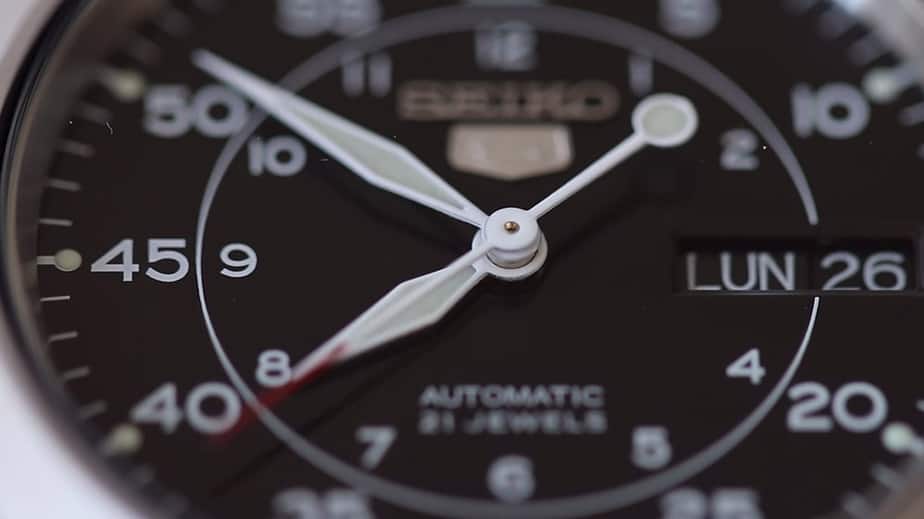 Choosing to buck the traditional field/military style, the hands on the SNK809 are more elegant and refined with their elongated diamond shape that increases the luxuriousness of this watch. The second hand of the SNK809 is the real attention-grabber. With its lollipop shape due to its circular counterbalance, as well as the red accent on the pointer side, it adds some much needed color in this otherwise monochromatic color scheme. It adds a layer of dynamism to an otherwise one-dimensional watch.
The Crystal
Seiko often uses Hardlex on their entry-level watches, and that is what you'll find on the SNK809. Hardlex is Seiko's toughened mineral crystal glass material that is more durable than traditional mineral glass. It is designed to withstand knocks and scratches.
Though it is not as durable as sapphire crystal, Hardlex is not as prone to shattering on impact as sapphire is. Furthermore, for a watch at this price range you will not normally find a sapphire crystal (with a notable exception being the Loreo Submariner) so we do not consider it to be a missing feature.
You will not find an anti-reflective coating on the Hardlex, however this is not an issue for the SNK809 because the distance between glass and dial is so short. The only real downside to Hardlex is that its smudge-resistance is poor. You will find yourself constantly wiping the glass to maintain its pristine appearance.
If you can look past these minor shortcomings, then Hardlex is a quality glass, especially for an entry-level watch.
The Crown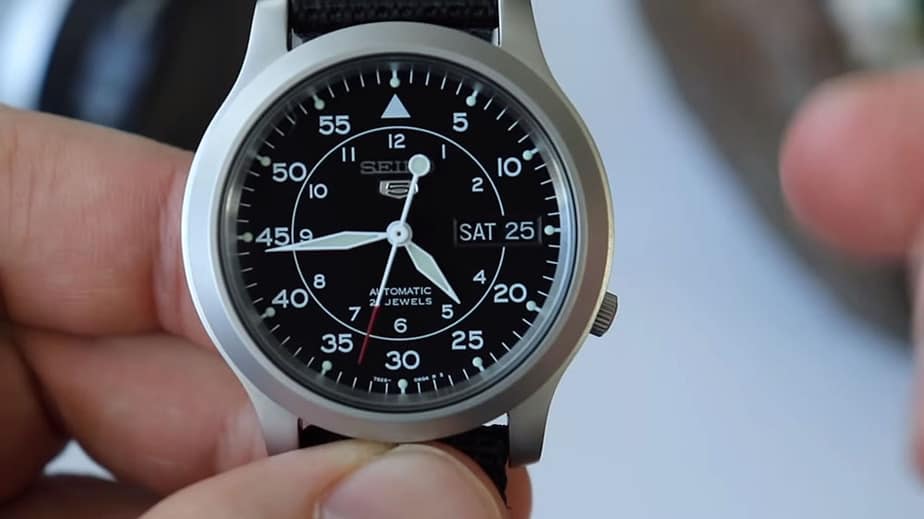 Sticking with their original principles, the crown on the Seiko SNK809 is located at the 4 o'clock position as is customary in nearly all Seiko 5 watches since their inception (some of the newer models now have 3 o'clock positions).
This small but subtle change differentiates the Seiko 5 watches from 99% of the other watches that have their crown on the 3 o'clock position. The crown is unobtrusive and still visible. Furthermore, it is a lot less likely to prod your wrist.
The SNK809's crown shifts away from the usual field/military watch design with a smaller crown that follows more of a dress watch style design for a more classy look. In terms of utility, this is a downgrade. In terms of class, it looks fine and fits the overall look of the watch.
The Band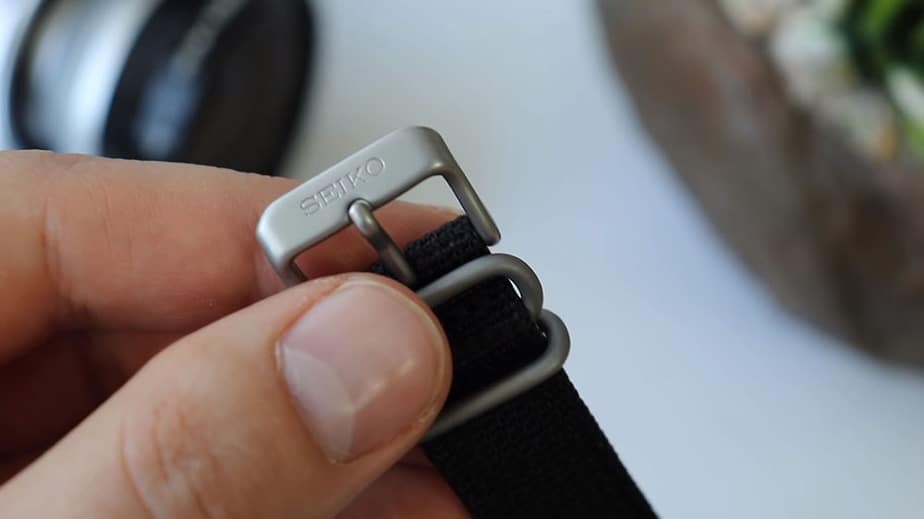 The Seiko SNK809 uses an 18mm wide two-piece black nylon strap with extra material reinforcing the buckle tang holes and matte stainless ZULU loops. The included strap is durable and the black color goes well with anything, it gives off the vibe of a tool watch instead of the classy, professional look that many of us are going for.
Thankfully, there are numerous aftermarket straps and bracelets available and changing the strap is straightforward. What kind of strap you get is up to you. We highly recommend changing the strap to upgrade the look of the SNK809 from that of a tool watch to a more elegant look that will cause heads to turn.
If you aren't sure what kind of strap to get, this leather band is a great option.
Wearability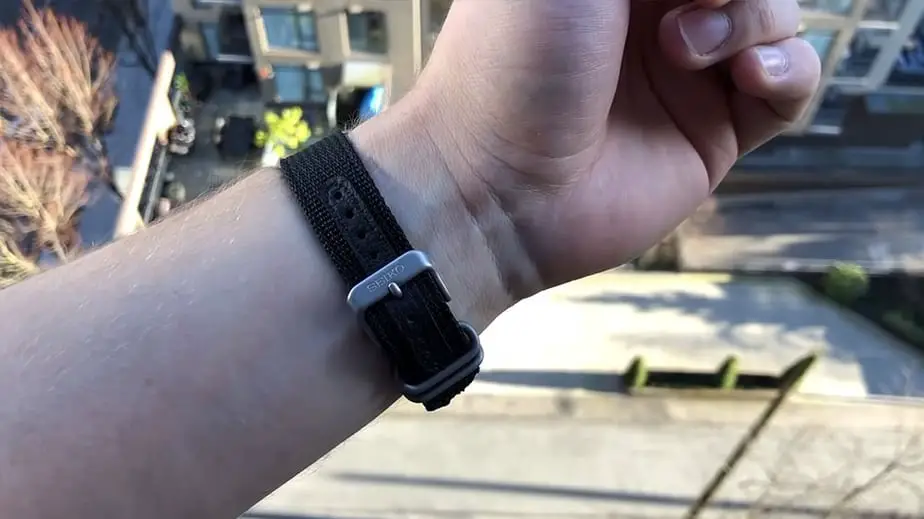 There are several factors that affect the comfort and wearability of a watch, and these characteristics are the case size (diameter and thickness), crown size and position, weight, and quality of the band.
We've established the SNK809 is a small watch with only a 37mm case diameter and 11mm case thickness. Combine that with its low weight and you have a watch that is unobtrusive in all regards. With the SNK809, this watch can easily slip under the cuff of long sleeve shirts without getting caught or bunching up. You also will be less likely to bang the watch on the side of a doorway compared to a larger watch.
Furthermore, with the crown being not only small and recessed but located at the 4 o'clock position, you won't ever feel it poking your wrist or the back of your hand when you bend your wrist to look at the time. The included band being canvas means it will never pull on your arm hair the way a metal bracelet might, so overall it's relatively comfortable.
Lastly, with the watch weighing only 2.1oz (61.1g), it strikes the right balance of being lightweight yet still heavy enough to be noticeable. A heavy watch will feel cumbersome after a few hours, however a watch should still have some weight to it. The feeling of the weight of the watch on your wrist tells you that it's still there and you can look at it anytime.
Automatic Movement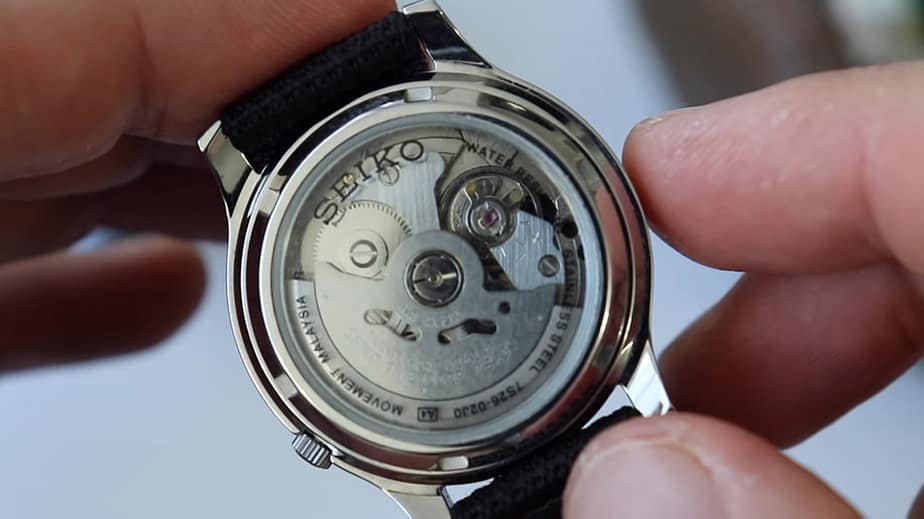 Being part of the Seiko 5 line, one of the core tenets is that it must have an automatic movement. Equipped with the 7S26 movement, which was first debuted in 1996, this movement has stood the test of time and is still as reliable today as it was over two decades ago. This movement has quite the rich history seeing as you can find it in countless Seiko watches, including the legendary Seiko SKX watches. With that said, this movement does have its flaws, which we will go over right now.
The Bad
The accuracy: The 7S26 is rated to be accurate within +40/-20 seconds a day, and judging by other user's experience, it seems the results are typically within +/- 15 seconds a day. We listed this in the "bad" section just to be safe, but this range may be acceptable to some users. Whatever the case, make sure to reset your SNK809 at least once a week to maintain accuracy.
No handwinding: If you want to kickstart a dead watch or top off the watch's charge, since you cannot handwind the crown to load the mainspring, you will have to do the awkward arm swing to get the job done.
No hacking: When the crown is pulled out, the second hand will continue to move. While many don't care about this, if you are particular about the accuracy of your watch, then the inability to adjust the second hand down to the second is very irritating.
Slow day/date switch over: The movement takes its sweet time to switch the day/date to the next one. If you actually bothered to observe how long this process takes, it typically begins around 11:00pm and ends around 3:00-4:00am. If you are asleep around or before midnight, this shouldn't bother you at all. However, for those who want an instant changeover at exactly midnight, this may irk you.
While there appears to be a lot of downsides to the 7S26 movement, you will notice that the severity of these issues depends on the personal preference of the particular user. For many, features like hacking and handwinding are completely optional, and the day/date switchover is something most people will be too busy sleeping to notice.
Even the accuracy falls within an acceptable range compared to the movements of other watches in similar price ranges, and resetting the watch once a week is good practice regardless.
The Good
Now, on to the good stuff.
The mainspring: The mainspring is made from Diaflex, a special alloy material developed by Seiko that is virtually unbreakable, particularly from overwinding.
The durability: The movement is protected by Seiko's Diashock shockproof design – an encasing built into the watch that protects the movement from impacts.
21 jewels and 21,600 beats per hour: There are 21 contact points where the jewels apply which increases accuracy and durability by reducing friction. Next, it has 21,600 beats per hour, which comes down to 6 beats a second. This means the second hand moves 6 times a second which looks very smooth to the eye as it sweeps across the dial.
The power reserve: Next, the 7S26 has a 40-hour power reserve. When fully charged, the SNK809 will keep ticking for another 40 hours without needing to replenish its battery. Being an automatic movement, it uses the movement of your hand to keep charging, so as long as you are wearing it everyday, it's not likely to die on you. Keep in mind that the closer to dead the battery is, the less accurate the watch becomes.
The exhibition caseback: The clear glass screw-down exhibition caseback lets you view the intricate movement as it operates. If you are fascinated at all in the complicated engineering required to make your watch work, much in the same way that a heart beats in a human being, then being able to see the "guts" is an awe-inspiring experience. It is seriously mesmerizing seeing all of the little gears rotating and having a healthy appreciation for mechanical engineering doesn't hurt.
Can be regulated: If your SNK809 is way off in its timekeeping, then you can fix this issue yourself with the proper tools. Or if you feel like you might scratch or damage your watch, then you can ask your local watch shop to help you out. Regulating a watch on your own is something you do at your own discretion, and you should probably practice on a beater watch before you do it on your valuable ones.
Usability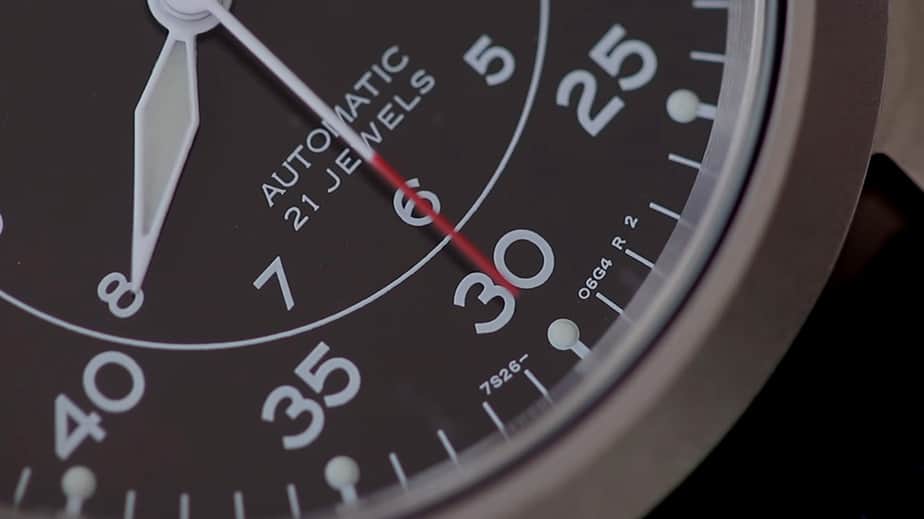 Legibility
Since the SNK809 is designed for field use, its usability is where it really shines. Ask yourself, what is the primary purpose of a wristwatch? To look good on your wrist? Sure, but it should also be able to tell time. And thanks to the layout, the SNK809 provides perhaps the easiest and fastest readability of any analog watch on the market.
The reason for this was described in the "Aesthetics" section above, but to recap, there is an inside ring that labels the hours which the hour hand points to. The minutes/seconds hand extends past this inner ring to the outer ring which marks the minutes/seconds. In other words, each hand points exactly to the correct marking and there are less mental calculations for you to do. It's almost like reading off a digital watch that tells you the exact time! With even the slightest glance you can tell the time and we love it.
Setting the time
Another important function is the date/date setting. With a smaller crown, it can be harder to adjust the time if you have bigger hands. It is not something we ever had an issue with. The push-pull crown has the same three positions as most analog watches with functions has:
Fully-retracted: Set the time of day.
Middle: Set the date (clockwise) and day (counter-clockwise).
Pushed-in: Locked.
Caution: It is highly recommended to take your watch off before setting the time/day/date so as not to cause any damage to the crown shaft.
Band
Next, let's talk about the included band. By default, the Seiko SNK809 comes with a canvas strap that can accommodate a wide range of wrist sizes, but let's be honest. Particularly when it comes to budget watches, the included strap is almost always an area that they cheap out on. We have already recommended you buy an aftermarket strap to replace it.
So our suggestion here is to find the spring bars that secures the strap to the housing, and compress the bar using a tool of your choice (we use "tool" very loosely here, even a butter knife works) to remove it and the strap. Unfortunately, the housing doesn't have drilled holes to let you access it from the outside, so you would need to pry the pin from between the lugs using the pin's ribs from either end. It's still a simple process overall.
Water Resistance
Here's the elephant in the room, and that is the SNK809's water resistance. In case you weren't paying attention, it is only rated for 30m (100ft), a sharp drop compared to the older SKX models which have 200m (660ft) of water resistance. What the heck happened here? Honestly, even 30m seems like it's too deep for this watch to handle; we'd only be willing to subject it to the occasional splash of water from washing your hands or from the rain.
The low water resistance rating is the result of there not being a seal or gasket applied to the crown area. As such, we do not recommend fully submerging it underwater since we are not confident that the crown will completely keep water out. It is better not to think of this watch as a dive watch at all.
If you are looking for a true dive watch, you should be looking for one with a water resistant rating of at least 100m, which is the bare minimum for it to be considered a professional dive watch according to ISO standards. Even if a watch has great water resistance, you should never wear any dive watch while showering or bathing because no watch is designed to withstand high-temperature or high-humidity conditions.
Luminescence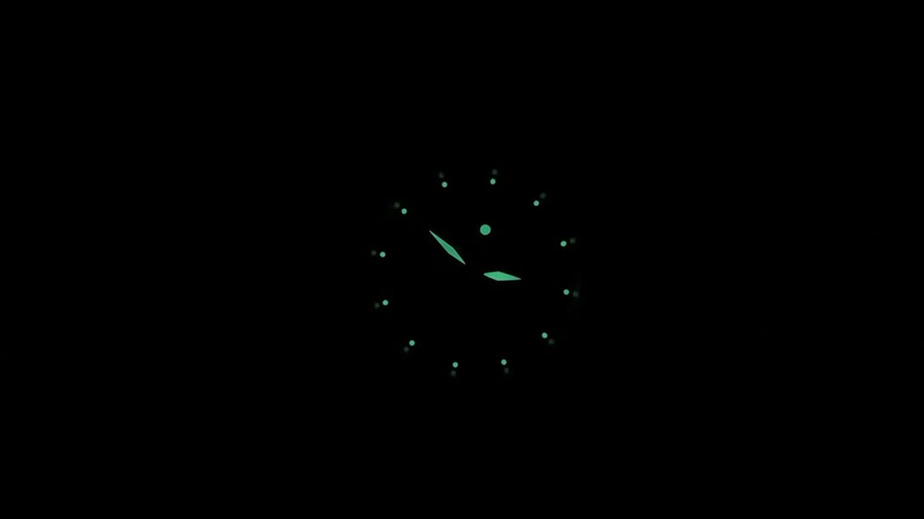 All dive watches must have lume, which is a glow in the dark paint which allows wearers to read the time even in the dark. At a minimum, lume should be applied to the hour markers and hands on the dial. The Seiko SNK809 uses LumiBrite, Seiko's proprietary luminous paint that has much more longevity and intensity than the conventional lume found in most other watches. This paint is free from radioactive substances, so it is not a health hazard.
The application of the lume is straightforward. A small dot of lume can be found at each hour marker. The hour/minute/second hands are also filled with lume. Of particular note is the lume in the lollipop circle of the second hand. Since the seconds hand is constantly moving, you should see that the lume is shifting and this lets you know that your watch is still functioning.
Personally, we would have liked to see the lume markers be larger; as they stand, they are quite small but still legible. Another negative is that there is no orientation defining feature on the dial. In other watches, there may perhaps be a triangular shape at the 12 o'clock marker, with the other markers being circular. This lets you know exactly where 12 o'clock is, and for the SNK809, it can be an issue.
Seiko 5 SNK809: The Verdict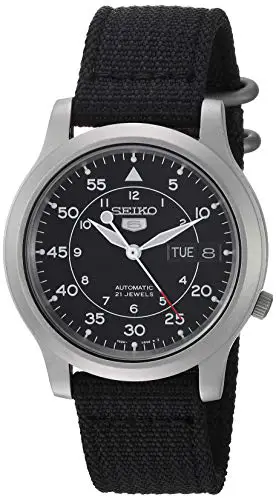 For its price, the Seiko SNK809 is a quality timepiece that follows the same principles that all of the watches in the Seiko 5 line follow, with comfort and style to boot. Believe it or not, all of the functionality we covered in this review is packed into this small, sub-$100 watch. The price is so low, we recommend using some of these savings to buy a replacement band to give the watch even greater style and comfort.
Furthermore, the Seiko SNK809 is a highly modifiable watch. You can find replacement parts for each component: the dial, bezel, crown, glass, etc. A quick search on Google or Amazon will return hundreds of results that you can peruse at your leisure. If something is not quite to your liking, you can probably get a replacement for it that fills your needs.
Personally, we use the SNK809 as a versatile tool watch thanks to its unbeatable legibility. We spend almost no time and concentration at all to tell the time thanks to the markings on the dial. Additionally, it is durable and dresses up well (assuming you swapped the strap).
Overall, the Seiko SNK809 is a wristwatch we can recommend for someone looking to get an entry-level automatic watch. It provides exceptional value and is a great fit for anyone looking to expand their collection with a sporty and professional wristwatch. Few watches give the SNK809 a run for its money, perhaps the Casio Duro MDV106-1AV, and quality watches at this price point are few and far between.
The SNK809 is a great starting point or stepping stone as your interest in dive watches grow. Even as you acquire nicer and higher quality watches, you can always keep the SNK809 as a beater watch, or slowly upgrade its components over time to give it a new look. For an entry-level automatic dive watch, the SNK809 is one to keep an eye out for.
Photo Credits: 24Hours At A Time