It sucks to get a sore throat when you're on vacation. It seems like such a minor thing, but it makes the simple pleasures of life like eating and drinking become uncomfortable and it can throw a wrench in your vacation plans. Many things can cause a sore throat, and if you're suffering from one after snorkeling then could snorkeling be the culprit?
Snorkeling exposes you to many factors that can lead to a sore throat. The most frequent way is via dry mouth or dehydration. Another way is through getting an infection by sharing a snorkel or from bacteria in the water. In this article, we'll discuss the various ways you might get a sore throat while snorkeling and how you can prevent it from happening in the future.
Common causes of sore throat while snorkeling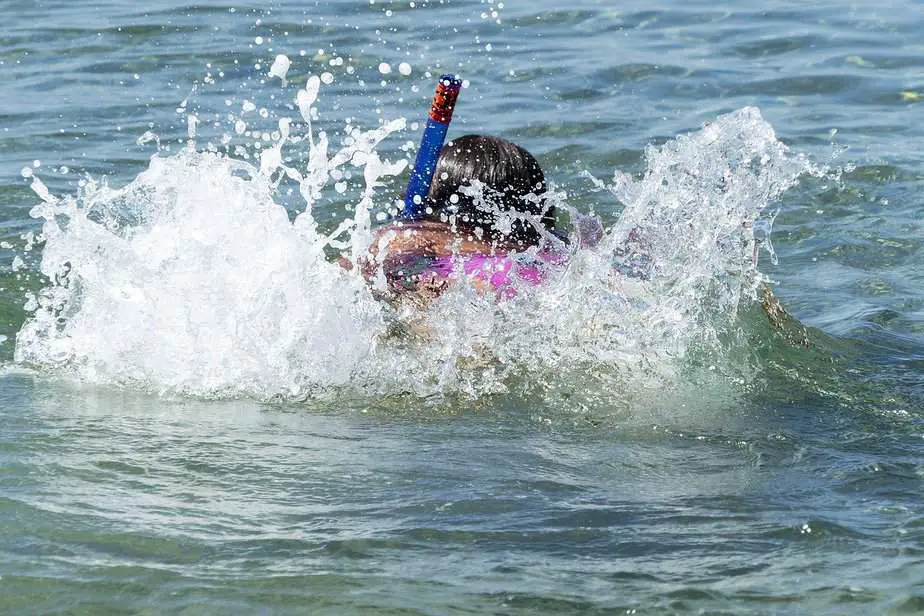 Dry throat
A dry throat can turn into a sore throat. When you're snorkeling, you'll be in a face-down position for a long time. This means that gravity is causing your saliva to slide down to the front of your mouth, and you may just end up blowing it out through the snorkel as you clear it.
If you're not swallowing as much saliva as usual (which lubricates your throat), plus the fact that you're breathing salty air, plus you're also not likely to be drinking water while snorkeling, equals a much drier throat than usual. Dry throats quickly become sore throats.
Dehydration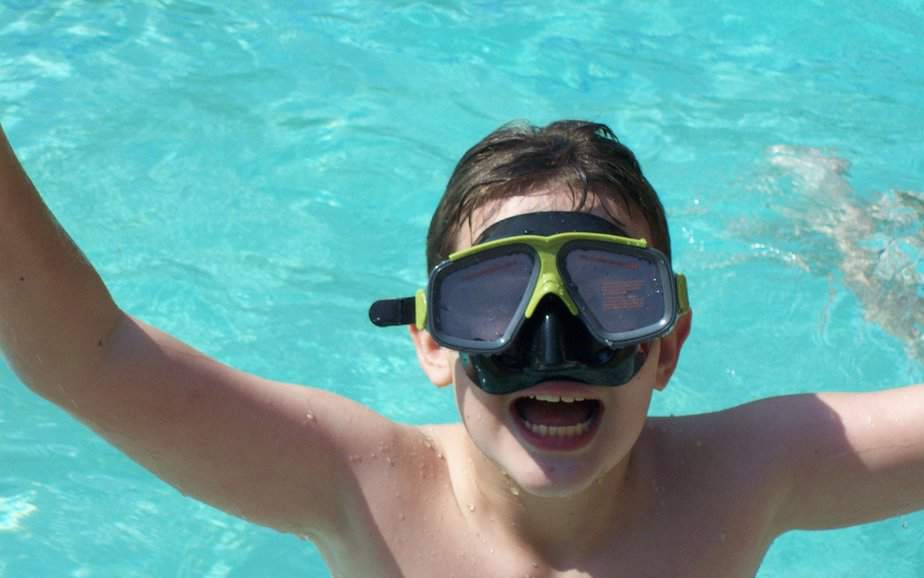 We briefly touched on this in the paragraph above. It's easy to get dehydrated while snorkeling. There is a phenomenon called immersion diuresis which essentially means that your urine production is increased when you're in cold water. This increases the urge to pee and causes you to lose fluids.
On top of that, since you're in the water most of the time, you don't really notice that you're actually sweating from all of the physical exertion and the high temperatures of the tropical climate.
If you accidentally swallowed saltwater, then the high salt content will cause you to lose more water than you consumed.
Unless you somehow have a water bottle with you, you are not able to replenish all of the water you're losing while snorkeling.
Some people also make the mistake of drinking alcohol or products with large amounts of caffeine in it (coffee, tea, energy drinks). These drinks are diuretics, meaning they will make you want to pee and you will lose more fluid than you gain by drinking them.
Pollution
This is especially common in popular tourist destinations, but the water you are snorkeling in may not be the cleanest despite how pristine it looks.
Even if you took a boat trip far out to sea, boats will dump their waste into the water, and it's likely that other boat tours or even your own boat will dump waste right where you're snorkeling. If you somehow swallow this water, you can get a throat infection and get a sore throat out of it.
Using dirty equipment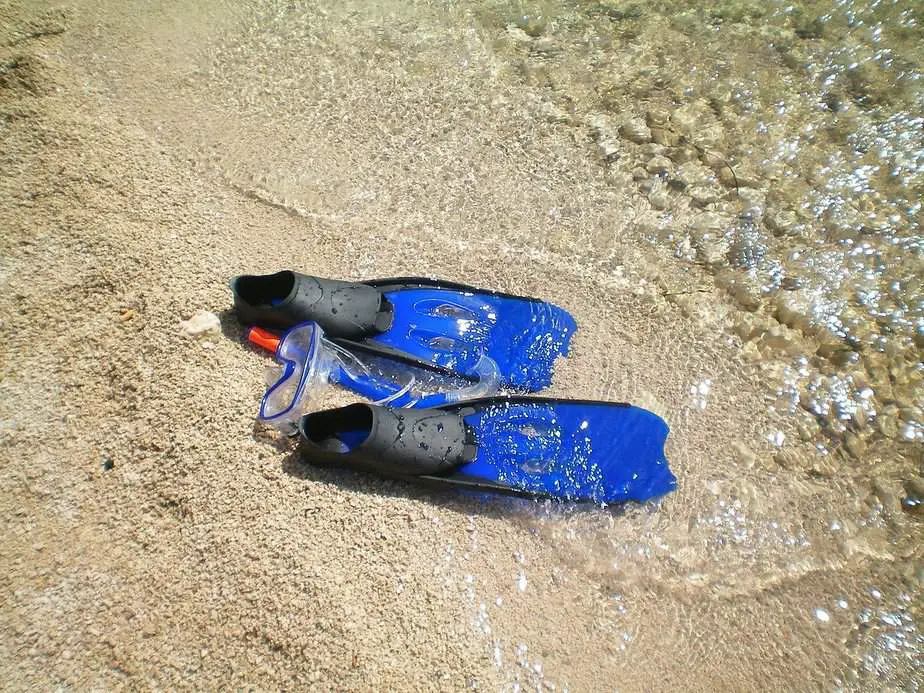 We recommend having your own dive mask and snorkel. They are not particularly expensive, and you can even get them combined into one product. Having your own mask and snorkel ensures that the fit is right, they are well-maintained, and you are satisfied with their quality.
If you do not have your own mask and snorkel, you will have to rent them. You cannot guarantee a good fit, and even worse, they may not have been sanitized properly. You will be using a product that someone else has used, and the risk of cross-contamination is high. You may get an infection and a sore throat from using rental equipment.
The cold
Did you know that water is 25 times more effective at conducting heat away from your body than wind? Even if you're in "warm" water, people are often surprised to find that they are shivering after a particularly long snorkeling session where they were not very active.
Even if you're snorkeling in a tropical destination, it's not a bad idea to wear a rashguard or thin wetsuit for some extra insulation. If your head and neck get cold, then you can end up with a sore throat.
What is the likelihood of getting a sore throat while snorkeling?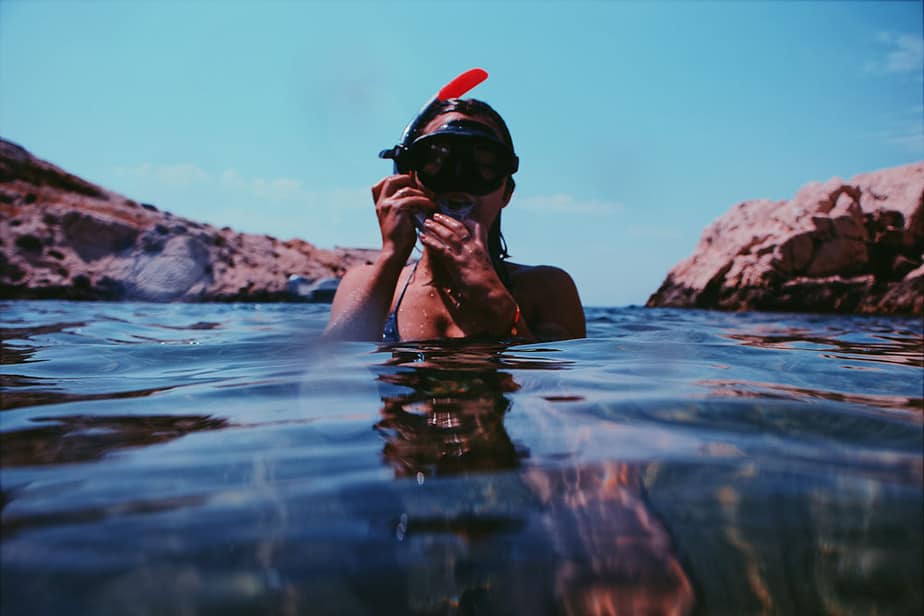 Unfortunately, it's actually pretty common for beginners to get a sore throat due to the reasons mentioned above.
Even if you are trying to prevent water from entering the snorkel and your mouth, if you don't have the experience or a snorkel with a splash guard, it is much more likely to happen regardless. For this reason, beginners ought to practice their snorkeling technique in calmer waters before heading out.
Additionally, beginners are more likely to use rental snorkeling equipment. If they snorkel too infrequently, they may not feel the need to own a mask and snorkel, so they resort to renting from a dive shop or resort. The chance of cross-contamination is increased when using equipment that others have used. Families/friends that share their equipment may also encounter this problem.
Furthermore, experienced snorkelers are also likely to have other gear such as a rash guard or wetsuit to keep them warm. A newbie may not realize how cold the water can get if they stay in it for an hour and end up shivering. A similar situation can occur with dehydration, and veteran snorkelers know to hydrate before heading out.
In general, beginners are the ones who are most likely to get a sore throat while snorkeling even if they are aware of what to do; they may simply lack the experience to prevent it from happening.
How to treat a sore throat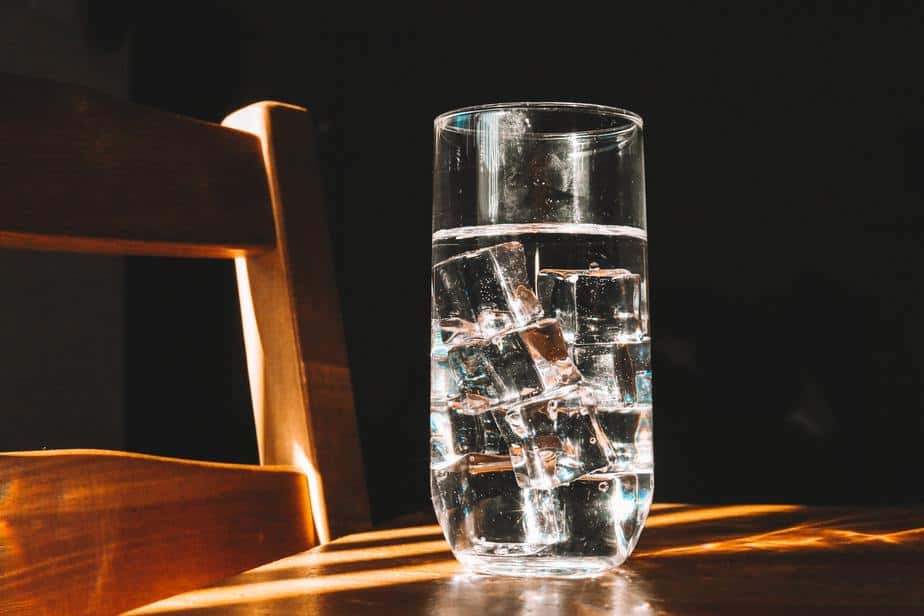 The best thing you can do as soon as you notice your throat is getting sore while snorkeling is to hydrate yourself. For most people, dehydration and swallowing saltwater is the most common cause of their sore throat.
Thus, replenishing your fluids by drinking water or a sports drink for the electrolytes can be a great way to alleviate this problem. Wait about an hour or so and if your sore throat isn't getting any better, then you should probably just take the rest of the day off. Your sore throat won't get any better if you ignore the problem and continue snorkeling.
How long a sore throat lasts depends on what caused it. If drinking fluids doesn't help the soreness go away, you may possibly have an infection that needs medical attention. Most of the time a sore throat is not serious and will heal on its own.
Tips to avoid a sore throat while snorkeling
A sore throat can occur for a number of reasons, and not all of them have to do with snorkeling. So how can you tell if snorkeling is the primary cause? If you notice a pattern that each time you go snorkeling you end up with a sore throat, then there is a correlation that might be worth looking into.
If you suspect that the cause of your sore throat has to do with snorkeling, then consider doing the following:
Stay hydrated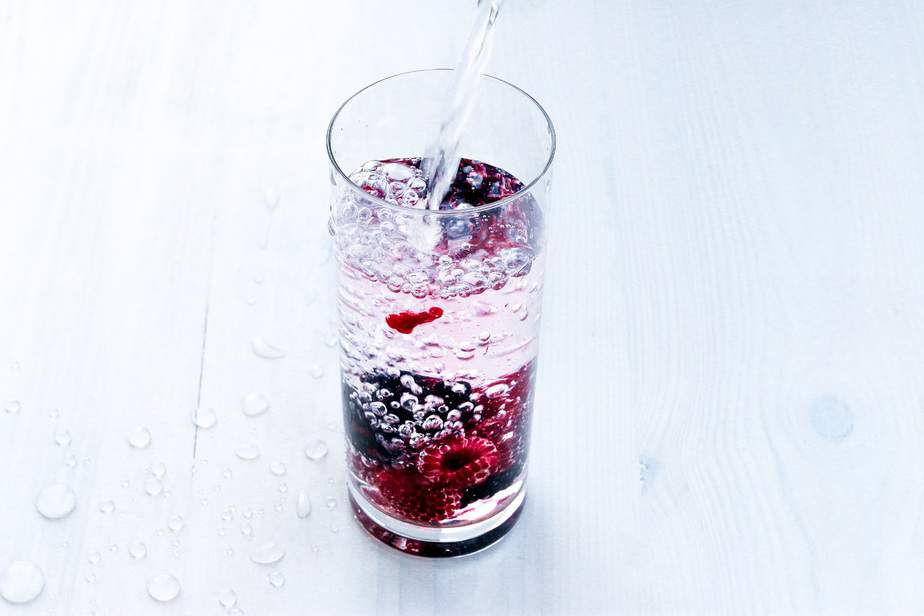 People know they should stay hydrated, so why is this even an issue? The innocent answer is that they were having so much fun they simply forgot. However, the real answer is a lot more interesting.
When it comes to water activities, there is an elephant in the room. What do you do if you drink too much water and have to pee? This is a question many people have in the back of their mind and the possible answers are not ones they like to hear.
The first answer is to return to the boat or shore and use the bathroom. This is highly disruptive and a pain in the butt. Depending on how far away you are from the shore/boat, you might not even make it in time. What if there's a line up or somebody already in the bathroom? This is not an ideal answer.
The second and more likely answer is that they will simply go in the water. People don't like the thought that they are swimming in water they peed in. They also dislike the warm sensation of wetting themselves, as if it's the physical manifestation of their shame spreading across their body, despite already being wet.
If it makes you feel any better, whether they are willing to admit it or not, basically everybody pees in the water. You're already swimming in pee water. Boats literally dump their waste into the water as well.
Did you know that fish also pee in the water? Heck, they even mate in it and give birth in it. So don't feel bad that you added your urine into it; there is enough water around you to dilute it until you can't even tell someone had peed in it.
The best thing you can do for yourself is to let go of the shame, embrace drinking plenty of water before snorkeling, and try not to have a sheepish smile when you go in the water.
Get your own snorkel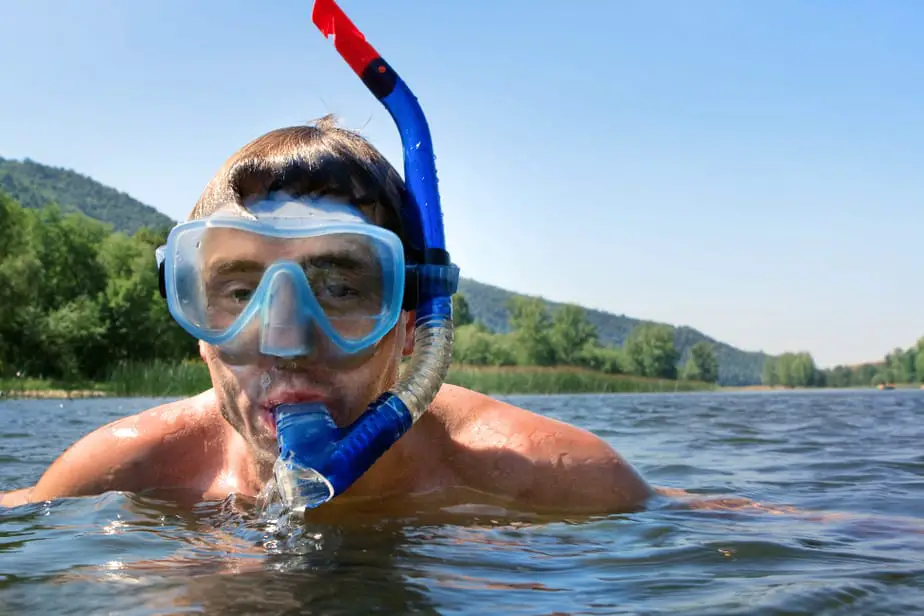 There are some very strong arguments for why you should have your own snorkel instead of renting, and we will only be covering the ones that are pertinent to the topic at hand, which is how to avoid getting a sore throat.
First, rental equipment is used by many people with varying levels of hygiene and illnesses and you have no idea what that snorkel has been through before you put it in your mouth. You can alleviate some of these concerns by thoroughly cleaning the snorkel yourself before using it, however the risk of infection is still greater compared to having your own.
Second, you don't know the quality of the snorkels they have in stock. We recommend a snorkel with a splash guard, but what if the selection they have available doesn't have a splash guard or has a faulty one? You don't want to end up swallowing seawater just because your snorkel was faulty. The bacteria in seawater may cause you to get a sore throat.
Sanitize your equipment thoroughly between uses
We've already mentioned this, but it warrants its own section.
Depending on where you're snorkeling, it may be harder to clean your gear. For instance, if you're on a boat and you want to disinfect your equipment, don't put your mask and snorkel into a shared water tank. Rinse your gear using freshwater and keep them separate from others' equipment to reduce the risk of cross infection.
When you're back at the hotel, you should give your mask and snorkel a more thorough cleaning session. Fill a container with warm water and then add one of the following items into it: bleach, vinegar, or dish detergent. Read our article on how to clean and maintain your snorkel gear to find out how much you need to add.
After mixing the cleaning solution, fully submerge your mask and snorkel into it and let them sit for 30-60 minutes to disinfect. Afterwards, it is absolutely imperative that you dry your mask and snorkel with a towel, then leave it to fully air dry in a ventilated area away from the sunlight. Do NOT store it right away because there will be some residual moisture which can lead to mold growth.
This may sound like a lot of steps, but trust us, you want to do them. After all, this is something that's going to be on your face and in your mouth, so make sure that it's been thoroughly sanitized.
Snorkel in calmer conditions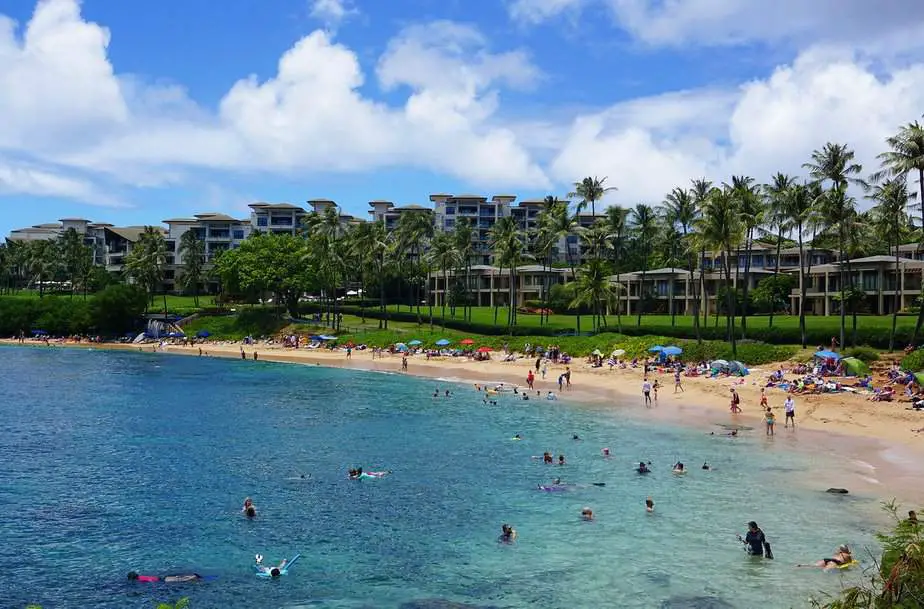 If you're snorkeling anywhere other than a protected area, the risk of swallowing water is much higher. This is because the weather conditions, such as the wind and rain are unpredictable. The weather greatly affects how calm the water is, and it can change on you with little to no warning.
You may have started your snorkeling session in calm waters, but half an hour later it might be raining and the waves might be stronger. The sudden change in difficulty can cause water to enter the snorkel and for unsuspecting snorkelers to swallow or inhale water and choke on it. If dirty water gets into your sinuses, you may get a sinus infection.
Snorkeling in a bay or lagoon ensures that these sudden changes in the weather will have little impact on you. These areas are naturally protected and should remain relatively calm. If you're just starting out, they are the ideal location to learn the basics and gain some experience before you start snorkeling from a boat.
Gargle antiseptic mouthwash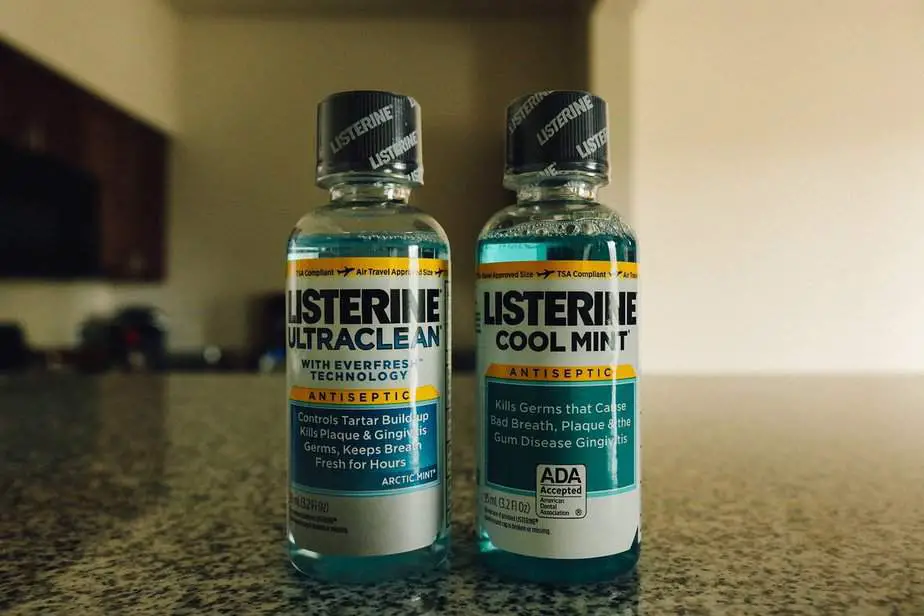 If you can disinfect your snorkel gear, why not disinfect your mouth and throat? An easy way to do that is to gargle some antiseptic mouthwash. It's not a bad idea considering you can also take care of your dental health at the same time. If you have a small bottle, you can even bring it with you to the boat or the shore and use it immediately after you get out of the water.
Stay warm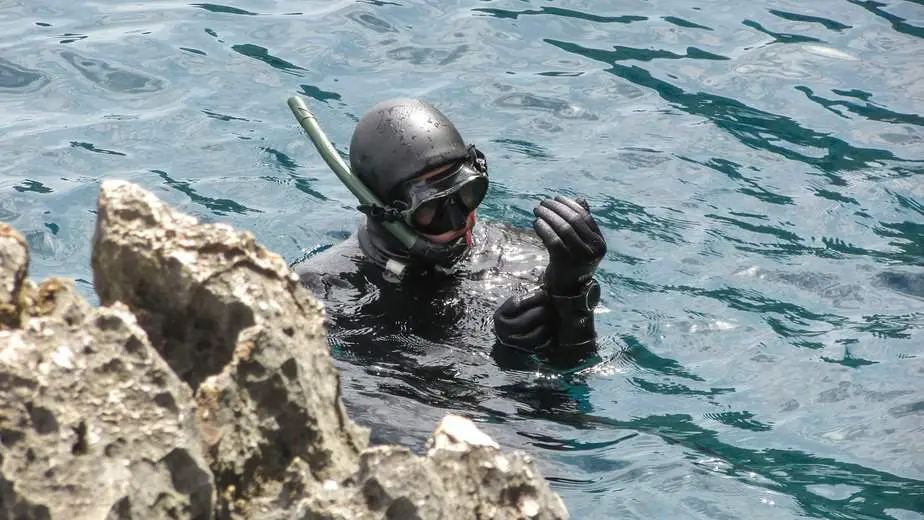 A sore throat is often a sign of a cold, and you should find a way to stay warm to reduce the likelihood of catching it.
You might be thinking, "That's a myth! You can only catch a cold from a virus, not inherently from being cold!" Yes, that's true, but as we've discussed, you can easily expose yourself to a plethora of bacteria and viruses when snorkeling or handling snorkeling equipment.
On top of that, your immune system is weaker when you're cold, thus making you more susceptible to catching one. So, in a very roundabout way, this statement is true: you should stay warm because it can keep you from catching a cold and a sore throat.
There are many ways to stay warm in the water, as a cold water scuba diver or ice diver can attest to. Since you're most likely snorkeling in the tropics, you don't need to go all out by wearing a drysuit or anything.
Consider wearing a thin wetsuit or limiting your time spent in the water. You can also wear a dive hood to insulate your head and neck. These areas are where a significant portion of heat loss can occur, plus they are quite sensitive, so keep them warm to avoid getting a sore throat.
Is it OK to snorkel with a sore throat?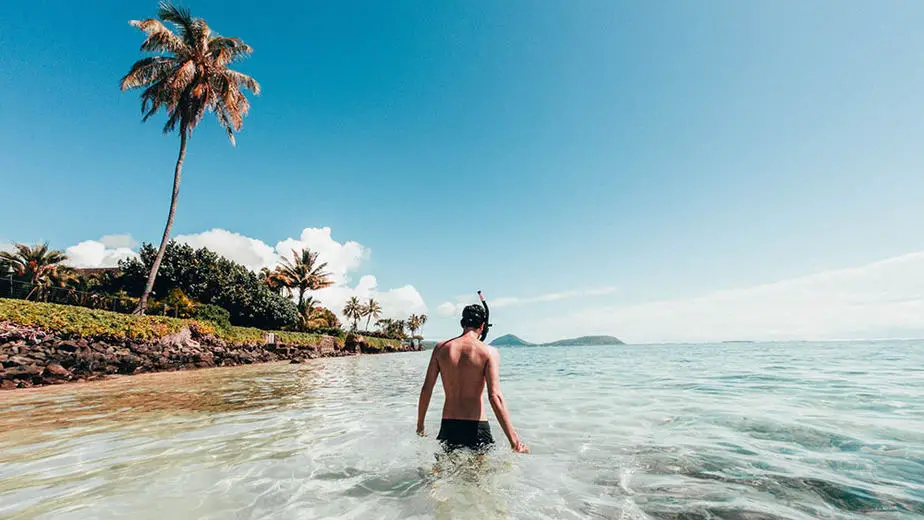 It probably won't kill you or anything, but it's not going to bode well for your vacation. We can guarantee that your sore throat is only going to get worse if you continue snorkeling.
As soon as you feel that you have a sore throat, we recommend exiting the water and giving your body time to rest and recover. Drink plenty of fluids. Stay warm. Gargle antiseptic mouthwash. Thoroughly disinfect your equipment, and don't let others use it.
We believe that you can quickly recover from your sore throat in a day or so and then you can continue snorkeling again. However, if you decide not to take any time off, then your sore throat will only worsen and you will extend the time it takes for your body to fight it off.
Plus, it's not just the snorkeling that gets ruined if you're feeling unwell. This affects everything else you do until you're recovered. We understand it's frustrating that something like this is happening to you on vacation and that it might waste a day or two, but taking a short break and letting yourself recover is the fastest way to overcome this problem.
Parting words
There are many reasons why you might get a sore throat from snorkeling. However, there are also many ways you can avoid it in the first place and ways to nurse yourself back to health as quickly as possible if you do get it.
Since most instances of sore throats are caused by accidentally swallowing saltwater or from using contaminated equipment, you can kill two birds with one stone by purchasing a quality semi-dry/dry snorkel and maintaining it yourself.
Do not share your snorkeling equipment, and thoroughly disinfect them after each session (preferably right away). Stay hydrated, keep warm, and gargle antiseptic mouthwash.
If you somehow still end up with a sore throat, keep on following the same tips so that you can recover the fastest and temporarily stop snorkeling until you're better. If the sore throat is persistent and worsening, you should consider seeking medical attention.