Many people often wonder how much does it cost to go scuba diving? It is a sport with many costs associated with it, and unfortunately, there is no way to give an exact answer. Depending on where you live in the world and what kind of equipment you buy, the prices will have a wide range. However, the goal of this article is to provide ballpark figures to give you an idea how expensive scuba diving is and how the costs are allocated.
There is no doubt that scuba diving is an expensive hobby. The first step is to get your diving certification, which can cost $200 to $700. Then, if you decide to purchase your own scuba diving gear, the cost can be anywhere from $300 to more than $2,000. Then there are the recurring costs, which can be anywhere from $75 to $150 per dive. If you don't dive often, then renting your gear can save you some money.
As you can see, scuba diving isn't the cheapest hobby you can have, especially if you do it long-term. However, all of that fades away once you head underwater and experience the beautiful marine life and scenery. We feel that money is best spent on purchasing experiences, not objects, and boy is scuba diving worth it. Let's break down the costs.
Note: the prices listed in this article are in USD and are accurate as of the time of writing. However, we cannot guarantee that they will stay that way nor can we predict when or how much the prices will increase.
Scuba diving certification cost
The first thing you need to do is to get a scuba diving certification. Without one, dive shops won't even rent out gear to you. If you're not sure if it's worth the commitment to get a scuba diving certification, there are ways for you to dive without a license in a safe and controlled environment. Then you can decide if you want to get a scuba diving certification or not.
There are three steps to getting a scuba diving certification. First, you have to take a course. Second, you finally get hands-on practice with scuba diving gear in a shallow pool or a closed-off area with pool-like conditions. Third, you will need to apply all of the knowledge you've acquired in the first two steps and perform four (4) certification dives in open water. This is the real deal.
You can take courses in person or online. If you take the courses online, it will be cheaper. The PADI Open Water Diver e-learning course currently costs around $190. If you decide to get your certification from SSI, they offer a free online learning course. Taking in-person courses will cost more, plus you have to physically go in-person which takes time and uses up gas.
The pool and open water portion of the certification process can cost around $225 to $350 on average. You will need to go to a dive shop that is affiliated with the agency providing the certification you want (e.g. PADI, NAUI, SSI, etc.) and they will charge you for each dive. For this reason, the prices can vary quite a bit.
For example, if you perform your open water certification dives in Grand Cayman (an expensive place to dive in the Carribean), they charge $325 to $350 dollars for the 4 open water dives. The price is similar in Cozumel. We looked up the cost in Honduras, Roatan, and a few other inexpensive locations, and the dive shops were charging around $220 to $280. Still not what we'd call cheap, but cheaper.
So adding the costs of the course, confined pool, and open water certification dives, all in all you can expect to pay around $200 to $700 and a time investment of 16 to 32 hours over the course of a few days to get a scuba diving certification.
Cost to get certified in popular locations
Southeast Asia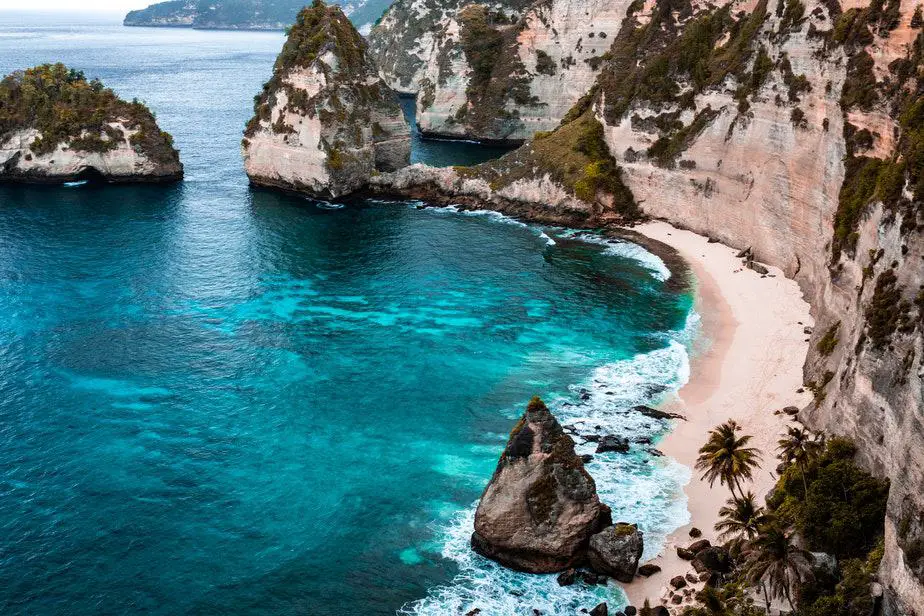 Thailand. You can get Open Water Diver certified in Thailand for as low as $370 for the entire course. It's a sought after location because of how beautiful and accessible the dive sites are. Many expats make a living in Thailand as scuba instructors, so it's very possible you can get a native English speaker to instruct you.
There are many places to check out in Thailand: Koh Phi Phi, Koh Lanta, and Khao Lak. There are many liveaboards in Thailand as well. These are all all-inclusive package trips ranging from 2 nights to 10 nights plus, with a team of instructors onboard to help you get certified while you're having fun diving.
Malaysia. Costs around $325 for the Open Water course.
Vietnam. Costs around $415 for the Open Water course.
Indonesia. Costs around $400 for the Open Water course.
The Bahamas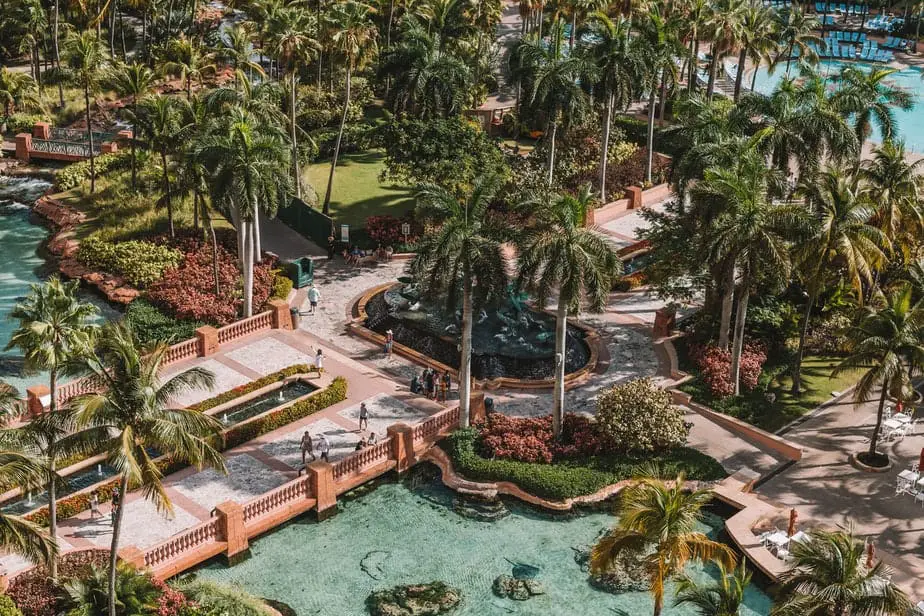 Compared to diving in Southeast Asia, the Bahamas is significantly more expensive. It will cost as much as $700 to get Open Water certified here. The reason why it's so expensive is because the Bahamas is home to some breathtaking views. It's on the bucket list for many scuba divers, so you're paying for a great privilege. If you can stomach the cost and want an unforgettable experience, then you might want to go on a liveaboard here.
The Caribbean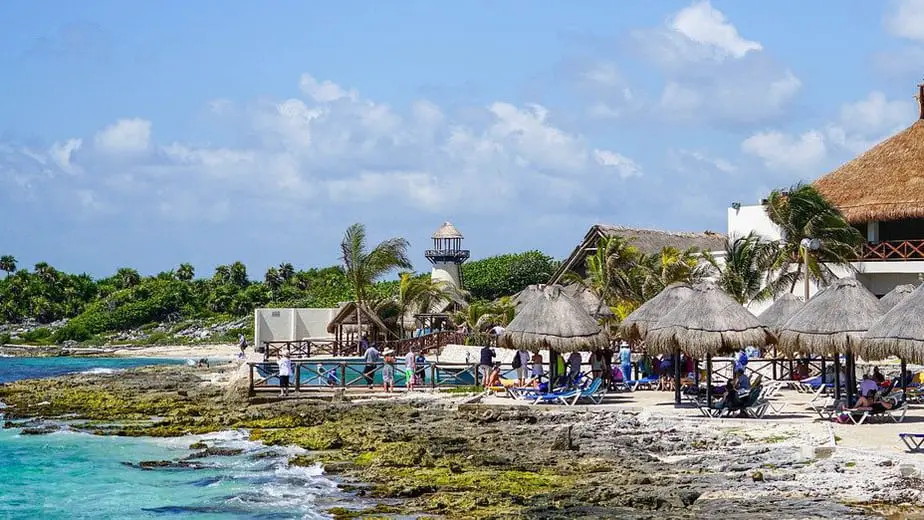 The cost of diving in the Caribbean, such as in the Cayman Islands, Mexico, and Cuba, will cost a little bit more than average. Their Open Water courses range from $500 to $750. It's on the higher end in terms of cost, but what you're getting is a chance to scuba dive in a tropical paradise. 
The Caribbean is divable year round and the climate is usually sunny and warm. Be careful diving during the months of June to November because that's when storms and hurricanes may occur.
Look to get certified by reputable companies like Royal Caribbean or visit Liveaboard.com to find some. You can also get a package deal that comes with accommodation, but it'll cost a lot more.
The Maldives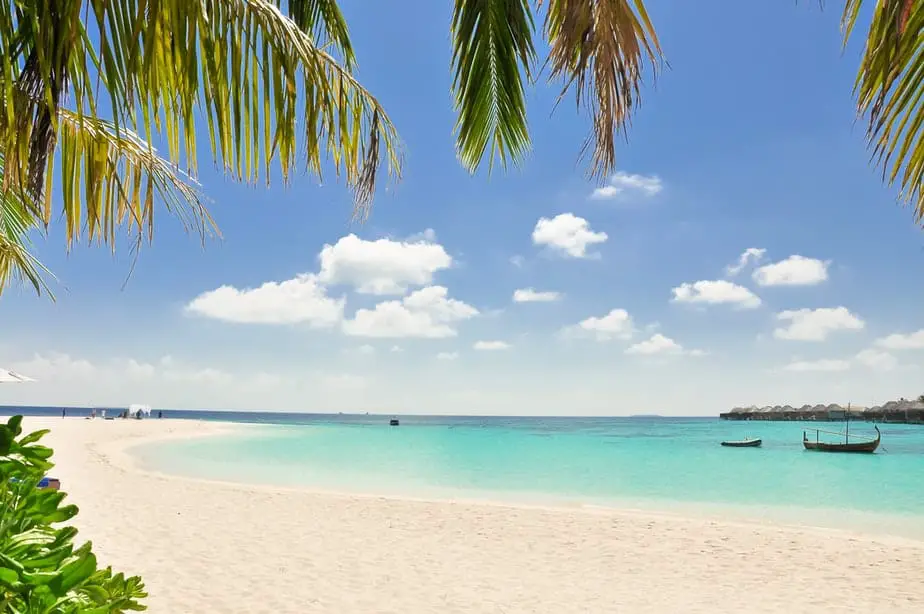 Like the Caribbean, the Maldives is also a tropical paradise with temperatures around 25°C to 30°C which rapidly drops at night. Its temperature is basically the same year-round. There are wet and dry seasons to worry about, which is why the months from December to April are the best months to visit due to the idyllic weather during this time. You can get certified here for about $600.
The United States
Perhaps you'd rather dive right in your home country instead of abroad. It certainly makes things easier when it comes to getting your insurance sorted. If you're getting Open Water certified in California, Florida, South Carolina, or Hawaii, you can expect to pay around $550 to $600. 
Scuba diving equipment cost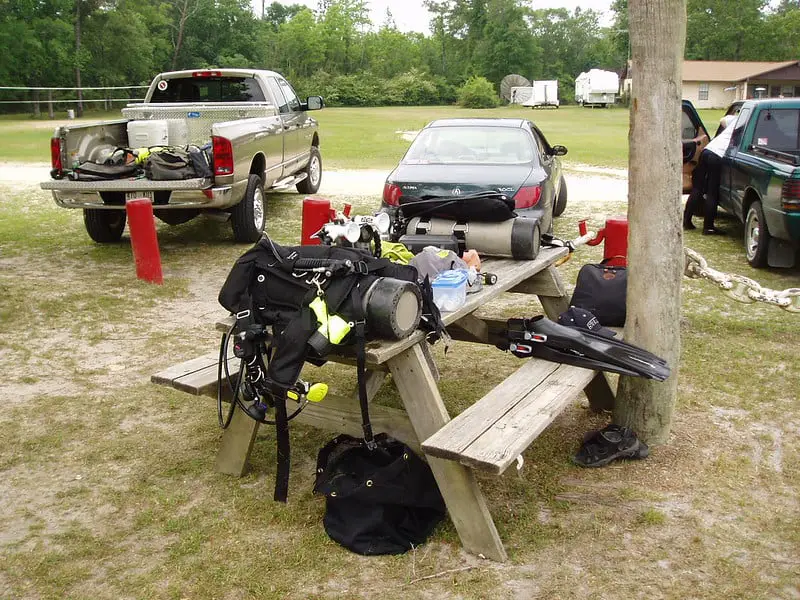 Further adding to the cost of scuba diving is getting your own equipment such as the mask, fins, and snorkel. This is the bare minimum gear you should get and may even be required by your course instructor. There is a lot of leeway for the cost of these three items, however a good estimate is around $200 to $250.
If you want to get a full set of high-quality gear (the above plus a dive computer, BCD, and regulator), then you can expect to spend $1,000 at a minimum. However, here is not the place to skimp out, particularly your regulator. After all, how much is your life worth?
Then there is the cost of other accessories like dive watches, waterproof bags, wetsuits, gauges, dive torches, and backup gear. It's up to you how much you want to spend on these items; whatever you can afford.
There are so many things you could buy, however if you're just starting out, you don't have to purchase everything right away. In fact, we recommend against it. You should start off with just buying your mask, snorkel, and fins, dive for a while, then see how you feel about the sport and how often you'll be diving in the future.
Some people dive a few times then stop diving completely, so there is no point investing so much money if you're not absolutely sure this is something you plan on doing for years to come. In the meantime, there's nothing wrong with just renting gear and learning about their various features. 
This is a good opportunity to research what you like and dislike about certain products. Then when the time comes to buy your own, you can get products with the exact features you want without paying a cent more. Scuba equipment with features for technical diving are prohibitively expensive. You could be paying $1,000 just for the dive computer alone.
When you're just starting out, just enjoy your dives and don't focus too much on the equipment. Once you have an idea of what you want and are confident you'll be diving enough in the near future, then you can decide to invest in your own gear. Expect to spend at least a grand.
Per dive cost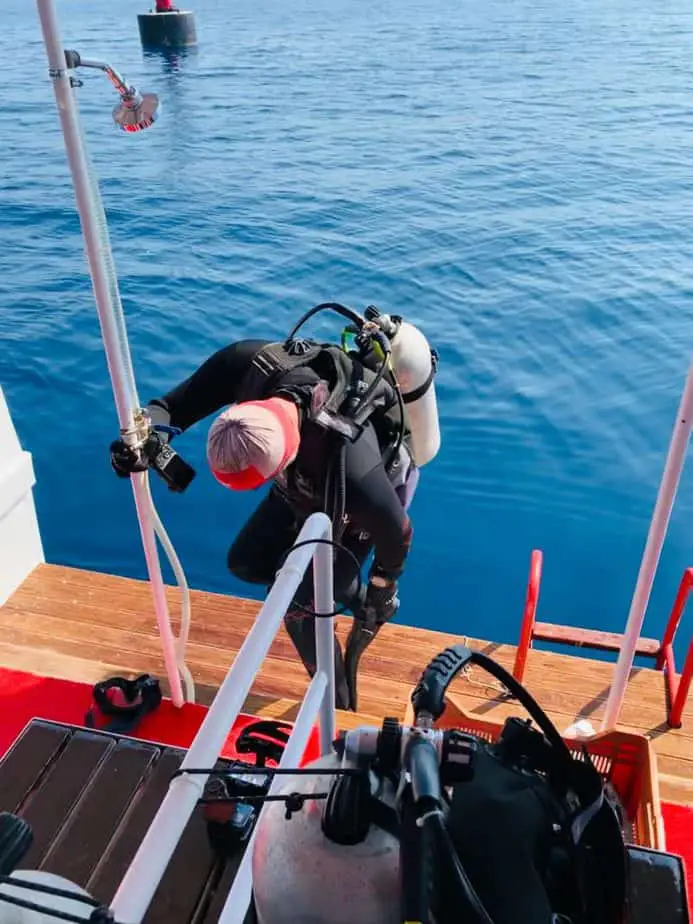 So now that you're certified, have your own gear or are planning to rent gear, you are ready to go diving in the tropics. The most common type of dives are 2-tank boat dives. Just like with your certification dives, the cost of these dives can have a wide range depending on the island and operator.
You can expect to pay around $75 to $200 for a 2-tank boat dive, with the norm being somewhere in the middle. We've paid as low as $50 for a 2-tank boat dive in Roatan. Granted, they had a discount for doing over 10 dives with them. If you go in the off-season, you can get a discount. Note: These prices included a BCD rental as well.
If you are renting a set of dive gear (BCD, dive computer, regulator) for the day, the ballpark price is around $25 to $50. Some operators will include the gear rental in its price (usually not) and some offer a lower price for week rentals. If you have your own scuba tank, it can cost around $10-$20 to fill up your tank each time. For special gas mixes, it can cost up to $200.
Parting Words
As you can see, scuba diving has many costs associated with it. To get started, you would need to pay an upfront cost of around $500. With this money, you can get your scuba certification from an accredited agency. Afterwards, you can decide to purchase your own gear or just rent if you don't dive frequently enough to justify purchasing a full set of scuba gear. There's also the recurring cost of paying the boat operator for each dive; the most common dives are 2-tank boat dives.
If you're ready to make an investment in scuba diving, just know that you are paying for an unforgettable experience that the underwater world has to offer. As soon as you dive down, it will feel like you are transported to another world. Scuba diving is a great opportunity to create memories that will last a lifetime, and even better if you can capture it on film using an underwater camera. Pay attention to what's taught in the Open Water Diver courses to stay safe and have a great time while diving.