Summer is here, and it's time to make a splash with an unforgettable pool party catered to adults! You deserve a fun and refreshing get-together with your friends, so why not make the most of the warm weather by hosting an epic poolside bash?
In this article, we'll dive into some fantastic ideas to make your pool party the event of the season. From tropical-inspired themes to mouth-watering poolside snacks and games, we'll explore various ways to transform your outdoor space into a little piece of paradise.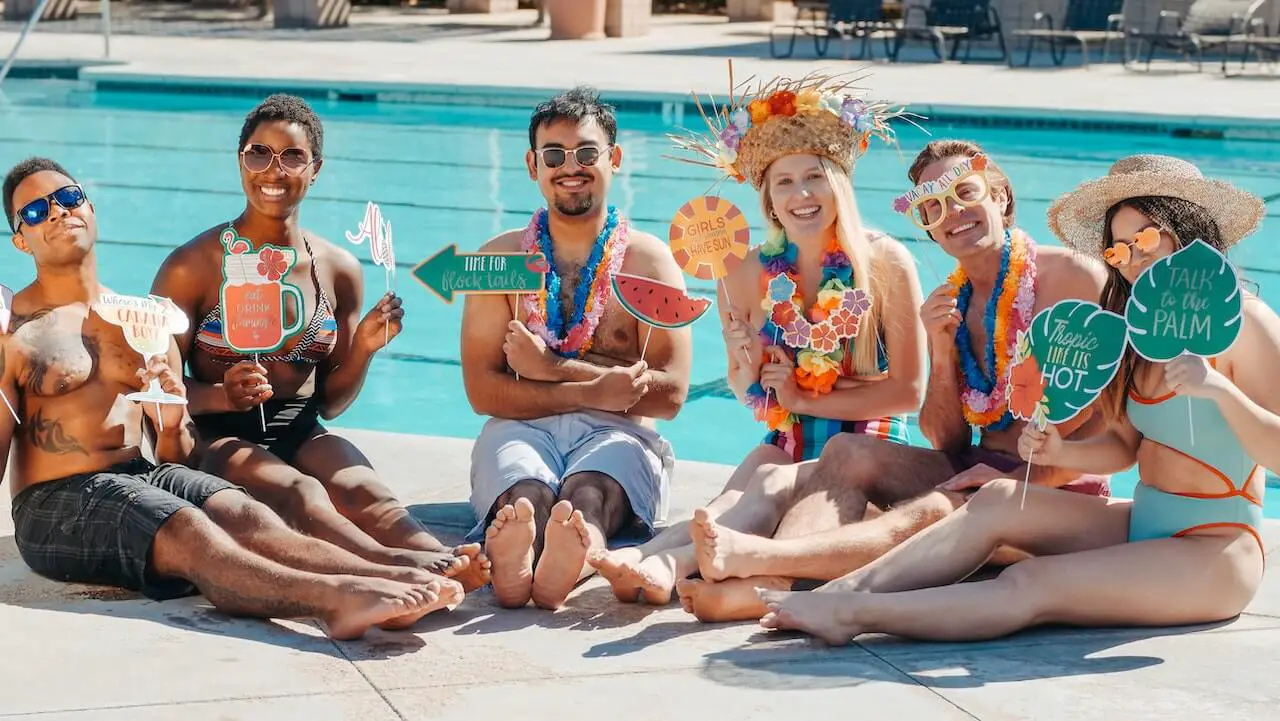 You'll discover how to throw a pool party for adults with delightful details and creative decorations, ensuring a memorable experience for everyone involved. By the time you're done reading, you'll be equipped with plenty of inspiration to host the ultimate summer soiree!
Choosing a Theme for Your Pool Party
Don't let the kids have all the fun; selecting the right theme can set the tone for a memorable event. Here are a few theme ideas to consider for your pool party, along with some tips to help you make the most of each theme.
Classic Pool Party
A classic pool party is all about outdoor fun, so keep décor simple and focus on creating a comfortable environment.
Set up lounge chairs and umbrellas around the pool, and consider incorporating fun pool floats and inflatables for guests to enjoy. Serve refreshing drinks and light snacks to keep the energy going.
Tropical Luau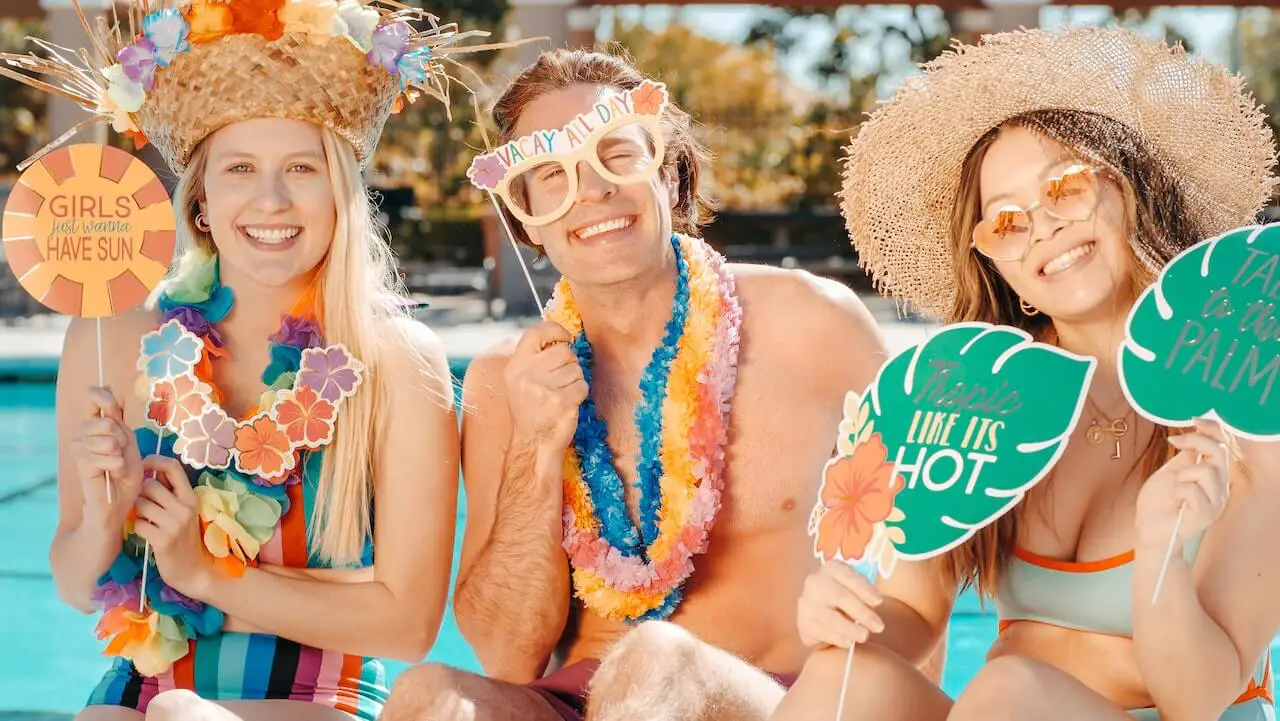 Transport your guests to a tropical paradise with a Luau-themed pool party. Decorate with tiki torches, colorful lanterns, and lush greenery.
Don't forget to hand out lei necklaces as a welcoming touch. For food and drinks, think pineapple-inspired treats and cocktails, as well as a delicious spread of island-inspired dishes.
1980s Retro Bash
For a nostalgic throwback, host a 1980s-themed pool party. Encourage guests to dress in their favorite '80s swimwear and accessories.
Create a playlist of iconic '80s tunes to set the mood. Add neon-themed decorations and signage for an authentic touch. Don't forget to have plenty of sunscreen and scrunchies on hand!
Luxury Pool Party
If you prefer a more sophisticated atmosphere, an upscale cocktail soiree by the pool is an excellent idea. For this theme, focus on elegant lighting and stylish décor.
Set up a chic and well-stocked poolside bar for guests to enjoy crafted cocktails. Offer a selection of passed appetizers, and consider hiring a bartender and servers for a more elevated experience.
Beach Party
Bring the beach vibes to your backyard with a beach-themed pool party. Fill your pool area with beach balls, seashells, and sandcastle decorations.
You could even set up a small sandbox or beach volleyball court for added fun. Provide guests with a variety of beach-themed snacks, like fruit kabobs and shrimp cocktails, alongside refreshing summer beverages to complete the experience.
No matter which theme you choose for your adult pool party, remember to prioritize the comfort and entertainment of your guests. With thoughtful planning and attention to detail, you'll create a fantastic pool party that everyone will remember.
Invitations and Guest List
How to Create a Guest List
When planning an adult pool party, it's essential to create a guest list that complements the event's atmosphere. Consider the following steps to help curate a fantastic guest list:
Define the purpose of the party: Do you want a relaxed environment with close friends, or are you aiming for a lively gathering with a mix of acquaintances?
Set a number limit: Determine how many guests your pool area and social space can comfortably accommodate.
Think about guest dynamics: Consider how well your guests will interact and strive for a balance of personalities to keep the party engaging.
Don't forget plus-ones: Since it's an adult pool party, be open to guests bringing their partners, ensuring everyone feels welcome.
Select a date and time: Once you've decided on the guest list, select a date and time for the event that works for the majority of attendees.
Adults only: Let your guests know that this is a strictly adults-only pool party.
Choosing the Right Invitations to Match the Theme
The invitation sets the tone and theme of your pool party. To ensure your invitations coordinate with the party's vibe, follow these tips and explore various options:
For unique and customizable physical invitations, Etsy offers a wide range of designs tailored to adult pool parties.
If you prefer a digital, eco-friendly route, consider using apps Canva to create and print your invitations or send them electronically.
Enhance your party's theme by selecting a matching color scheme and graphics for your invitations.
Don't forget to include important details such as the date, time, location, attire, and any special instructions like whether drinks or snacks are BYOB.
If you want to emphasize a fun touch, consider adding drink floaties to the invitations as a playful reminder for guests to bring their own.
Decorations to Set the Mood
Color Scheme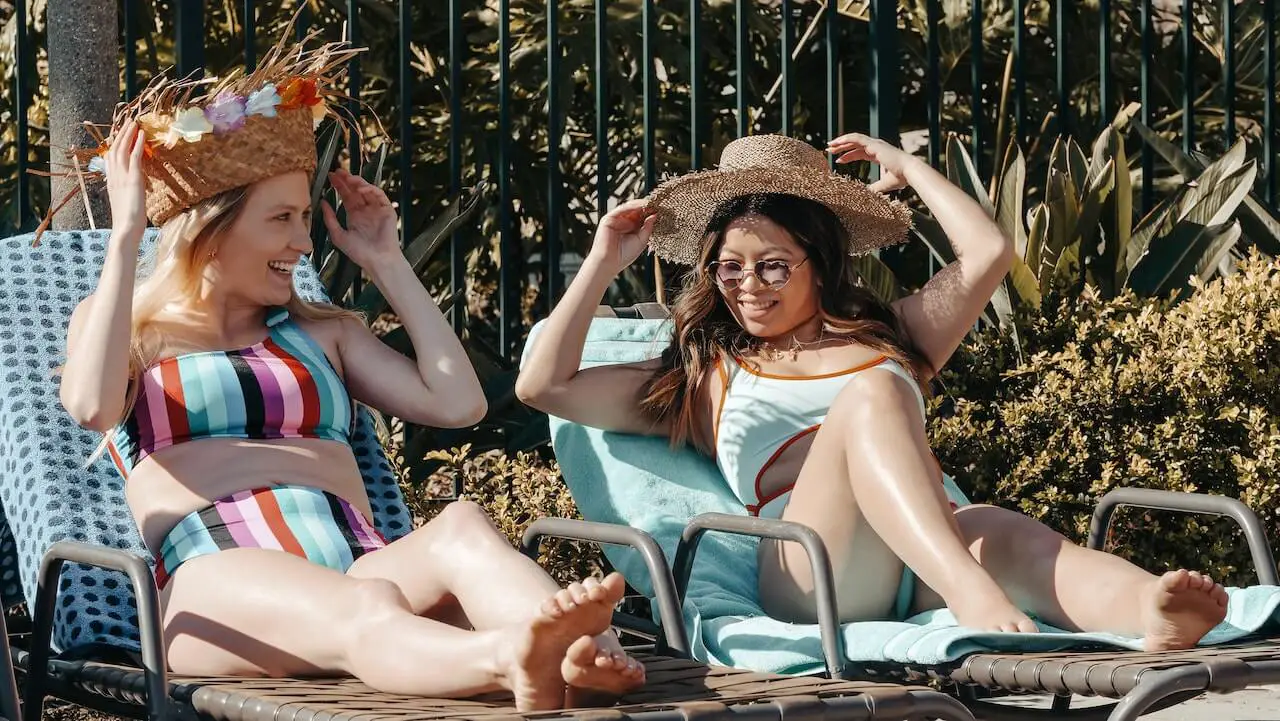 Choosing the right color scheme for your adult pool party can make all the difference. Aim for vibrant and tropical colors like turquoise, coral, and lime green to create a lively atmosphere.
You can also mix and match colors to create a unique look that suits your personal style. For example, try pairing navy blue with pops of pink and gold for a sophisticated yet fun vibe.
Pool Inflatables and Props
A pool party isn't complete without some fun inflatables and props. Spice up the poolside with a variety of pool toys, such as inflatable palm trees or giant pool floats in unique shapes like flamingos, unicorns, or even a slice of pizza.
These items not only add visual interest but also provide entertainment and engaging activities for your guests.
Lighting Options
Make your evening pool party glow by incorporating creative lighting options. Throw glow sticks in the pool to create a mystical ambiance or hang string lights around the pool area for a cozy, warm feel.
Additionally, consider placing candles in hurricane vases or floating LED candles on the water to make the setting even more enchanting.
Table Decorations
Set the scene with attractive table decorations that complement your chosen color scheme. Consider using tropical-themed table runners, vibrant napkins, and stylish plates to create eye-catching tablescapes.
You can also incorporate DIY projects, such as painted pineapples or mini sandboxes with succulents, to add a personal touch.
Seating
Provide comfortable seating options for your guests to relax and mingle. Depending on your budget and space, you can use a mix of lounge chairs, Adirondack chairs, or even bean bags.
Arrange seating areas with side tables or stylish outdoor rugs, and don't forget to include a few umbrellas to offer shade during the day.
Food and Drink Ideas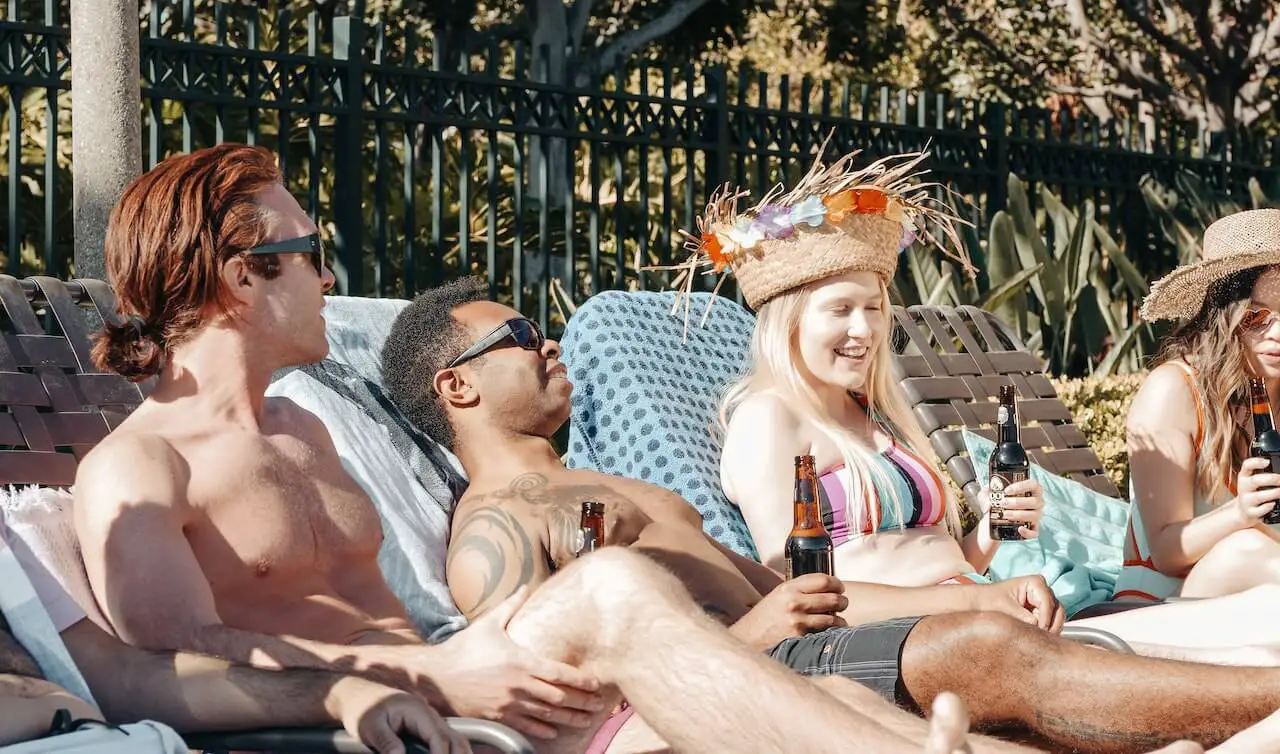 Poolside Snacks
When it comes to poolside snacks for your adult pool party, you want to opt for easy-to-make, light, and refreshing options. Some ideas include:
Bruschetta with Tomato and Basil: A simple yet delicious Italian snack, perfect for enjoying by the pool. The combination of ripe tomatoes and fresh basil on toasted French bread is always a hit, and you can find a great recipe here along with a few others.
Avocado Salsa: A tasty blend of avocado and salsa makes for a delicious and satisfying poolside snack. Check out these recipes to get an idea.
Grill Options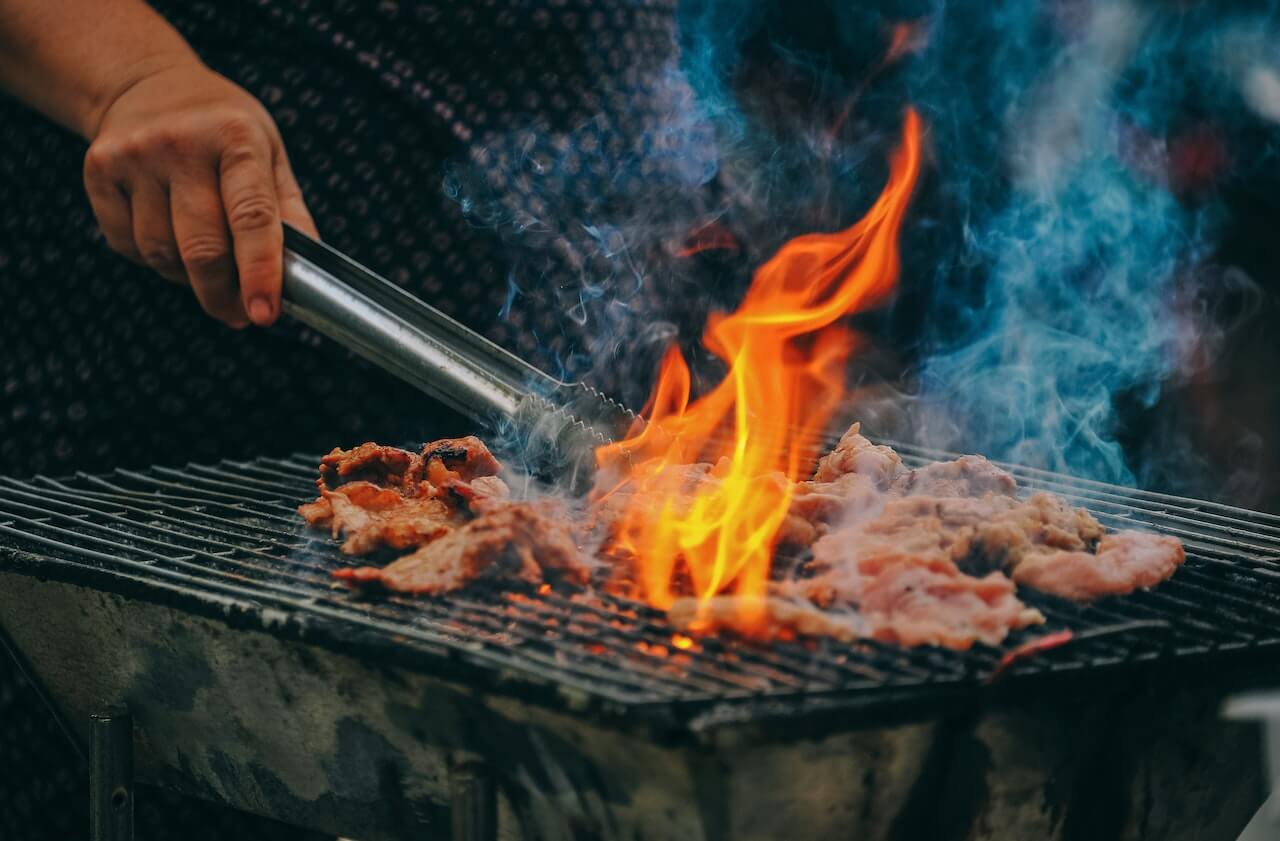 A pool party isn't complete without some great grilled food. Here are some grill options that your guests will love:
Hot Dogs: An all-time favorite, hot dogs are easy to grill and loved by many. You can let your guests customize their hot dogs with a variety of toppings, from classic ketchup and mustard to more unique options like sauerkraut and caramelized onions.
Grilled Pizza: Elevate your pool party by grilling pizzas with an assortment of toppings. This collection of recipes can help you put together unique and tasty options that'll impress your guests.
Adult Beverages
No adult pool party is complete without some refreshing beverages. Here are some ideas:
Tiki Bar: Set up a DIY tiki bar by the poolside, offering tropical cocktails and mocktails for your guests. Consider classics like Mai Tais, Pina Coladas, and Blue Hawaiians.
Poolside Drinks: Offer a variety of drinks that can be enjoyed while lounging by the pool, like Pineapple Iced Tea or Mojitos. Explore these poolside drink recipes for inspiration.
Thematic Food and Drink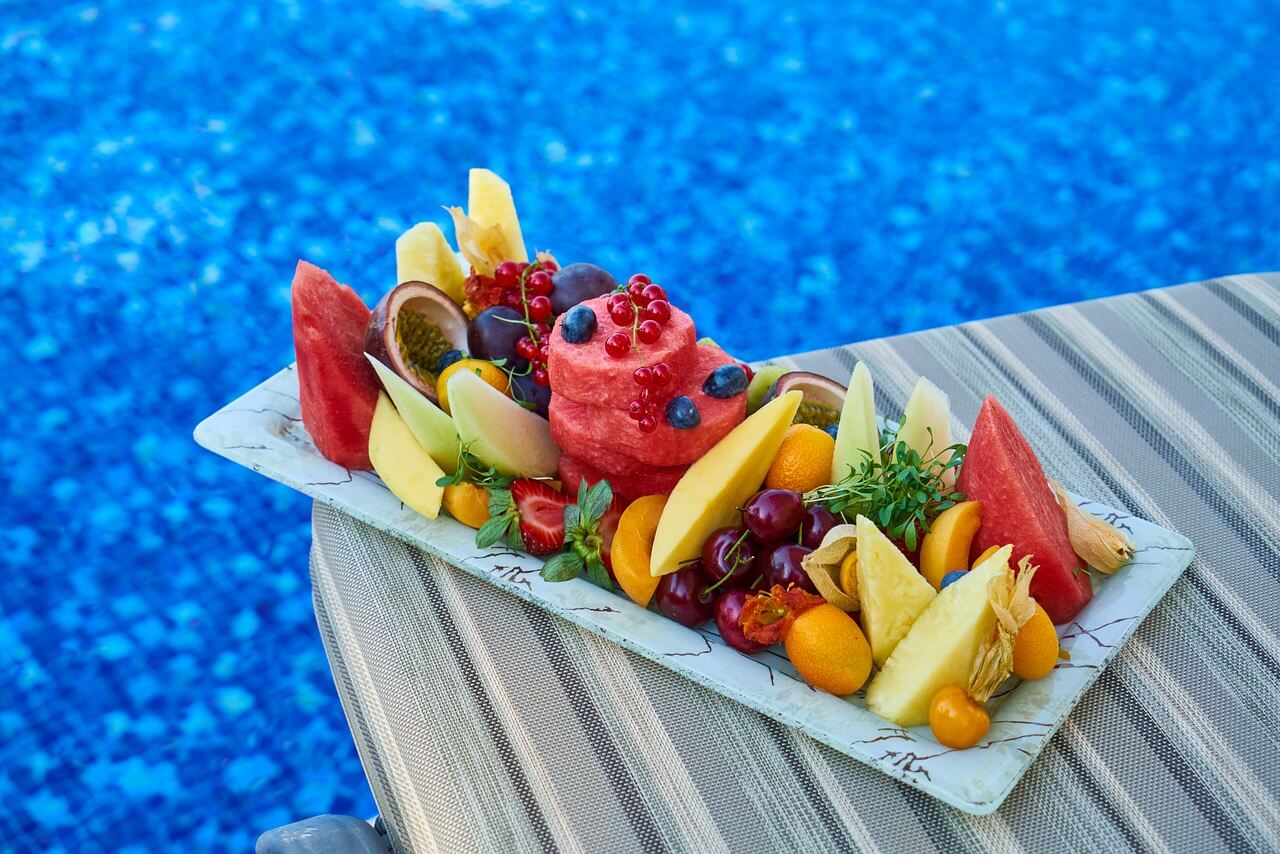 To take your adult pool party up a notch, consider incorporating thematic food and drink options to match your overall party theme. Ideas include:
Beach-inspired: Serve seafood dishes like shrimp skewers, crab cakes, or tuna poke bowls. Pair these with beachy cocktails like Seabreezes or Beachcombers.
Tropical: Whip up some tropical fruit salads with ingredients like pineapple, mango, and papaya. Top it off with coconut-flavored desserts and fruity drinks like Rum Punch or Tequila Sunrise.
Planning the Perfect Poolside Playlist
Music Selection for Various Themes
Let's start with curating the perfect tracks for your grown-up pool party. Your music selection should match the overall theme of your event.
For example, if you're hosting a Hawaiian Luau themed party, go for tropical tunes and reggae beats. On the other hand, if you're aiming for a relaxed atmosphere, try some chill vibes and soft electronic beats.
I'm sure you can easily find a playlist on Spotify or YouTube that will suit the mood. Just make sure you do a quick listen beforehand to ensure it's suitable for your pool party.
Sound System Setup
Now, let's talk about the sound system that will amp up your poolside entertainment. You'll need to consider the layout of your pool area and the number of guests.
When setting up, don't forget to keep the sound system away from the splash zone to avoid any accidents. Here are a few pointers:
Invest in good-quality waterproof speakers that can withstand an unexpected splash or two.
Spatially distribute the speakers throughout the pool area to maximize coverage and minimize the chances of dead spots.
If you're expecting a big crowd, consider renting a professional sound system for optimal audio quality and volume.
Always test your setup beforehand by adjusting the volume settings and checking the connectivity.
Remember, the goal is to create an immersive pool party atmosphere without overwhelming your guests. With a great playlist and a well-planned sound system, you're well on your way to hosting an unforgettable adult pool party.
Fun and Games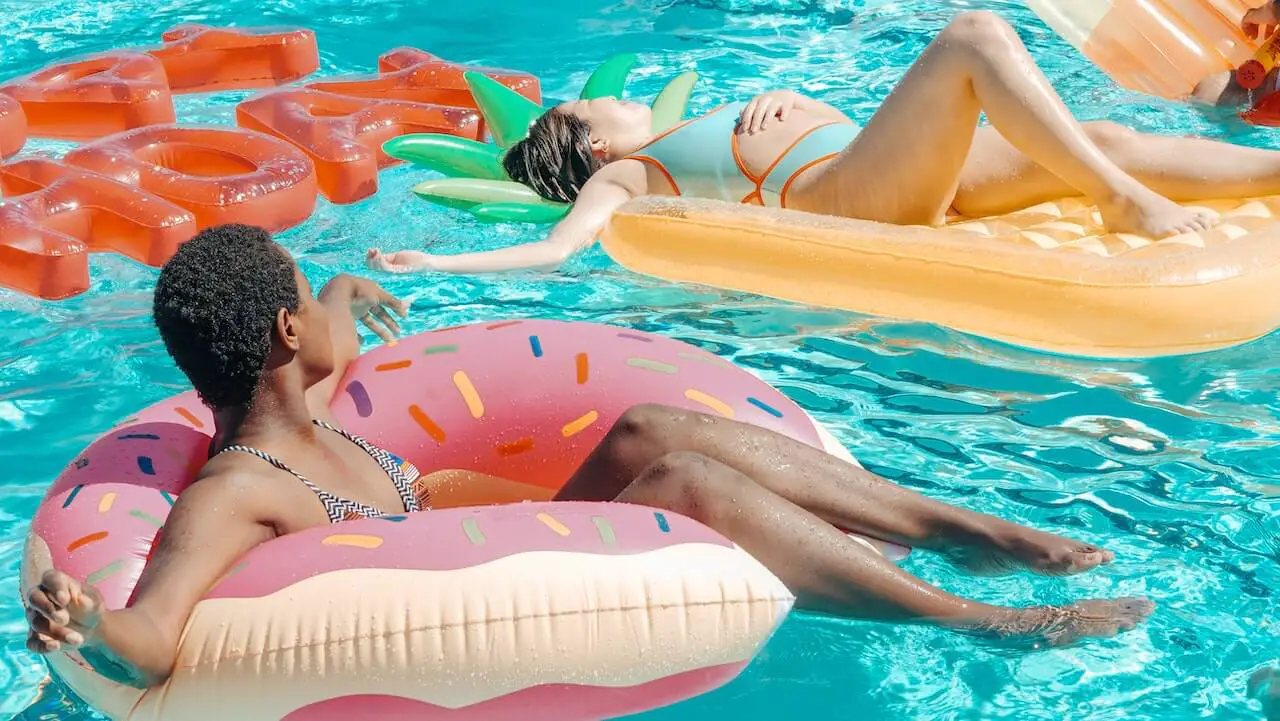 Classic Pool Games with an Adult Twist
There are plenty of classic pool games that can be enjoyed by adults, with a few tweaks to make them interesting and more competitive. For instance, try playing water polo with a fun penalty for the losing team or add a creative twist to relay races by incorporating water balloons.
Water Polo: Split your guests into two teams, and use a floating goal or poolside goal posts. Allow some leniency on rules for a casual and fun experience.
Water Balloon Tic-Tac-Toe: Draw a tic-tac-toe grid on the poolside or use a floating board. Each team throws water balloons to fill the respective squares, and the first team to make a line wins.
Relay Race: You can create a relay race with a twist, like carrying water balloons between your legs or swimming with a watermelon in hand. You can even design a glow stick pick-up race for nighttime pool party fun.
Peer Pong: Instead of playing beer pong on land, get a large floating board in the water and play this game in the water for a new spin on the classic game.
Lawn Games for Pool Parties
Don't forget the poolside lawn games that can add an extra dose of fun to your party. Here are some popular choices:
Bumper Balls: Form teams and play with inflatable bumper balls around the pool area. Guests will have a blast as they bump into each other, trying to score a goal or simply knock their opponents over.
Tug of War: A classic crowd-pleaser, tug of war can be even more fun when played by the pool. The losing team might end up taking an unexpected dip!
Pool Jenga: Use pool noodles to create your own oversized Jenga game. This makes for a colorful and entertaining lawn game that can be enjoyed by everyone.
Competitive Team Games
If you are looking to add a competitive edge to your adult pool party, consider incorporating these team-based games:
Water Jousting: Have two guests sit on inflatable rafts and use pool noodles as jousting sticks. It's a fun, lighthearted way to engage in friendly competition.
Pool Volleyball: Set up a net across the pool, and use an inflatable ball or beach ball for added fun. This game offers team spirit and plenty of opportunities to splash around.
Water Basketball: No pool party is complete without a game of water basketball. You can find floating hoops or poolside basketball setups to allow your guests a fun and sporty challenge.
Practical Tips for Hosting an Outdoor Party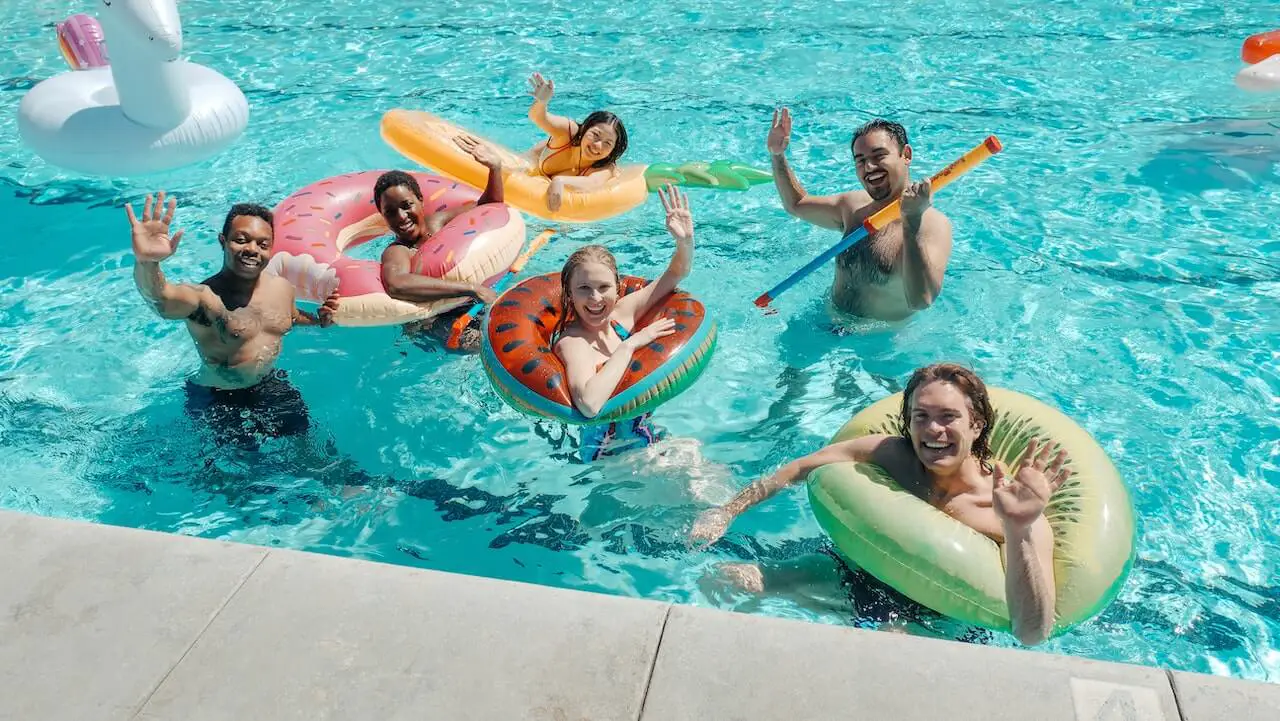 Weather Considerations
Always keep an eye on the weather forecast when planning an outdoor party. If you can, schedule your event for a day with low chances of rain or extreme temperatures.
It's also wise to have a backup plan, such as an indoor space or a tent that can easily be set up if the weather takes a turn for the worse.
Keep your guests protected from the summer heat by providing umbrellas or shade sails, and consider adding a lounge area near a fire pit for cooler nights.
Bathroom Facilities
Ensure that your party has adequate bathroom facilities, especially if it's a pool party or an all-day event. Provide a clean and well-stocked restroom close to the party area.
If your home bathroom isn't conveniently located, consider renting portable restrooms to accommodate your guests' needs.
Seating and Comfort
Offer a variety of seating options, from lounge chairs to cushions and hammocks. This allows guests to mingle comfortably and choose their preferred spot.
Arrange your seating around the pool to create a cozy ambiance and encourage socializing.
Also, have plenty of sunscreen, insect repellent, and water stations to keep your friends and family comfortable throughout the event.
Clean up and Maintenance
Prepare for the inevitable spills and messes that come with any outdoor gathering. Set up trash and recycling bins around the party area, making them easily accessible for guests to dispose of their waste.
Have a cleaning supplies station with paper towels, wipes, and surface cleaner handy for quick cleanups.
Lastly, consider assigning a friend or hiring a professional to help maintain the party's cleanliness, so you can fully focus on enjoying your poolside event with your loved ones.
Additional Sources: