Have you been invited to a pool party and you aren't sure what to bring? Not to worry, we've got you covered. In this article, we'll go over what to bring to a pool party as a guest.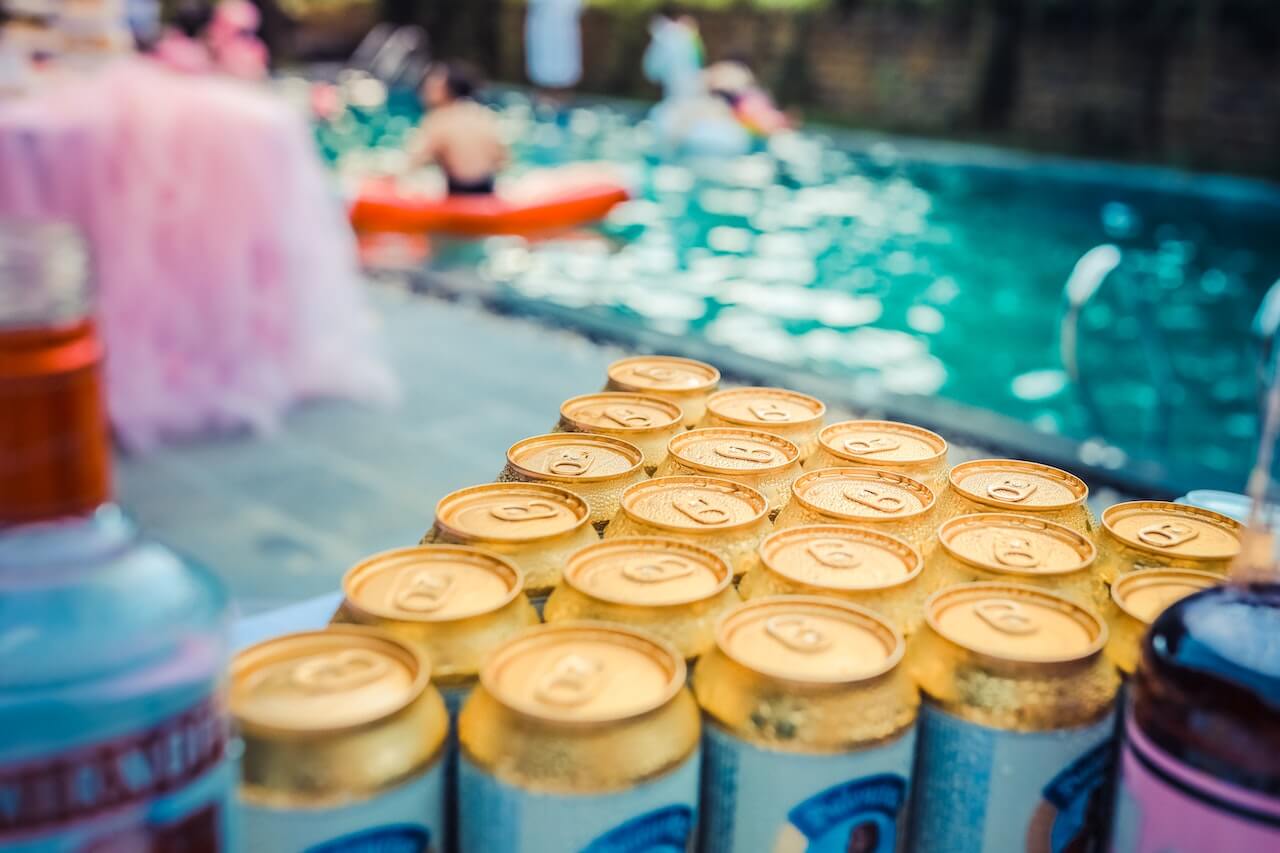 From the essentials to fun things to bring to the pool, we'll have you totally prepared so that you can have a full day of fun in the sun without any hiccups. Let's get started.
Essential Items to Bring to a Pool Party

Swimsuit and Cover-Up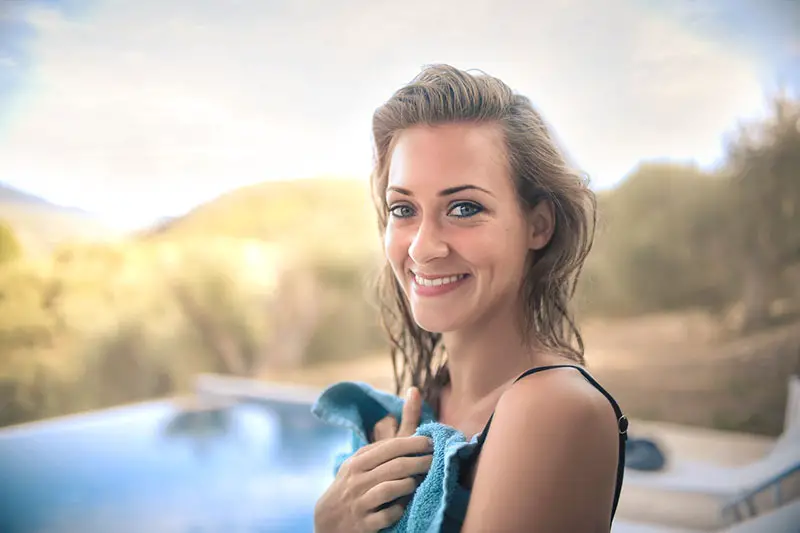 First and foremost, you'll need a comfortable and stylish swimsuit. Consider the pool party's theme or vibe and choose accordingly.
Additionally, bring a cover-up. Not only do cover-ups provide extra coverage when you're not swimming, but they can also be fashionable and protect you from the sun.
Beach Towel
A beach towel is another must-have. It's essential for drying off after swimming and can double as a comfortable surface to sit or lie on.
Bring your own towel to ensure that you have a clean, dry place to relax by the pool.
Change of Clothes
As a guest, it's smart to bring a change of clothes. After a day of swimming and lounging in the sun, you'll want something dry and comfortable to wear.
Pack a light, casual outfit that's easy to slip on post-swim, such as a sundress or a pair of shorts with a t-shirt.
Sunscreen and Lotions
To protect your skin from harmful UV rays, make sure to bring sunscreen and apply it regularly throughout the day. Opt for a waterproof sunscreen with an SPF of 30 or higher.
Don't forget after-sun lotion, which can provide relief and hydration for sun-exposed skin. These products will help prevent sunburn and maintain your skin's health.
Hat and Sunglasses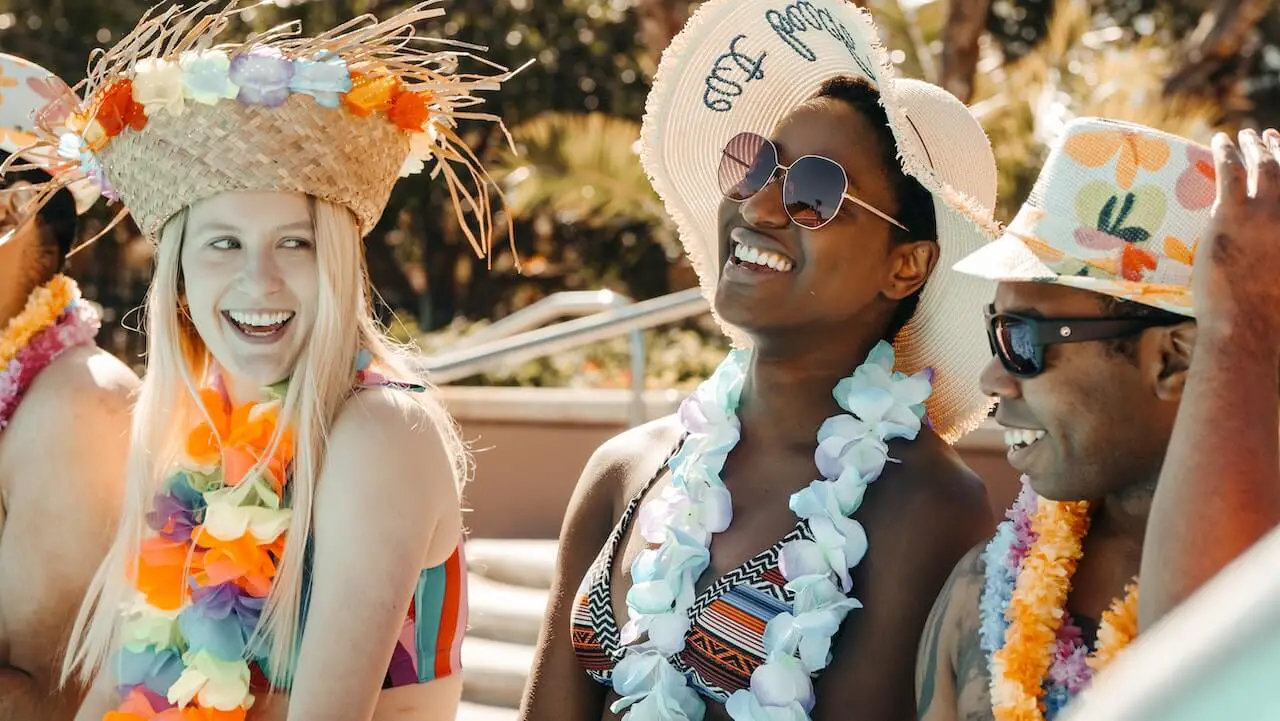 Shade your face and eyes from the sun with a stylish hat and sunglasses. Not only do these accessories offer protection, but they can also complete your poolside look.
Choose sunglasses with UV protection to safeguard your eyes and a wide-brimmed hat to shield your face and neck from direct sunlight.
Flip Flops
Remember to bring a pair of flip flops or water shoes. Wearing these will make it easy to walk around the pool area and keep your feet clean and protected. Choose a pair that's easy to slip on and off, so you can quickly join in the fun.
Poolside Fun
There's only so much lounging around the pool before things get boring. Keep the party amped up with some of the options below.
Pool Toys and Floats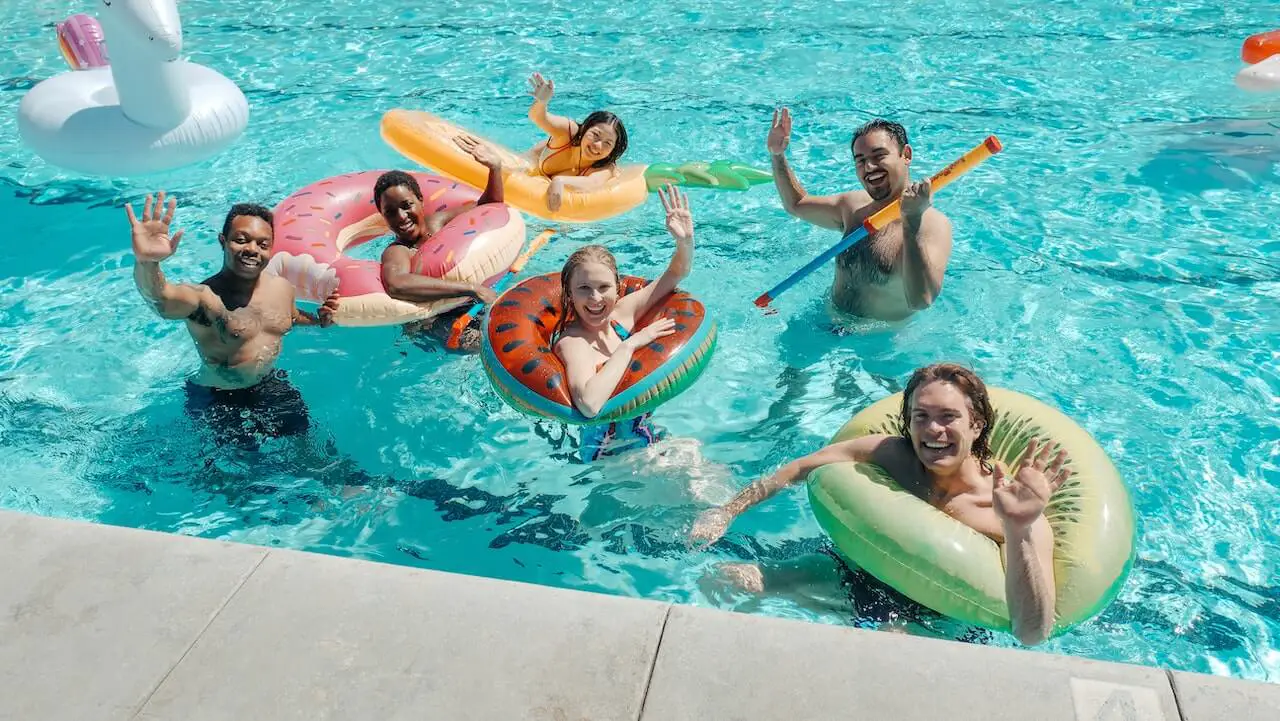 When attending a pool party, you can add to the fun by bringing along some cool pool toys and floats.
Inflatable pool floats come in a variety of shapes and sizes, and they're sure to add some excitement to the party.
For example, you might bring a giant inflatable swan or a fun pizza slice float. Don't forget about pool noodles!
These versatile foam toys can be used for games, as floats, or just for lounging around in the water. Remember, water guns are also a hit, and they'll ensure everyone stays cool while having a blast!
Games
Spice up the pool party by introducing some entertaining games that can be played both in and around the pool.
Consider bringing a waterproof deck of cards for card games on the pool deck or a floating ping-pong table for some friendly competition.
You can never go wrong with having a beach ball or mini pool balls on hand.
Another option is to introduce water volleyball by setting up a net across the pool, or a pool basketball hoop for some poolside basketball.
These games are sure to get everyone involved and foster a fantastic, competitive atmosphere at the party.
Music
No pool party is complete without some upbeat tunes. Be the life of the party by bringing a portable Bluetooth speaker that's water-resistant, ensuring it can withstand any splashes or accidental dunkings.
Before arriving, create a playlist that features a mix of popular summer hits and timeless classics that everyone will enjoy.
Don't be afraid to take requests from fellow party-goers, as it's essential to cater to a wide range of musical tastes.
Keep the volume at a reasonable level so that guests can still have conversations while enjoying the music, and so you don't disturb the neighbors too much.
Food and Snacks
You may want to help the host out with food, or if there are any specific foods that you want to have at the pool party, below are a few ideas.
Salads
When attending a pool party, you can never go wrong with bringing a salad. They're light, refreshing, and easy to eat poolside.
For a colorful and crowd-pleasing option, consider a fruit salad with watermelon, berries, and other seasonal fruits.
If you're looking for something savory, try a pasta salad with veggies and a light dressing. For a classic choice, bring a potato salad that everyone will love.
Grilling Options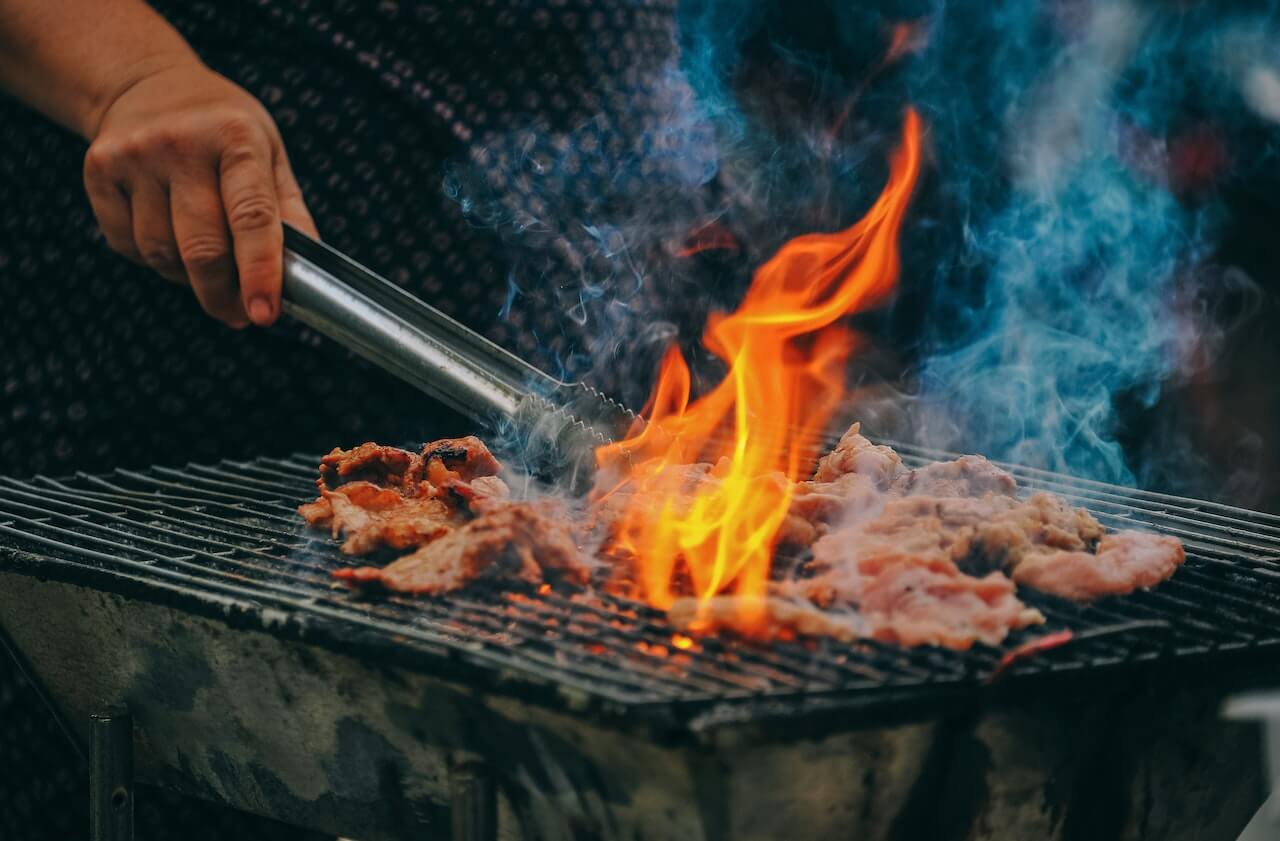 Pool parties and grilling go hand in hand. Offering to bring something for the grill is always appreciated.
Skewers are an excellent choice as they're easy to eat and guests can choose their favorite ingredients.
Marinated chicken, vegetable kabobs, or even portobello mushrooms are also great options to share with your fellow guests.
Finger Food
Finger foods are perfect for pool parties as they don't require utensils and can be easily eaten while mingling. A fan-favorite is homemade salsa and chips.
You could also bring some guacamole or even a baba ganoush with carrot sticks, cucumber rounds and bell pepper sticks. Don't forget to include a variety of dipping options such as veggies, pita, or tortilla chips.
Desserts
Nothing tops off a fun pool day like a tasty dessert. When choosing something to bring, keep in mind the heat and how long dessert may be sitting out. Fruit-based desserts like fruit kabobs or watermelon slices are always a hit.
If you're looking for something a little more indulgent, consider making homemade ice cream sandwiches, or pack a batch of honey oat bars that can be stored in a cooler until it's time to enjoy them.
Beverages to Keep Refreshed
Remember to stay hydrated at the pool! Quench your thirst with some of the deliciously refreshing options below.
Alcoholic Options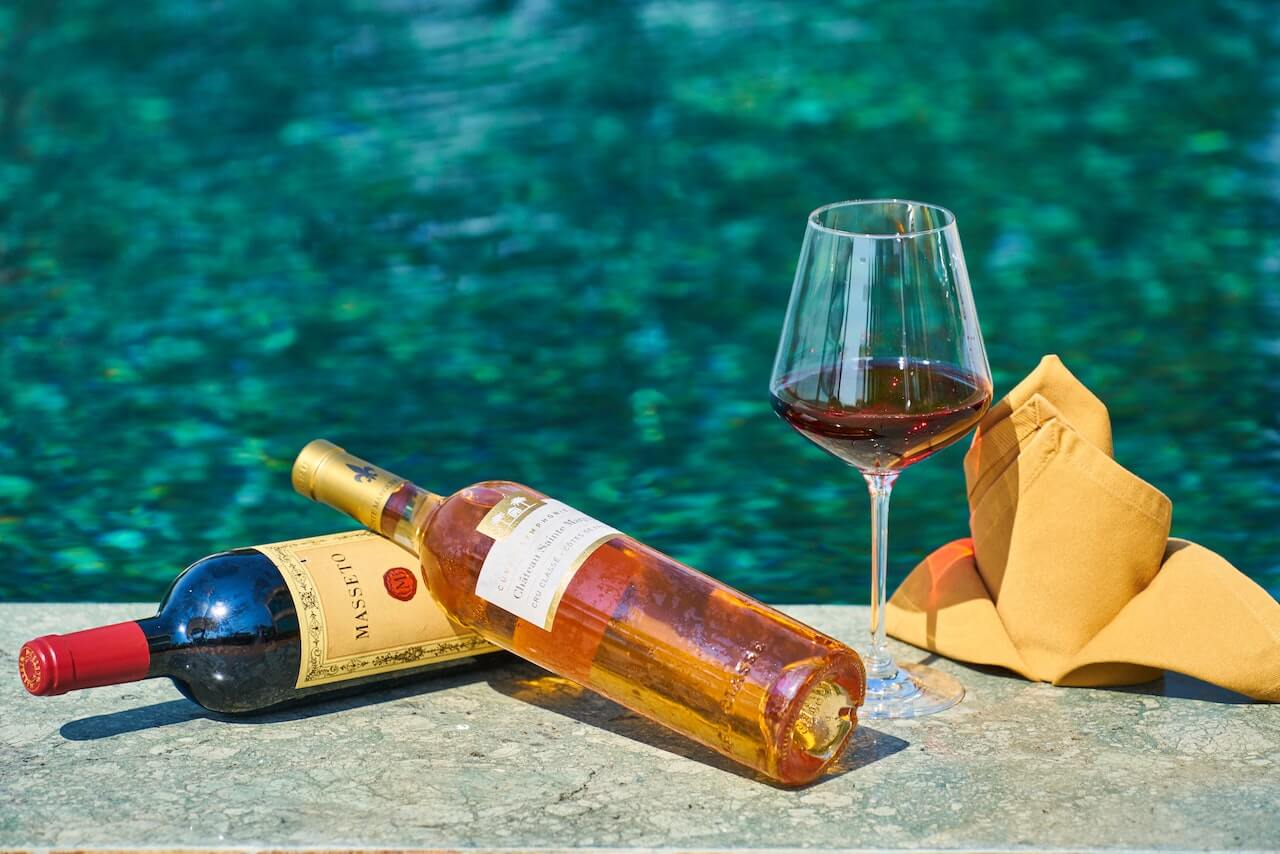 At a pool party, it's nice to have a variety of alcoholic beverages to cater to diverse taste preferences.
Consider bringing a cooler filled with ice to keep your drinks chilled throughout the event. Here are some great options:
Non-Alcoholic Options
Not everyone at the party will be interested in alcoholic beverages, so make sure to provide plenty of non-alcoholic options to keep your friends hydrated and refreshed:
Additional Items and Tips
Themed Parties
If you're attending a themed pool party, contribute items that match the party's theme.
For example, if it's a tropical-themed party, wear a colorful, tropical outfit, bring a fun pool float or an umbrella with a tropical print.
You can also contribute to the party by bringing themed snacks or drinks.
Charging Devices
You'll want to have your phone or other devices charged and ready to capture memories at the pool party.
Also, consider bringing a portable charger or charging cables in case your devices need a boost, especially if you're planning to be at the party for an extended time.
Just make sure to keep your electronics away from the pool and in a safe and dry place.
Personal Comfort
To ensure you have a great time at the pool party, think about the items that will make you feel comfortable and cozy throughout the event:
Lastly, remember to enjoy the pool party and have a blast with your friends!
Sources: